News

Click here to add your MG News.
---
Extract from MGB Driver Mar/Apr 1999, the NAMGBR official publication
Books: Texas Mighty Good Recipes
Well, I'm out of my element on this one (just ask my wife). Normally, reviewing MG related books, I can assess the amount of new information or how well or accurately they report on our favorite cars. The Texas Mighty Good Recipes book by the Texas MG Register is rather removed from the garage and the workshop and centers on the kitchen. It dodges the logistics of how to sneak your freshly painted manifold into the kitchen to mis-utilize the oven to bake on the paint and instead concentrates on of all things-cooking! Salad oil instead of 20W50!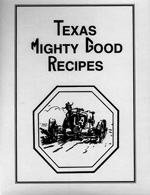 The cook book includes a wide variety of interesting recipes including Southwestern specialties with English cuisine mixed in. The book is neatly divided into sections like Appetizers & Beverages, Soups, Salad & Vegetables, Main Dishes & Casseroles, Meat, Poultry (Attention Specklies!) & Seafood, Breads & Rolls, Pies, Pastry & Desserts, Cakes, Cookies & Candy, and This & That. Kind of like the MG books I read which are divided into Engine, Ignition, Chassis Electrical, Fuel System, Brakes, Etc. Like the shop manuals, this book has detailed directions for assembly, but the reverse of assembly is eating-and that is a skill I possess without requiring detailed instructions.
It's not all recipes. There is a brief history of the club and a photo section of members and their MGs. It's a nice touch that links up the names of the contributors with their faces. And reading closely reveals a lot of witty nuggets of insight and humor. Look for the "Prince of Darkness Devil's Food Cake" by Lucas. "The Best Rum Cake Ever" is a must read. The 186 page long cookbook is well worth buying on it's own merit as well as to support an MG Club-it'll have you two-stepping around the kitchen.
Is it a coincidence it was published by Cookbooks by Morris Press?
Texas Mighty Good Recipes is available for $25.00 per copy plus $5.00 ($10.00 international) shipping and handling per book by ordering from:
Texas MG Register
18967 Ravenglen Ct.
Dallas, Texas 75287

Safety Feast!
Kim

North American MGB Register
More News
---




Made in England