News

Click here to add your MG News.
---
Cheshire Romp '99
A new event in the busy MG owners calendar the "CHESHIRE ROMP" road run was held on Sunday the 18th of July. It was the first nationally advertised event that the South Manchester MG Owners Club has organised.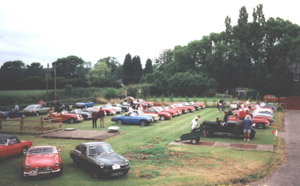 It was towards the end of 1998 that the idea was first put forward by Howard and Lillian Guiney. They thought that South Manchester, as one of the friendliest and committed regional clubs, should have their own run around the beautiful countryside of Cheshire and its surrounding counties. The name for the event took forever to agree on. Having rejected dash, circle, margin and ring choosing "CHESHIRE ROMP" for the event turned out to be inspired. All those nod-nod and "know what I mean comments" about romping around in the countryside certainly got our event talked about. By early April even those who had questioned the wisdom of organising a romp in the first place had changed their minds.

Within a few weeks of advertising the event applications had started to arrive, steadily at first but by the end of May we were inundated and had to turn down many applications. We had imposed a limit of fifty entries, although to satisfy our own club members we finally accepted entries from fifty four cars.

All the profits from the event have gone to our 1999 nominated charity which is to help burns victim Mathew Warnes raise money to set up a rehabilitation unit. It has turned out to be very successful, hopefully raising around #700.

The weather gods were kind to us on the day. Although a little overcast to start with the sun soon came out to make it a perfect day for enjoying the Cheshire countryside .

A total of fifty cars started the run after four entrants had to cancel due to mechanical problems.

Seventy one years separated the oldest car, a beautiful 1928

18/80 MG six Tourer, from the youngest a 1999 T reg. MGF.

The first car away from the start at Styal Country Park was the 18/80 Tourer with the others following over the next hour. One MG of note was the V8 GT belonging to Gordon & Jennifer Jones who had driven 340 miles from Falmouth to be with us.

Mouldsworth Motor Museum was our mid-morning stopover. A warm welcome was given by the owner James before viewing a fascinating collection of memorabilia from the earliest days of motoring and an impressive selection of vehicles which included a magnificent J2 and a rare 4 seat F-type awaiting restoration. Driving in sunshine to our next stop at Little Moreton Hall, Britain's finest timber framed manor house and setting for TV's Moll Flanders. The grounds were the perfect location for a picnic followed by a guided tour of the magnificent house or relaxing and chatting with fellow enthusiasts.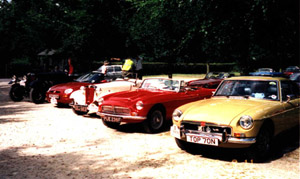 Unfortunately it was soon time to return to Styal, driving passed the imposing sight of Jodrell Bank radio telescope and Alderley Edge famous for Witches and Wizards as well as Posh Spice and David Beckham. Once back at Styal a commemorative cup was

presented and the raffle drawn. Friendly banter with lots of laughing and joking centred around what people had enjoyed the most and inevitably of cars misfiring, engines overheating and the wrong turnings taken before people reluctantly drove home vowing to return next year.

The only car

not to make it to the end was Brian Hammond's MGA which suffered a wheel bearing failure so Brian and his two young navigators have promised to return next year.

Hmmm I suppose we had better start planning for the next CHESHIRE ROMP in 2000. Our first event has turned out to be a real success.

Thanks to all those who helped out.
---




Made in England