Le Mans Testing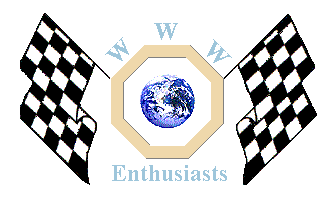 Click here to add your MG News.
---
31st May 2001

MG LOLA EX257 SPORTS CAR PREPARES FOR LE MANS AT SPA CIRCUIT
Spa Circuit in Belgium was testing ground for the MG Lola Le Mans sports car - EX257- on Tuesday and Wednesday May 29 and 30, 2001.

Testing fuel economy, fuel efficiency, engine reliability and tyre wear, Frank Dernie, chief engineer Lola Cars International said: "We did some pretty good times compared to the FIA sports cars that tested a month ago. Our fastest lap time recorded was two minutes, nine seconds."

Driver, Warren Hughes said: "I enjoyed thrashing around on such a beautiful circuit. Although it was a little dirty from the recent motor cross track race, itís one that lets the car have its head a little."

With each test conducted, the MG Lola teamís knowledge of the carís fuel efficiency and consumption has improved. Frank Dernie commented: "Obviously we desire to re-fuel less times during the Le Mans race than our competitors. In theory, with a lighter car, weíre hoping to achieve this."

The intensive test programme continues in the UK, with less than a month to go till Le Mans.
---
17th May 2001

MG LOLA EX257 LE MANS SPORTS CAR TESTS OVERNIGHT AT MAGNY COURS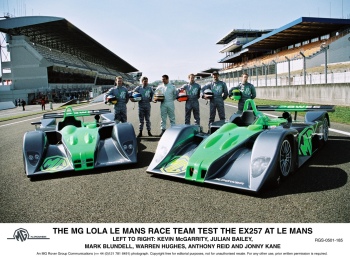 More than fifty laps of overnight testing at Magny Cours (May 8/9) have largely solved the problems that impeded official testing of the all-new MG Lola EX257 sports car at Le Mans.

Frank Dernie, chief engineer at Lola Cars International said: "We traced the cause of our problems at Le Mans to an ignition irregularity. In its first overnight test, the car has functioned well and the drivers have become more acclimatised to its speed."

"Unlike Formula 1, weíre trying to achieve effective fuel economy and reliability rather than just a few good fast laps."

Anthony Reid notched up the first laps with the MG Lola in darkness as the team sought to evaluate the car in night running mode. Headlamp performance and their directional visibility were evaluated, while tyre wear and fuel usage were monitored.

The intensive test programme continues at Silverstone on Tuesday and Wednesday, May 22 and 23, 2001, with only a month remaining till Le Mans.

Issued by MG Rover Group Communications

More on X-Power

Back to the News content
---




Made in England