Le Mans 16/17 June 2001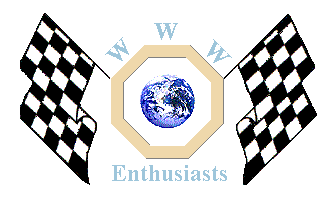 Click here to add your MG News.
---
9th June 2001

MG MAKES HISTORIC RETURN TO 24 HEURES DU MANS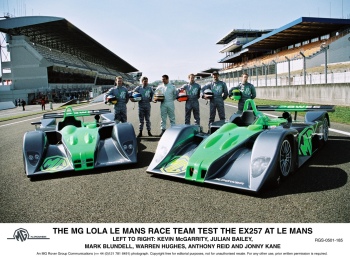 MG is making an historic return to Le Mans to compete in the world-famous 24-hour endurance race on Saturday and Sunday June 16/17, 2001. 1965 marked the last time an MG competed in the 24-hour Le Mans race. Paddy Hopkirk and Andrew Hedges finished 11th in the race Ė the best an MGB had achieved there and second in its class.
Sporting the vivid green MG octagon on X-Power grey paintwork, the MG Lola EX257 sports car conveys a modern, bold and powerful message for MG Sport & Racing Limited.
The vehicle has been produced by Lola Cars International to compete in the LMP 675 class at Le Mans. Advanced Engine Research (AER), responsible for the power-unit Lola used to win last yearís LMP 675 class at Le Mans, was commissioned to produce a brand new light-weight two litre turbo charged four-cylinder engine.
Martin Birrane, owner of Lola Cars International commented that MGís driver line-up could prove to be a surprise package at the 69th Le Mans race: "We have a formidable team of drivers who have the mixed blend of youth, speed and experience on their side. In a short amount of time, the team has done an incredible job and I hope that we can surprise a few people."
Mark Blundell, former Le Mans winner and experienced Formula 1 driver said: "Itís great to be returning to Le Mans and itís fantastic to go with five other British drivers in the team. The prospects of competing against other big names, especially the new brands involved, is exciting. This is the start of a new era and itís great to be a part of it."
Anthony Reid, current holder of the British Land Speed Record said: "MG back at Le Mans, I think itís wonderful. British car company, British team and all British drive line-up Ė this is rare in motorsport. And entering the most challenging motorsport event on the calendar makes it all the more exciting."
Frank Dernie, chief engineer at Lola Cars International, commented on the driversí challenge ahead: "Todayís drivers view Le Mans both as an endurance and as a sprint race. Clutches, engines and gearboxes are vastly improved compared with years gone by. For the drivers, itís a combination of mastering fast laps and reducing fuel stops."
Rob Oldaker, managing director of MG Sport & Racing Limited, said: "Weíre extremely proud to be entering an MG into Le Mans in only the companyís second year. We have embarked on a three year motorsport programme and 2001 is very much a testing and development year.
"It will be a huge bonus to us if we can show pace and an even greater bonus to finish the race. The team is motivated, enthusiastic, determined but also realistic in its approach to its success at Le Mans 2001."
The enthusiasm among the MG Lola Le Mans team is best summed up by driver Jonny Kane: "From the laps Iíve done at Le Mans, I canít wait to get back on track as itís a race Iíve always wanted to do. Iím fidgeting because I canít wait to get going."
Additional Quotes
Warren Hughes:
"Iíve even used my Playstation to help familiarise myself with the Le Mans circuit. Iím completely focused on doing a good job to the best of my abilities Ė it is certainly a new and exciting challenge."
Kevin McGarrity:
"Le Mans is a place Iíve always wanted to try my hand at. Iíve been really looking forward to it and I canít believe that itís so close now Ė Iím so excited. To drive down one of the worldís most famous straights, I just canít wait."
Julian Bailey:
"The start of the race at 4pm is something special. Le Mans is one of the great races, along with Indianapolis and the Monaco Grand Prix. With so much British support I feel quite patriotic!"
Issued by MG Rover Group Communications

More on X-Power

Back to the News content
---




Made in England