Le Mans 2002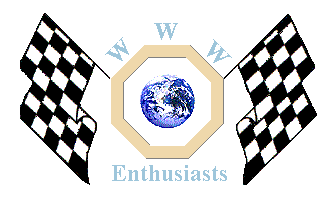 Click here to add your MG News.
---
16th October 2001

Early test for MG Lola EX257 - Le Mans 2002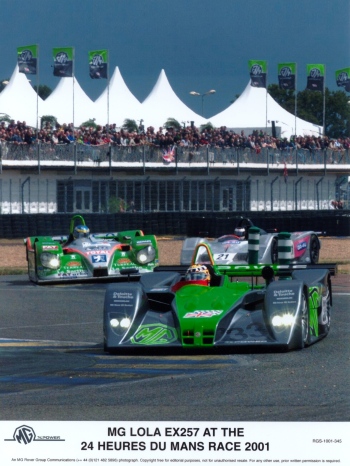 In June this year, MG made a dramatic return to the race circuit with the two MG Lola EX257 Le Mans cars surprising everyone with their pace at the world-renowned 24 Heures du Mans race. Not only did the cars qualify 1st and 2nd in class, but this was followed by reaching as high as 3rd place during the race.
The hard winter test and development programme for the MG Lola EX257s began in earnest at Estoril, Portugal last week with a tyre test programme in conjunction with Michelin (one of the team's sponsors). Prior to this both cars were stripped down and all data and parts analysed to assess the extent of the development programme required.
It was clear for all to see that the car is quick but chief engineer Frank Dernie believes there is still a great deal of potential to be drawn out of this car. He said: "The car was quick with the engine proving to be powerful and reliable. We've done all the work we set out to do – things are working out pretty well."
The car was driven in Estoril by Anthony Reid and Jonny Kane. Commenting on the early stages of the programme Anthony said: "We've had a good test and our lap times have been very competitive. The great thing is the car is reliable – the engine has run as 'sweet as a nut' all week! It's been good working with Michelin as they are very professional. We've tried some new radical tyres that will give us an advantage next year. With this being the first tyre test Michelin has a direction for next year early on in the development programme."
On driving the MG Lola EX257, Jonny Kane added: "I've done more laps here in Estoril than I've ever done – it's been really good! The new tyres are very interesting. The engine has been trouble free, which is excellent and the car has run well the whole time so we've managed to put a few miles on the clock. Despite intermittent sun and rain everyday, we've still managed to work through our testing programme."
Rob Oldaker, managing director, MG Sport & Racing commented: "We've had an excellent year on MG's return to the motorsport arena, what with the achievements at Le Mans coupled with securing our first pole position and win in the British Touring Car Championship. Le Mans is a unique event that requires stamina all-round. This time we will enjoy a much longer testing period which will enable us to enter the race with higher expectations of a finish."

Book for Le Mans 2002

X-Power

Back to the News content
---




Made in England