MG TF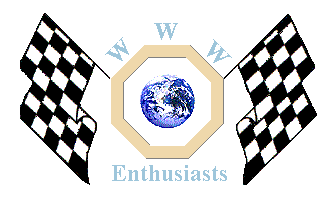 Click here to add your MG News.
---
8th January 2002

MG'S BEST SELLING ROADSTER TO BE SUCCEEDED BY NEW GENERATION TF MODEL
MG announce today (January 8), details of the new MGTF - successor to Britain's best selling MGF sports car that it will replace in February 2002 and styled by MG Rover Group's renowned designer Peter Stevens. The TF has evolved from the popular MGF and features a new exterior appearance, an all-new suspension design, higher performance engines and a host of new paint, trim and hood colours.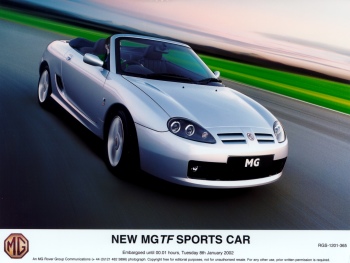 Key changes include:
Body shape - front, side and rear styling and aerodynamic improvements
Headlamps incorporate projector and direction indicator lamps
Entirely new suspension for enhanced driver involvement and response:

Multi-link rear axle with precise kinematics control
Coil springs replace the interconnected Hydragas system
Solidly-mounted subframes for improved handling responsiveness

Greater choice of paint colours, interior trims and optional hood colours
Contemporary interior treatment, with new fabrics and revised instrumentation
Higher performance K Series engines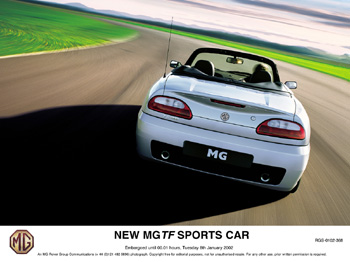 Rob Oldaker, MG Rover Group's product development director, explained: "The MGF has proved to be an amazing success having dominated its sector for the last six-years. The introduction of the new MGTF will enhance this popularity further. I have no doubt that the new TF, with its fresh new design style, new suspension with revised rear linkage geometry and a rich choice of feature specification and colour will produce even more exhilaration and retain MG's sales pole position."

The aggressive and purposeful style of the MGTF is sleeker and sportier, with a lower stance made possible by the inclusion of new:
Front bumper formed for aerodynamic performance with MG grille identity
Larger front grille aperture and MG badge
Rear bumper housing larger exhaust pipes
Headlamp units incorporating projector lamps and direction indicators
Body monoside with new shape mid-engine air-intakes
Boot lid with integral aero spoiler and high-mounted LED stop-lamp
A number of enhanced customer choice items include new:
Paint colours, including XPower Grey and Le Mans Green
Coloured hoods - three new optional colours; blue, grey and green
Alloy wheel designs; 16" 11-spoke on TF160 and an optional ultra-lightweight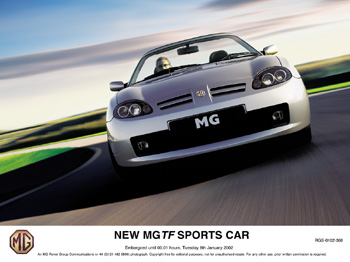 Four models now give customers a progressive range of performance, power and specification. Designated by numbers close to their power output the four-model range comprises the 1.6-litre TF115, the 1.8-litre TF135, the TF120 Stepspeed sports auto and the range-topping TF160.
The new TF incorporates a number of substantial changes, which include a new suspension design. A completely new suspension utilises coil springs, to produce a responsive and involving set-up. The entire suspension and ABS brake systems have been enhanced and result in a completely enjoyable driving experience.
The new MGTF will debut at the Brussels Motor Show on January 15, 2002 at 10.30am.

Notes
The new MGTF will replace the current MGF with sales commencing in February 2002. Since its launch in 1995, 77,000 MGFs have been produced, with over 40,000 sales in the UK making it Britain's best selling car in the sports sector for the last six years.
The launch of the MGTF, nearly six months earlier than anticipated, once again demonstrates MG Rover Group's ability to deliver outstanding products within industry-leading time scales.
In an interesting repeat of history the original MGTF Midget was launched in 1953, during the same period that the company introduced new ZA Magnette saloons. Similarly the latest MG Z saloons - MG ZR, ZS and ZT have been a great success following their recent introduction.
Issued by MG Rover Group Corporate Communications

Back to the News content
---




Made in England