New Cars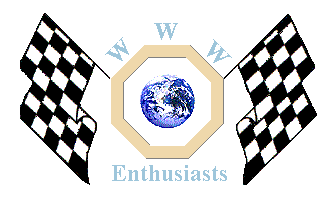 Click here to add your MG News.
---
5th March 2002

A COMPLETELY NEW MG RANGE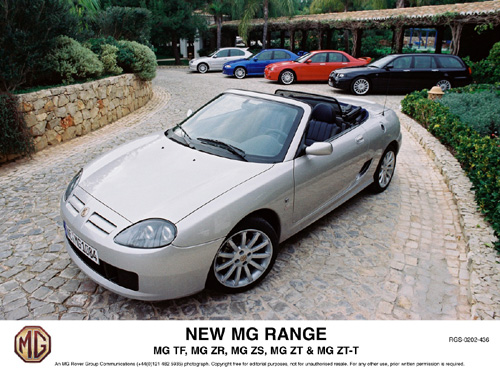 In an exciting year, the MG product range has grown by a huge margin – the like never before witnessed by any automotive brand. In less than a year the MG range has grown to include the new saloon versions – the ZR, ZS and ZT – introduced in the summer and in February 2002 joined by the new TF sports car.
To complement these actions, MGs have also impressively competed at Le Mans, in the British Touring Car Championship and the ZR in World Cup rallies, economy runs and the Junior World Rally championship. A new luxury performance sports car has also been announced – the MG codenamed X80 – now scheduled for introduction in 2003.
The MG ZR, ZS and ZT are receiving great praise from customers and enthusiasts. A sports-wagon version of the ZT – the ZT-T – is MG's first estate model. Media reviews for all three MGs have been sensational, with favourites for each differing only on an individual preference basis. A new ZT 180 Sports Auto has been introduced for customers who prefer the 5-speed automatic transmission benefits.
John Sanders, MG Rover's Group Marketing Director, explained: "These new cars have really caught the public's imagination. These are uncompromising sports saloons – completely at one with MG's sports saloon and sports car heritage – that offer a real performance package. MG has returned to its roots – offering again the definitive affordable sports car experience."
MG ZR – 'AFFORDABLE SPORTS CAR' ENTRANT
The new range of performance 'supermini' cars, with a dedicated sports personality in the form of the MG ZR, has affordable prices to match the performance of the product, and in so doing assuring buyers that the new MG product range provides best 'performance-for-money'.
The purposeful appearance of the new MG ZR is complemented by a new front design, dominated by a bold new grille, its surround painted to match the body colour incorporating bright finish mesh finished with the MG octagon badge.
The ZR is a particularly attractive 'hot hatch', built in 3- and 5-door body styles and available in a variety of engines and trim levels, to cater for market needs. Involving performance is guaranteed – whether the ZR is powered by the 1.4-litre K Series, L Series turbo diesel, 1.8-litre K Series in manual or Stepspeed transmission. The top-performing model is the ZR 160 with the verve of the 160Ps 1.8-litre K Series with Variable Valve Control.
All MG ZRs feature body coloured exterior items: side rubbing strips, door handles and mirrors, bumper inserts, tailgate lift, aerodynamic tailgate spoilers, front and rear bib spoilers. Black headlamp bezels and bright mesh main and lower grilles complete the distinctive appearance.
ZR is tuned with a sporting chassis set-up for agile and responsive cornering dynamics. Rapid steering response, throttle adjustability and direct steering feedback are all key to the driver enjoyment of this 'pocket-rocket'. The ZR also features low ride-height, sports rated front and rear springs and next-generation Delphi high technology dampers give a composed ride and handling balance.
Rob Oldaker, MG Rover's Product Development Director, said: "The new ZR gives customers exhilaration and performance whatever their budget, something MG has always stood for."
CHASSIS ENTERTAINMENT WITH MG ZS SPORTS SALOON
MG's new ZS sports saloon has a distinct dynamic character, race-track looks, a powerful engine and is the basis of the Company's entry into Touring Car racing. With a powerful and smooth six-cylinder engine, rare in a car of this size and unique at the price, the range-topping MG ZS 180 is expected to excite sports-minded drivers.
Wind-tunnel work on the car's aerodynamics has produced a package for the ZS 120 of front bib and rear spoilers and side skirts to minimise aero drag and lift. The bumper increases airflow to the engine, increasing stability at speed and highlights the car's muscular stance when viewed from the front.
The interior has special colour co-ordinated sports seats, Rhodium silver fascia detailing and silver instrumentation. The MG sports steering wheel and gearshift use an alloy and leather combination design. ZS 180 versions are specified in black perforated leather, with matching gearshift and handbrake gaiter.
MG ZS flatters the smooth, skilful driver, yet it also rewards the more adventurous driver who may enjoy exploiting its performance. The vehicle retains excellent directional stability. The chassis specification of ZS was actually developed on the racetrack by enthusiasts before the MG saloon programme started.
'Straights' multi-spoke 17" alloy wheels are specified for the ZS 180 with 205/45 R17 tyres, to house the large 282 mm front ventilated discs for good stopping performance aided by Electronic Brakeforce Distribution and ABS.
Rob Oldaker, MG Rover's Product Development Director, said: "MG cars have always been appreciated by enthusiastic drivers and we have been delighted with the response from the media and public to the MG ZS, particularly the ZS 180 with its powerful and smooth six-cylinder engine, rare in a car of this size."
DYNAMIC ZT SALOON HEADS NEW MG RANGE
Heading up the new MG saloon range, the ZT models bring a new sporting aura to the upper-medium and compact executive car sectors. Three power outputs are available – 160, 180 and 190Ps – from the quad-cam 2.5-litre KV6 engine.
True to MG's sports pedigree, the MG ZT makes a strong visual impact with a purposeful stance and style. Aerodynamic features and various chassis dynamic elements have been developed to influence handling qualities to produce a real sports-driving characteristic.
A body coloured aerodynamic rear spoiler is available on the MG ZT models, which has been harmonised with the front bumper design to substantially reduce aerodynamic lift, benefiting straight-line stability, controlling high-speed lane change characteristics and increasing high-speed braking efficiency.
The interior focuses on a 'technical' look with fascia panels and console finished in Rhodium silver, with matching silver finished instrument dials. The traditional MG octagon badge features at the centre of the black leather trimmed steering wheel, perforated on the grip sections. A similar approach co-ordinates the spherical alloy/leather gearshift and handbrake.
Rob Oldaker, MG Rover's Product Development Director, said: "MG has always been about unleashing the potential for excitement and these new British products express themselves with verve, in the hands of the owners that drive them. We have produced some exhilarating new MG cars and they thrill all who are lucky enough to drive them."
Issued by MG Rover Group Corporate Communications

More on X-Power

Back to the News content
---




Made in England