New Cars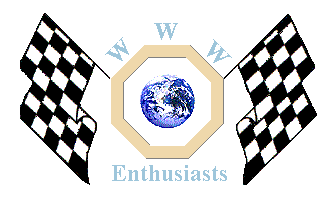 Click here to add your MG News.
---
15th May 2002
MG ZT-T RAPID-RESPONSE VEHICLE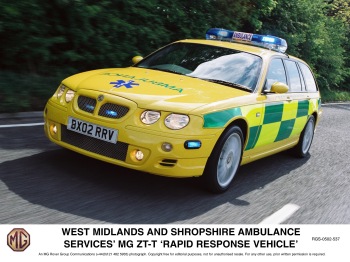 MG's ZT-T has been chosen by West Midlands and Shropshire Ambulance Services as their 'Rapid-Response Vehicle', specified to attend emergency incidents, ideally within 8 minutes of notification. The Trophy Yellow estate cars, with green reflective Battenburg livery, will soon be patrolling the counties.

The MG ZT-T features sports suspension and a 2.5-litre quad-cam V6 engine to produce an accomplished on-road performance characteristic that is entirely suitable for rapid response requirements. Combined with its versatile estate bodystyle, with stylish tailgate, separately hinged opening rear window and a potential 1222-litres of practical loadspace, the ZT-T will carry the Incident Commander and Paramedic Technicians quickly to their emergency destination.

The rapid-response MG specification is a standard ZT-T 190, with a multitude of standard features that include air conditioning and 18" alloy wheels. An optional integral loadspace cassette has been specified for the safe carriage and restraint of the considerable incident equipment, which includes; oxygen therapy, cardiac defibrillators, entonox, maternity and paediatric pack, burns bag, cervical collars, splints and first aid bag. Plans for major incidents, site maps, body bags, triage cards and contacts for agencies and hospitals are also carried.

Additional special items include the light roof bar, radio communications and a reverse-decal 'Ambulance' livery on the bonnet and on the West Midlands Ambulance Service car 'RESPONDER' on its tailgate.

Bob Seaward, Deputy Chief Executive and Director of Operations for both West Midlands and Shropshire Ambulance Services said: "I am always looking at new initiatives to assist in the delivery of patient care to the communities. When we evaluated the MG ZT-T we were most impressed with its performance and considered this would help our staff in providing the best possible response to emergencies within our operational area.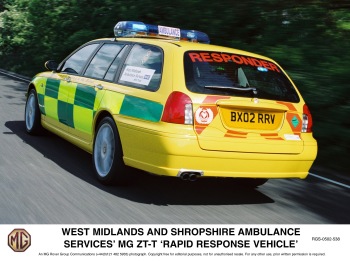 "The two MG ZT-T vehicles will be used by Incident Commanders who will operate these vehicles 24 hours per day, responding to life threatening incidents across the West Midlands and Shropshire."
Gavin Thompson, specialist sales manager, MG Rover Group, said: "The feedback prompted by the Police specification MG ZT-T, has generated a number of emergency service enquiries for this Rapid Response Vehicle. With its powerful quad-cam V6 engine and versatile luggage capacity, the ZT-T provides the necessary combination of performance motoring and estate car functionality - ideal for an emergency Rapid Response Vehicle.
"I'm confident the new MG will be a popular choice – both in active use and for those that see it performing an active role. You certainly won't miss seeing the bright yellow ZT-T!"
The MG ZT-T continues to be successfully evaluated by Police Forces across the UK for motorway patrol and a number have already been ordered for active Police duty, following the introduction of Police MG ZT Saloons.
| | |
| --- | --- |
| Performance | MG ZT-T 190 |
| Engine Capacity | 2497cc |
| Max Power | 190Ps @ 6500rpm |
| Max Torque | 245Nm @ 4000rpm |
| 0-60mph | 8.2 seconds |
| Top Speed | 137mph |
| Fuel consumption, Urban | 19.8mpg |
| Fuel consumption, Extra Urban | 38.8mpg |
| Fuel consumption, Combined | 28.7mpg |
| CO2 | 235g/km |
The Incident Commander's role is multi-functional and varies from managing a large incident with other Emergency Services and agencies, to assisting with any difficulties they may encounter throughout their tour of duty. The West Midlands Ambulance Service Trust vehicle fleet covers an area of over 364 square miles and answers over 1,000 emergency calls every day, servicing the emergency needs of the community of the West Midlands.
The choice of yellow for Paramedic Ambulances is soon to become an EEC directive.
The MG ZT-T 190 has an on-the-road price of £21,765 and is MG's first estate.
Issued by MG Rover Group Communications

Back to the News content
---




Made in England