Motorsport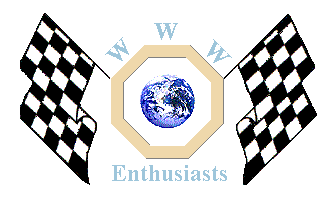 Click here to add your MG News.
---
27th May 2003
Green Flag MSA British Touring Car Championship
Rounds 5 & 6 - Thruxton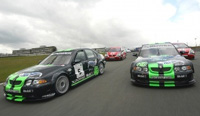 Race 1: Weather/Track: Sunny / Dry
Car no. 4 Anthony Reid Position: D.N.F
Car no. 5 Colin Turkington Position: 8th
Car no. 6 Warren Hughes Position: D.N.F
The first race of the afternoon came to a bitter end all too soon for the MG's of Anthony Reid and Warren Hughes. Having qualified mid division on the grid the MG's made a good start only to be taken out on the opening lap after Allard corner. Independents Cup driver Rob Collard was on the receiving end of a rear nudge spinning him out of control and making contact with a number of cars including Anthony and Warren. Both drivers were forced to retire.
Speaking of the incident Anthony said: "I'd made a good start but somebody made contact with Collard, which caused his car to spin. He shot back across the circuit and collected myself in the process, which ended my race. It's been a difficult weekend, as I didn't qualify particularly well, so it was always going to be a tough race starting from mid-way on the grid. It's a shame as the car was starting to feel good."
Warren suffered a huge impact to the rear quarter of his car during the accident. He explained: "I collected Collard as he spun on the circuit. I saw his car spinning and dived to the right hand side but his car ricocheted at a hell of a pace. This caused a huge impact and almost ripped the rear door off. But qualifying further down the grid means there is always a potential for trouble."
Colin Turkington had a more successful opener when qualifying 7th on the grid and finishing a respectable 8th. Colin said: "It was difficult from the word go as the first set of tyres weren't particularly sharp. I was experiencing some understeer, which meant I started to loose ground and just had to drive defensively. Unfortunately I lost time during the pitstop which dropped me down the field and effectively meant that I was racing alone which is always difficult to do."
Race 2: Weather/Track: Sunny / Dry
Car no. 4 Anthony Reid Position: 4th
Car no. 5 Colin Turkington Position: D.N.F
Car no. 6 Warren Hughes Position: 6th
During the break the WSR team were hard at work to repair the MG's to ensure they were back on the grid for the second race. Warren's car saw repairs to the rear suspension, rear quarter panels and a new door whilst Anthony's front-end bumpers, splitter, headlamps and wings were replaced.
Anthony Reid came out all guns blazing by moving up seven places by the end of opening lap. Following a speedy pitstop by the WSR crew Anthony ran 4th right up until the chequered flag. On achieving his third fourth place in four outings Anthony said: "Fourth is okay but I felt I could have done better and achieved a podium. The car was feeling a lot better, but it's a situation with this particular circuit whereby they produce a special tyre to handle the surface. My car took quite a knock in the first race so I'm not sure that the car was 100%. But focusing ahead to Silverstone I'll be looking to go one better."
Colin had a disappointing second race when retiring after 9 laps with engine failure. He commented: "The car ran better during this race and I was running as high as sixth and having a good battle with James (Thompson) and Anthony (Reid). My tyres were holding up well and I was looking forward to a decent result until I had the problem with my engine."
Having battled midfield the majority of the race Warren Hughes set the fastest lap before finishing 6th and securing extra points for the MG Sport & Racing Team. On his result Warren said: "We got a little bit out of the weekend by setting fastest lap in the second race and it shows what the car is capable off. I've no doubt that the cars are very quick but the special tyre for this circuit really threw us during practise and qualifying. Hopefully we'll get back to Silverstone, a circuit we're familiar with along with a familiar tyre and start challenging again. I know we're all capable of winning."
Dick Bennetts, managing director, WSR said: "Bearing in mind that we had a disappointing qualifying session, we have finished 4th and 6th in the second race. We suffered a large amount of damage in the first race, which the WSR guys did a fantastic job in repairing two cars. For Warren to set fastest lap is also an achievement. But overall its not as good as we would want, need or can do but at least we've come away with something."
Kim Johnson, director, MG Sport & Racing said: "We had a disastrous weekend with Anthony and Warren in the first race. To have all three cars on the grid for the second race was a miracle. We didn't manage to get all three cars home in the second race but to secure 4th, 6th and a fastest lap was a really good achievement considering where we started. /font>
Issued by MG Rover Group Communications

MG XPower

Back to the News content
---




Made in England