Motorsport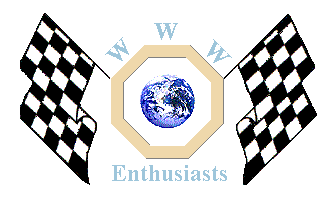 Click here to add your MG News.
---
2nd March 2004
JONATHAN PALMER CHOOSES MG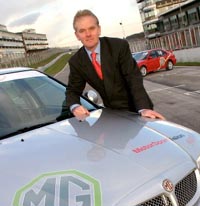 Having recently purchased Brands Hatch, Oulton Park, Snetterton and Cadwell Park race circuits, MotorSport Vision is now the market leader in driving experience events and is already initiating substantial changes to revitalise the motor race circuits business for the future. MotorSport Vision is completely revamping its retail motorsport experience programme and has chosen MG Rover and its sporting brand MG to provide more exciting cars for its guests to drive at Brands Hatch and Oulton Park.
In the MG ZR and ZS models, motorsport enthusiasts will have a choice of two of the finest sporting car ranges available for their track day experience. They can then follow that up with high-speed demonstration laps in the latest rear-wheel-drive ZT 260 V8. Motorsport Vision has also selected the ZT 260 V8 for Course Car duties at race meetings and the ZT-T estate for a quick-responding Doctor's Car.
John Parkinson, Managing Director, MG Sport & Racing Limited, commented: "MG, fundamentally a sports motoring brand, has a key role to play in the perpetuation of British enthusiasm for motorsport. This new alliance is a win-win for both parties, with the real winner being the enthusiast himself."
Jonathan Palmer, Managing Director, MotorSport Vision, said: "The circuit driving experiences available to the public at Brands Hatch and Oulton Park are already popular with some 20,000 participants per year experiencing the thrill of driving on two of the most dramatic circuits in the world. Like MG, the names of all our circuits are steeped in British motorsport history and we share a commitment to build on our reputations for providing affordable driving exhilaration."
"During our product evalution process I drove both the MG ZR and ZS models at Brands Hatch and the driving experience was so satisfying even to me as a former F1 driver that I kept just wanting to do one more lap! I was particularly impressed by the chassis that provided great turn in on cornering with none of the frustrating understeer that can dog many cars on a circuit. Our instructors think the same so of course our participants in our new RaceMaster activites run at Brands Hatch and Oulton Park are having the thrill of their life!
"We will run around 150 race events at our circuits this year and as part of our drive to provide a more professional and entertaining show with a smart coherent presentation all MotorSport Vision circuits will have an MG ZT 260 V8 for Course Car duties and the ZT-T estate for a quick-responding Doctor's Car.
"MotorSport Vision is delighted to be supported by MG as partner. To develop this interest with British product at great British circuits is a huge bonus, and is one that may even help identify another British Champion."
A partnership of motorsport enthusiasts is the thread that runs through the entire MG car business. From its inception 80 years ago to the current day, MG has built sporting cars which enthusiasts can compete in and win. Its current products are regularly campaigned through MG Sport & Racing Limited in a number of motorsport disciplines that include rallying and circuit racing. MG ZRs won the GpN class in the UK round of the 2003 World Rally Championship, the Wales Rally GB, and MG ZSs won races last year and took eight fastest laps in the hugely competitive British Touring Car Championship.
The arrival of the MG XPower SV, itself a race-developed chassis using specialist composite light-weight materials has a clear competitive pedigree.
Promoting British talent is already an MG objective, with the recent MG ZR rally Scholarship programme, which is a unique opportunity for young drivers to win a drive in a competitive rally championship and, for the eventual winner, a drive in a works MG ZR rally car. A truly outstanding initiative.
MG has a larger worldwide enthusiast club following than any other brand (c100,000 members) and its products are either race-developed or proven on the track, with a continuous track development programme.
The arrangement with MotorSport Vision provides MG with a prominent presence at its four circuits; Brands Hatch, Oulton Park, Cadwell and Snetterton. The 'RaceMaster' programme will use MG ZR and ZS road cars for the circuit driving days, which is expected to draw a potential of 20,000 people annually, to enjoy and learn motorsport at an elementary level. Hot lap demonstrations in the new MG ZT 260 V8 will leave any prospect wanting more.
John Parkinson, added: "Enthusiasm for motorsport is a key aspect in MG ownership, so to have a relationship with great British circuits in the UK is important to us. With the MG ZR the UK's best-selling hot-hatch and the TF roadster the UK's best-selling sports car, it makes perfect sense to support this enthusiasm for enjoying the thrill of driving."

Back to the News content
---




Made in England