TF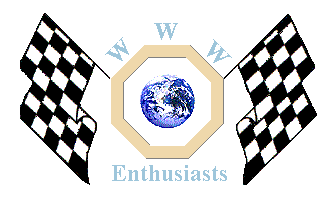 Click here to add your MG News.
---
7th February 2005
£100,000 PAID FOR TOP-SPECIFICATION MG TF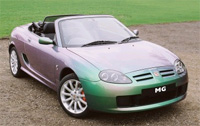 A bespoke MG TF sports car sold for £100,000 in a charity auction at the Retail Trust Ball, hosted by Ruby Wax.

The MG TF achieved the highest bids of any item auctioned during the evening, which raised nearly £250,000 for the Retail Trust charity.

"As the UK's best-selling sports car, the MG TF is clearly a very popular car. I'm naturally delighted, though not surprised, that individuals are keen to acquire one at any price. This particular highly specified MG is available to order at a value comfortably below £100,000!" said Rod Ramsay, managing director of worldwide sales & marketing, MG Rover Group

The MG TF 160 auctioned was a highly-specified top-of-the-range model, specially painted in the bespoke Monogram Shot Silk paintwork – a colour that 'travels' from purple through to green dependent of lighting conditions. Sumptuous Oxford leather trimmed interior, with wood steering wheel and a body-coloured hardtop were key elements that drove the Baugur UK Group to bid successfully for the MG.

About the MG TF

Produced by MG Rover Group at its Longbridge production facility in South Birmingham, the TF is the MG brand's iconic model, with a lineage that can be traced back through all the great MG sports cars. Monogram is a personalisation programme that allows individuals greater choice of exterior paint colours and other bespoke features. The MG TF 160 with Monogram paintwork, extra wood items, an Oxford leather interior and hardtop is valued at £25, 390.

MG was established in 1924 by Cecil Kimber, then General Manager at Morris Garages (from which the famous letters are derived). MG club membership enthusiasts exceed 100,000 across the world – more than any other automotive brand.




Back to the News content
---




Made in England