March 19th, 2018
Racing at SPA - an annual tribute to Barry Sidery Smith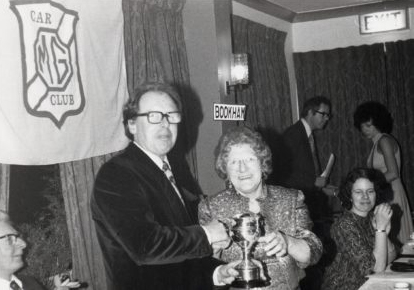 We sadly announce that Barry Sidery Smith has passed away aged 81.
Pam McCarthy reflects having known Sideways since around 1968 when he used to come into her husband Roy's body-shop in Morden for repairs to his 'sales' cars: "Barry and Roy shared time on the track with his various MG's as he started racing in 1970. The MGCC BCV8 Championship was one of Barry's pet projects and that was put in place back in 1977 and I have been involved with it since the late 1980's, culminating in being the Championships Coordinator for the past 15 years."
It is intended that an event is run every year at Spa in recognition of Barry Sidery Smith's contribution to MG and Classic Car racing over the past 50 odd years.
Many of the drivers who have raced with Barry would like to honour his memory and still hold his one hour and one minute race each year at Spa. 'The Sideways Club' is designed for drivers who have raced with him, or who have joined the club racing fraternity because of him, or have bought a race car from him or anybody who has known him. All are welcome to join the 'Club'. On the registration form you can give your memories of him and how you knew him. No Registration fee is required just a memory of his relationship to you and your Car and Registration details.
An annual race starting in 2018 at the Summer Classic event at Spa 22/23/24th June is currently being arranged. Thereafter it may be back at the September Spa meeting or it may be alternated each year, new race set up to be determined. It will give a chance for all those who have raced in the past at this event to still be there. A BBQ or dinner/evening event will also be held at the meeting.
If you are interested in joining in this event, now or in the future, please complete the following Club Registration form so we can determine its viability. Can you mention this to others who you know raced at Barry's Spa event just in case the e mail addresses I have copied are 'not quite right'.
More information: http://www.mgcc.co.uk/motorsport/barry-sideways-sidery-smith-passes-away/