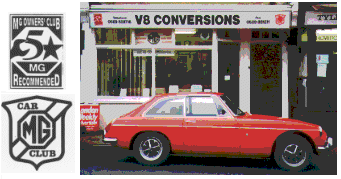 V8 Conversions
123 High Street, Farnborough, Kent. BR6 7AZ
Tel: 01689 858716
Email: <V8Conversions@mgbv8.co.uk>
Specialists in the MGB sports car and modifications to V8

---
Welcome to the V8 Conversions page
What is the charisma of the MGB, one of the world's best loved sports cars? Nobody has ever been able to explain it. Although the B series power plant has proved itself, it cannot really be claimed to be exhilarating in the performance stakes. However combine the beloved 'B' with the power and flexibility of the Rover V8 and you will have one hell of a car as well as the ultimate wolf in sheeps clothing! Let's face it. If you want a fast sports car that you can maintain yourself, does not cost a fortune to run and will not depreciate, what do you buy?

Insurance is another incentive, if you use a classic car policy with limited mileage your premium could be cheaper than a small family car.

Unfortunately B.L. only produced 2,591 V8 MGB GTs on the original production run in the seventies so good used examples are very rare. The new MGR V8 is most MG fan's dream but priced at £26,000 this is beyond the average bank balance and even in the future bearing in mind the limited production run second hand models will be difficult to find.

To convert an MGB to a V8 to make a profit is not viable, but unlike most other conversions, if the job is well engineered, the value of the vehicle is increased. Even more so when you convert a roadster to a V8, as B.L. did not originally manufacturer such a vehicle.

Before the introduction of the black bumper MGB, B.L. was producing different engine compartments for the 1800 and the V8. With the introduction of the black bumber for the American and UK markets the engine bays were standardised for the 1800 and V8 models. Consequently the chrome bumber model requires a number of modifications before the conversion can be started. Some owners have converted their rubber bumpers and grill.
What we do
We stock an extensive range of MGB body and mechanical parts
Worldwide mail order
MGB servicing and repairs
V8 conversions and kits for the MGB

Click here to see more information about converting MGBs to V8s and for our V8 parts list.

We are approved by the MG Car Club and the MG Owners Club
Where are we?
You'll find us South of Bromley, off the A21, in Farnborough Village High Street.
---
Contact: Dave Vale Tel: 01689 858716


V8 Conversions web site. | Back to the UK Garages Page.
---




Made in England