Total Page
Hits since
21-3-01
Front Valance

Click on the images for a larger version
John Bourke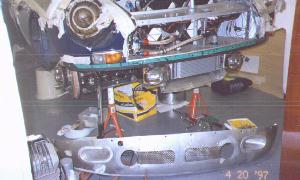 A view of the front of the car during the fitting of the special aluminium front valance - shows the soft plastic packing strip used to bring the valance flush with the wings and sheet aluminium sub assemblies which form the fog lamp supports and lower radiator ducts. The oilcooler layout is also visible.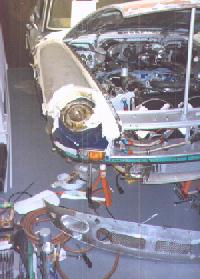 A view of the car in my rather small (but very warm and dry!) garage during the fitting of the valance and aluminium front bonnet.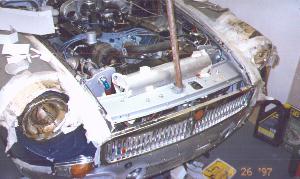 Shows the front of the car after fittng the valance also the aluminium fan shield during dry assembly before going to be welded.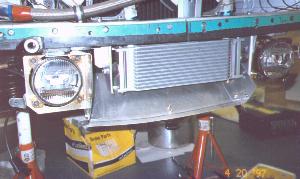 Close up of the r/h fog lamp and aluminium lower radiator duct panel also shows the method of supporting the oil cooler on rubber bobbin type mounts. I extensively used 4 and 6mm dia nutserts during the assembly of the aluminium panel work.
Mike Cook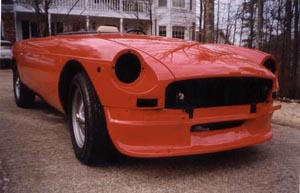 The fibreglass Special Tuning spoiler originally produced by BL under part number STR 0189. It is available at most MG stockists, although they are all copies now.

It was designed with wind tunnel assistance and reduced the standard MGB CD factor from 0.42 to 0.38. I first fitted one to my car in 1976 and found it to be very effective at reducing the effect of crosswinds on an open road or motorway. Can't say that it added any performance though, and after I went V8 I still found that at 130 plus mph at Bruntingthorpe test track, the front still lifted to make the steering 'quite light'!!

Thanks to Roger Parker for the information.

Fitting a V8 engine into an MGB

This site forms part of MG - The Classic Marque
Email: webmaster@mg-cars.org.uk