MGA Picture Page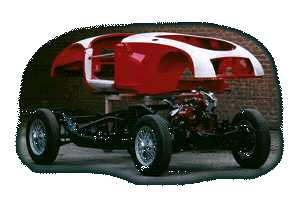 Nieck Jan Boschman's extensive body-off restoration

---
Here's a list of pictures you can see from here :
Frank Hiscock's Red MGA V8 from Noosa, Queensland, Australia
The engine is pretty much a standard Vitesse 3.5 l, with Offenhauser Dual Plane Manifold and 460 Holley 4 Barrel Carb, with a Borg Warner 35 3 speed auto. The diff is out of a Holden Commodore, Opel for you, and is the same as a Dana diff. I cut the diff 220 mms to suit the car with Holden 5 stud wheels. The front axles were also removed and a spacer was built in its place to carry a Holden Commodore front stub axle assy. The wheels are off a 2006 Commodore with MG centre caps from the UK. Wheels are 7 x 16". The car has 4 wheel Disc Brakes. It has a PBR 4400 Booster for the front brakes and a PBR 4000 Booster for the rear brakes. The car has taken about 4 years to complete and was an ex Californian left hooker when I got it. It had been rolled at some stage and poorly repaired. Engine closeup and Car from above
Bob Frisby's Chariot Red MGA 1600 at a IDA-BRITS Car Club event in Boise, Idaho, USA
MGA Hillclimbing Trois Epis in June 2001 in Alsace France. Our thanks to Bernd Giesen for these great pictures. Going in and coming out!
Here is a picture of Pedro Morgado's beautiful MGA 1600
Alberto Cruz's beautiful collection from Portugal
MGA 1600 MK II Roadster 1961 GHNL2 105434 - Black, and MGA Twin cam Coupe 1959 YM3 1468 - OEWhite
Front view - 305 BON on the race track.
MGA spotted at Saundersfoot, Wales Was this you?
Ian Willey's MGA Coupe
MGA - July 2002 on a hillclimb race in France.
Francois O'born's MGA rallying through the snow and at Targa Floria
Gordon Kirby's MGA 1600 Start of the restoration of this 1600 which I drove for many years. Owned it since 1973 and now my son will drive it restored this year in our towns 4th of July Parade. at the front and the cockpit
Jerry van Kalleveen's MGA Twin Cam from Holland
Sean Vassallo's MGA 1600 with fuel injection and a new crossflow head. From the front and side
Koen Struijk's MGA 1500 from Holland
Another photo of Koen's car at sunset
Lynn Houdyshell's Iris Blue MGA 1600 at a IDA-BRITS Car Club event in Boise, Idaho, USA
Mark II Front view
Nearside/Front view - Black and white image, showing the A with bonnet up.
Ron Berenholtz's MGA from Melbourne Australia
Daniel Porsche's MGA from Belgium (owned since 1978)
Wim Vaassen's MGA Twin Cam from Holland
Leo Ballester's MGA
Stephen Lofaro's MGA
Ingrid Weichsler's MGA Twin Cam from Austria More images (external link)
Marcus Upton's red MGA 1600 MKI roadster (named "Amanda") was imported by myself from South Africa at the beginning of this year and still bears the scar on the bonnet from a when she was hit by a stray bullet on the driveway of my house in Johannesburg! I believe the car was originally supply new in Rhodesia. David, my neighbour, realised his dream of owning and MG recently when he bought his blue 1977 Rubber Bumper MGB Roadster. My White MGF 1.8i is a company car and my daily transport. Lucky me!!
The Monkeys in an A! photo of the Monkees heading for the beach (note the surfboard). They must have forgotten their radio as they brought their guitars. This is most likely an early promo shot (late 1965) prior to the Monkeemobile (a trick custom Pontiac GTO).
MGA restored at Road and Race Restorations in Manchester Uk by Paul Corker in 1994. It got first place at show, beating 167 in an open class.
Bosse's MGA pulling a caravan
Dr. Jose Ignacio Guerra's MGA from Guayaquil, Ecuador. Before and during restoration After Front, Back, Engine, Interior and is that a power soft-top? (no thankfully!) racing Autodromo de Yahuarcocha Ecuador in Los Andes over 1600 mts over sea level in November of 2001. Ready for travel to the US and boarding the plane (wrapped and ready to go)
Tony Todd's MGA in action at the recent Historic Meeting held at the Eastern Creek race track, Sydney, Australia
Riccardo's 1955 MGA Glacier blue/grey trim. 51st built first arrived in Italy in September 1955. Engine. Rear view
Chris & Sue Middleton's 1955 MGA The car featured in the parade of drivers for the March 2005 Australian F1 Grand Prix at Albert Park in Melbourne. This year coincided with the 50th Anniversary of the MGA.
Judson Supercharged engine (photo Guildford, Spring 2000)
Bob Muenchausen's 1956 MGA 2 litre This MGA does have the 2 litre MGB engine conversion, however, almost everything else is as original. Bob is a member of the Idaho British Car Club, Boise, Idaho, USA.
Thor Sorensen's 1956 MGA and from the back. This is a South African car that now lives in Norway.
Glenn Hedrich's 1956 MGA Kitchener, Ontario, Canada. This MGA is undergoing its second rebuild under his ownership. The first rebuild was in 1980.
Christian Lûchau's 1956 MGA
Tag Gindrup's 1956 MGA 1500 Coupe from Conroe, Texas. Under restoration.
David Schneck's 1956 MGA pictured with his daughter Jenna. From the back A previous picture
Thor Sorensen's MGA originally from South Africa, now lives in Norway
Don Walker's 1956 MGA Imported from USA in 1990, it sat in a shed for over 12 years until I purchased it late 2002. It still has the original rego. sticker on the window. Everything works and drives good despite the cross-ply tyres. Located in South Australia.
Alan Feast's 1956 MGA with Judson Supercharged engine (photo Guildford, Spring 2000)
David Murphy's 1956 MGA (plus his daughter) located in Tasmania. David can be contacted at dmurphy@oliv1.oli.hk
Régis de Merlis' 1956 1500 MGA from France
Jose Robles' 1956 1500 MGA from Tenerife. And again
Ignacio Segura's 1956 MGA racing MGA at Carrera Panamericana 96, Mexico. The event saw some very bad crashes, especially Jonahatan Eduars' 59 MGA Coupe
Phil Linneer's 1957 MGA 1500 from Lubbock, Texas
Keith Morris' 1957 MGA 1500 from Brisbane, Austrlia
Costante Galbiati's 1957 MGA 1500 from Treviglio, Italy. Seen here racing at " 100 MILES UNDER THE STARS ", with Marghe!!!! And again - exterior / interior
Mel Inch's 1957 MGA Coupe from Sarnia, ON, Canada. After a 6 year restoration. Pictured here with wires in April 2007
Adnan Uccan's 1957 MGA Coupe From Turkey. very much under restoration
Adam Outen's 1957 MGA Coupe Boise Idaho USA
Rick & Nicole Nelson's 1957 MGA San Bernardino, California, USA
Old English White paint with Red leather. Complete body-off restoration done by previous owner in 1999. Freshly rebuilt 1800 MGB engine. Purchased the car in Chattanooga, Tennessee, USA (October 14th, 2004). Drove it (without a top) 2,100 miles back to California (trip took 12 days). Pictured again near Phoenix, Arizona.
Martin Straka's 1957 MGA New Orleans, LA. Restoration by John Murdock of LeCanto, FL.
David Marklew's 1957 MGA 1500 Hampshire, England
Derek Cotton's orient red 1957 MGA Coupe originally sold to the Channel islands returning to the UK mainland in 1967. Now fitted with MGB unleaded head and K&N air filters.
Alfredo and Claudia Baioni's 1957 MGA 1500 on their wedding day, Sept 30th, 2000. Do you take this MGA to have and to hold...
Steve Lofaro's 1958 MGA
Maurice Linehan's 1958 MGA Coupe Photo taken during a hill climb in the Barossa Valley, South Australia. The car received a ground up restoration and Mk11 MGB engine in 1995.
Dar Planeaux's 1958 MGA "Best In Class Award" at the Dayton Ohio Boonshoft Museum of Discovery Concours d'Elegance, September 14, 2003
Owen Hendry's 1958 MGA from Johannesburg, South Africa.
Zeraldo Family 58 MGA
Dustin Jacobson's 58 MGA This is a beautiful picture!
Ron Dean's 1958 MGA NAMGAR member #5846 at Laguna Seca Raceway in Monterey, California.
Oliver Lux's 1958 restored MGA 1500 from German
Fabian Garza de Leon's 1958 MGA 1600 from Monterrey, Nuevo Leon, Mexico,
Martin-Michael's 1958 MGA Roadster at the Nurburgring 1000 km Jubilee 1997. The car was restored and prepared by NH Klassische Automobile in Troisdorf/Germany. Seen here with other entrants
C de Bruin's 1958 MGA during restoration. and from the front
1959 MGA for sale rear view
Mike Duvall's 1959 MGA from Illinois, USA
Pete Jensen's 1959 MGA
Oscar Hernandez's 1959 MGA 1600 from Bacolod City, Negros Occidental, Philippines
Kim Tonry's 1959 MGA 1500 from Illinois, USA pictured alongside his 79 Midget
Howard & Kay Larson's 1959 MGA 1500 from South Sioux City, NE, USA
Michelle Bray's 1959 MGA 1600 MKI show here at the Embry Riddle University Parking Lot
Aaron Davis's 1959 MGA 1500 roadster. Pictured at an Austin Healey car show in Mystic CT USA. This was the only MG there!
Carl Guderian's 1959 MGA Twincam YD3-1984 which he purchased as a basket case about Jan 1, 2002, and completed a ground up restoration Sept. 15, 2002. Side view
Peter Watkins' 1959 MGA 1500 Coupe from Camden, NSW, Australia. Fitted with an 1800 5 bearing engine and a Nissan 5 speed G/box
Richard Olsen's beautifully restored 1959 MGA in Australia. An American delivered car imported to Australia. It has undergone a complete restoration 2010. Many new parts and the original 1500 engine.
Roger Anderson's 1959 MGA 1600 roadster
Stephen and Glenda Beasley's 1959 MGA Twin Cam Factory Fitted with Twin Webers 140 BHP. Raced at Silverstone in 1979 (Driver - Dave Ryland)
Andrew Williams' 1959 MGA 1600 roadster from Wollongong, NSW, Australia
Ricardo Gomez Flores's MGA 1600 coupe and pictured with his wife
Kalle Larsen's 1959 MGA imported from California to Denmark
Aaron Davis's 1959 MGA 1500 roadster, pictured next to his daughter's "little t" at the British Cars By The Sea Car Show in Waterford CT. Another view
Neil Beck's restored 1959 MGA Coupe from Cape Town
Henk Hascher's self-restored 1959 Dutch-Anglo-American MGA 1500 from The Netherlands
Randy Holland's 1959 MGA from Johnson City, TN, USA rear/side view, front/side view, closer from the front
Randi C. Lee's MGA Maggie is 1960 MGA twin cam serial # YDH61390. This is the first car I bought myself. I paid $800.00 in 1968. My mother called it a rolling death trap and tried to make me return it! That was 35 years ago. Her name is Maggie. The picture was taken in 2001 and I'm standing with my 18 year old son, Zack. I try and drive her everyday. It truly makes me feel 18 again.
Harrison Manell's 1960 MGA from Irvine California, USA. More information about this very special A. (external link)
Chris Lake's 1960 MGA 1600. from Gold Coast, Australia. Interior and during rebuild. This restoration project of a 1960 MGA 1600 was originally begun 15 years ago during a brief moment of nostalgia (retirement). The project stalled after a couple of months and the car was pushed to the back of the shed where it sat for many years slowly disappearing whilst being used as a shelving unit. Along comes Christmas day 2006 when the children and grand children pressured me into finishing off the restoration. Eight months later the car was completed with a great deal of help from my sons and grandchildren. So now it is complete. Time now to start the restoration of the 1959 MGA 1500 ..
Mark Michalak's 1960 MGA Coupe fully restored over 12 years
Mark & Cindy Michalak's MGA 1960 1600 Coupe in front of Biltmore mansion
David Honness's MGA 1960 1600 Coupe from Roanoke Va
Lorin & Louisa Cuthbert's 1960 MGA Iris Blue Roadster seen at Lake Tahoe, CA, USA for NAMGAR GT-24. They took 2nd place in the 1600 class.
David & Pamela Crawford's 1960 MGA 'Iris' We've made a couple of modifications. The chopped windscreen really cuts drag, and her 5 speed Ford Sierra fully syncromesh transmission makes driving even more enjoyable. So does the front sway bar. We had the head 'flowed' which improved the intake by 36% and exhaust by 39%, then bolted the .40 milled and 'blue-printed' head back down with APT studs. Larger MGB valves and K&N filters help Iris' respiration. Breathing in and out is what an internal combustion engine is all about. Iris breathes ever so nicely.
Iris lives in San Diego, California, and her driver belongs to the San Diego MG Club. We're driving her up to Oregon in July of this year for the NAMGAR 28th annual event, a 1,300 mile drive each way. Going topless should be a true adventure!
Mark Friedman's 1960 MGA from Pennsylvania, USA, again from the front
Andreas Pichler and Dagmar Bardelmeier's iris blue 1960 MGA with its newly fitted hardtop in a park near Duesseldorf, Germany.
Juan Doumet's 1960 MGA from Guayaquil, Ecuador and from the other side and the engine
David Wallace's 1960 MGA Coupe The car is presently in Abingdon, Virginia, U.S.A. It was originally from Arizona
Doug Haig's 1960 MGA alongside Peter Grimston's 1970 MGB on the coast in NSW, Australia. The MGA was originally purchased in the USA by Doug's wife in 1961 and imported and converted to right hand drive in 1964, however approximately 1000 other MGA's were assembled in Australia from kits (as well as various numbers in South Africa, Ireland, the Netherlands, Mexico and one only in Cuba).
Al Baran's 1960 MGA and its engine. The car was used for a ladies underwear catalogue.
Graham Agnew's 1960 MGA 1600 at Newfarm Park in Brisbane, Australia.
Eric and Terri Stephen's 1960 MGA 1600 (NAMGAR# 574) photographed on the banks of the Jock River, Nepean, Ontario, Canada.
1960 MGA 1600 engine bay and interior owned by Daphne & Barry Bahnisch from Australia
1960 Roadster - belonging to Mr Lynn Feuling
Larry White's Chariot Red 1960 MGA Roadster appears on this print painted by Bill Stroud
Eric Stephen's 1960 MGA 1600 Roadster on the banks of the Jock River in Ottawa, Canada.
Kris Sorensen's '61 MGA from Mississauga, Ontario, Canada
Rien de Jong's '61 MGA on an early sunday morning in the south of Holland
Bill Eastman's '61 MGA pictured from the side and front
Denis Desmaraiss '61 MGA from Toronto, Canada.
David Honness's 1961 MGA from Roanoke Va
Carl Guderian's '61 MGA MKI purchased as a basket case from Marty Sheffer of Boise, Id., in Feb. 2000. After an eight month total restoration the car was completed on Sept. 16, 2000. It is completely original and with the original engine.
Lorin & Louisa Cuthbert in their 1961 MGA roadster This was their first MGA which Lorin purchased for Louisa's 30th birthday. Now 15 years later they own 2 roadsters and 2 coupes. We live in Santa Maria, California.
Perry Ferrer's 1961 MGA from Toronto, who is a member of the MG Car Club of Toronto.
Robert Forest's 1961 MGA from Kirkland, Quebec, Canada. British Racing Green, place 2nd in Concourse and the Stowe British Invasion and many first places at other car shows.
Zeraldo Family 61 MGA
N.J. Boschman's 1961 MGA from The Netherlands.
Follow the restoration:

John Hale's 1961 MGA Twin Cam concours engine bay
1961 MGA Mk II was partly restored in Kenya and in Norway, and got its licence plates in May 1995. It is owned by Odd Bredo Thorkildsen and Dag Paus
Andy Scontras's 1962 MGA Mark II Honolulu Hawaii. Second picture from the back
Robert Carr's 1962 MGA Mark II It is one of the last MGA's produced, #109059. Robert lives in Palm Harbor, Florida USA.
Kazim Kenzo's 1962 MGA due to be shipped to Germany July 2008 More photos (external link)
John Lehnen's 1962 MGA 1600 MkII Coupe It was an abandoned vehicle headed for the crusher in Santa Clara, Ca and now lives in St. Catharines, Ontario, Canada.
Victor Adelsohn's 1962 MGA MKII from Ontario, Canada after a ten year restoration. Engine, Engine from the side, Car from the back and interior. Prize winner and glistening engine.
Rob van den Berg's 1962 MGA 1600 Mk II from The Netherlands. From the back, front and rear/side
Rick Jones' 62 MGA from New Zealand. It is an original black plate car from California. Ground up restoration and RHD conversion last year revealed no rust and no major bangs - an easy restoration as it was last registered in California in '78. The shot was taken at the War Birds Museum, Wanaka, New Zealand with a P51 Mustang during the pre "56 MG Rally we held down here. The 2 best ways to travel...
Jacky Garsault's 62 MGA 1600 MK 2 from Marseilles, France. Imported from CA, USA.
Bryan Kesman's 62 MGA Mk2 from Texas, USA
Steve & Karen Murrell's 1962 MGA Coupe 1600 MKII It is one of only 521 that were made (and one of the 219 Right Hand Drive models sold in UK). It if in very original condition - now used daily, no restoration, only non original parts are the sills and carpets. Would love to hear if there are any others remaining in UK? Front/side More images (external link)
David MacFarlane's 1962 MGA 1600 MKII.
According to records I inspected at Gaydon several years ago, the car was built on 7 February 1962 and came off the line on 9 February 1962. It was dispatched from the factory the same day and shipped to Australia in CKD form in mid March 1962. It was built up at the BMC plant at Zeatland New South Wales.
The car was sold new in June 1962 from a dealer located about 50 miles from Adelaide in the Barossa Valley. I am the fourth owner of the vehicle having acquired it in 1992.
The photo was taken in an apple orchard in the Adelaide Hills about four years ago.
The vehicle is highly original still having its original carpet, seats, hood etc. It has been successful in South Australian concours.
The colour is Monza Red which was an Australia colour. According to Clausinger the car was one of only about 35 MGA 1600 MKII cars shipped to Australia.
More MGA pictures at the MGA Register Holland site
---




Made in England