Interior Accesories
These pages contain images of period accessories for the MGTD and MGTF. Select each image to see an enlarged view.
| | | | |
| --- | --- | --- | --- |
| | Runyan armrest in leather. | Runyan armrest in leather. | |
| Smiths Heater | | | |
| Without the arm rest comes this brake cover to prevent the wife from covering her skirt with the cable lubricant. It is provided in matching or contrasting materials and simply snaps around the handle | Here is still another type of arm rest for the TD that serves as a brake cover and helps to keep the right people on the right side of the car | To better aid the Forestry Service in fire prevention, there is a very neat, in-the-door ashtray rig on the market. The outer bowl is easily removable for cleaning and the gadget is located right where the driver needs it | The Mk II grab handle that was also availabe as an option |
| Another, and very handy, arrangement is this combined ashtray and center arrm rest. It does not interfere with the operation of the shift leader and keeps the ashes off the floor and out of the driver's eyes | For entertainment when you travel, you will enjoy this Philco set built into your driveshaft tunnel. It does not interfere with shifting, or with the transmission filler plug | MGTD heater by Eureaka. Front view. | In addition to heaters, Key-Leather supplied, under its own brand name, ammeters and water temperature and oil pressure gauges (class (vi)) obtained from AC-Delco. |
| MGTD heater by Eureaka. Rear view. | Arnolt (or OEM) Heater | Arnolt (or OEM) Heater | Arnolt (or OEM) Heater |
| TD Heater of unknown origin | The handle is 6" long. | | Factory radio in glovebox. |
| Smiths Radiomobile installation instructions | | | |
| | | | |
K-L '54' Universal Heater
Manufactured by Key-Leather Co. LTD.
5, Urswick Road, London, E.9.
Above photos by Ray Lee, United Kingdom
These are the installation diagrams for the K-L Univeral Heater. They were provided by Willem van der Veer.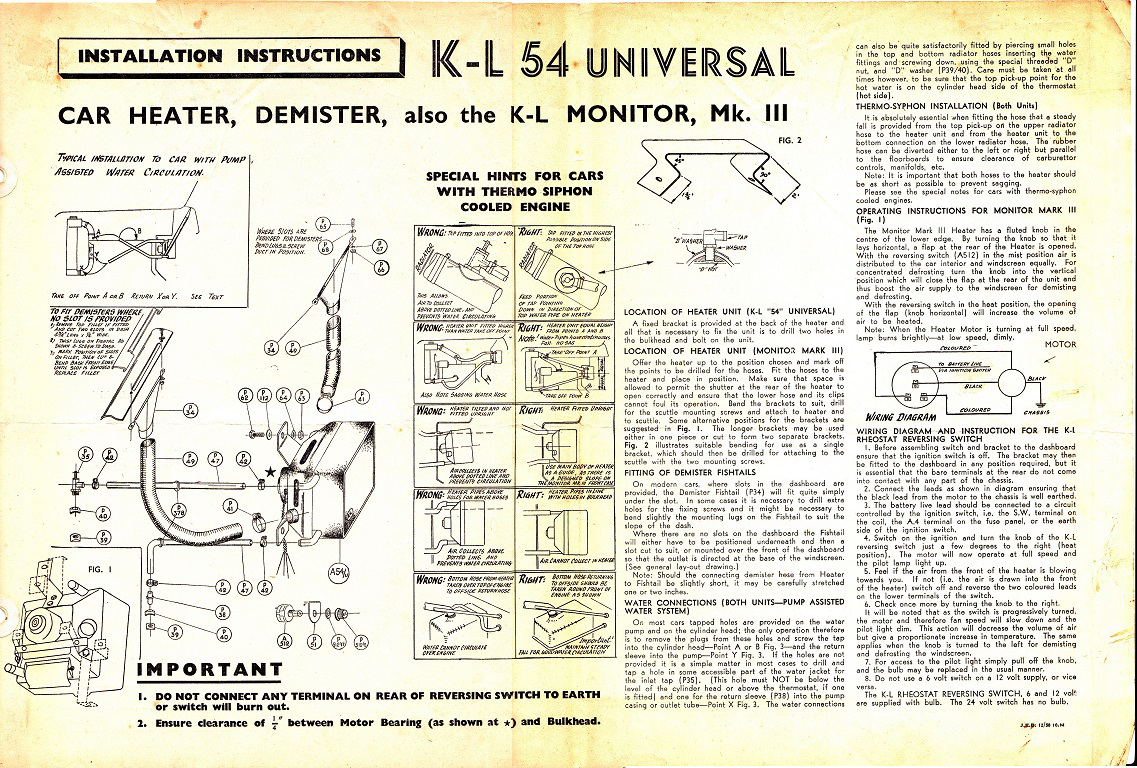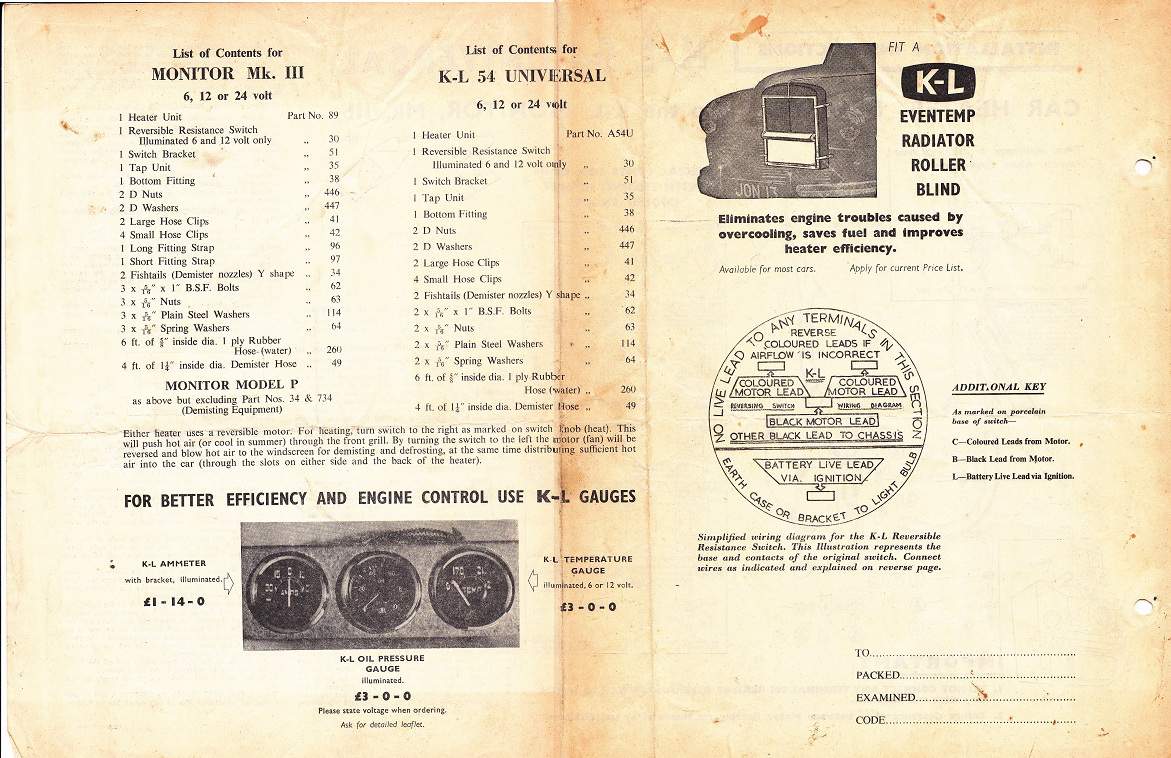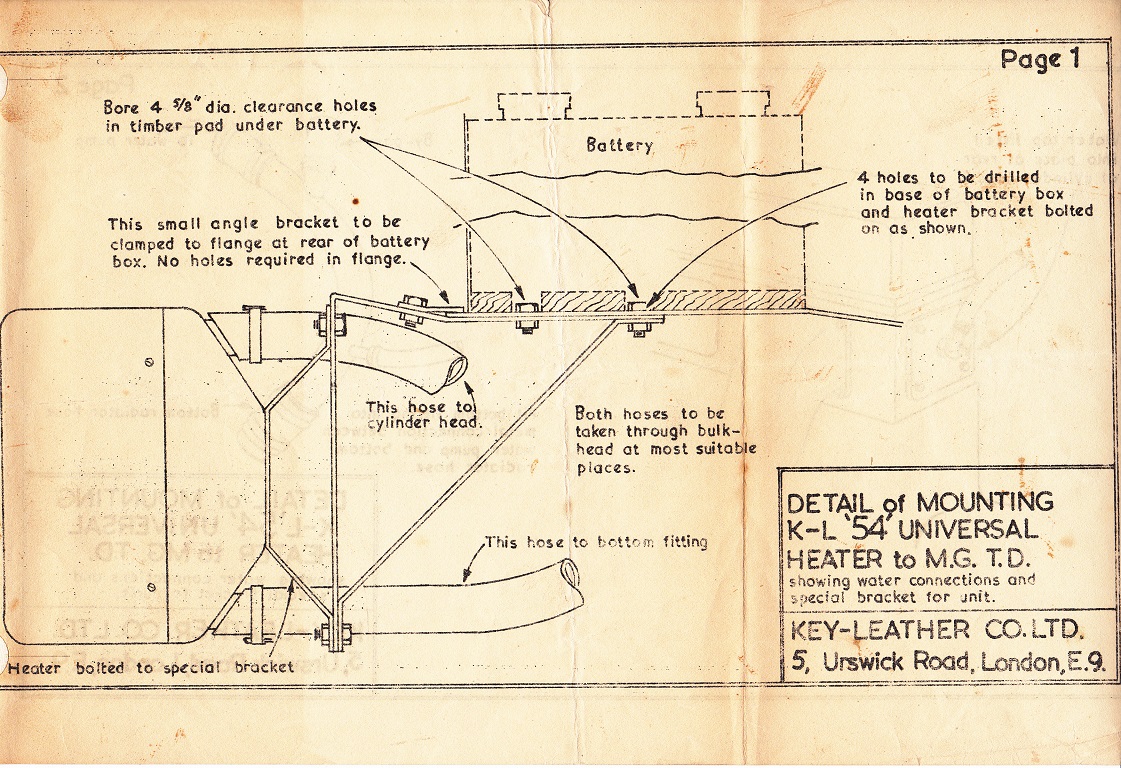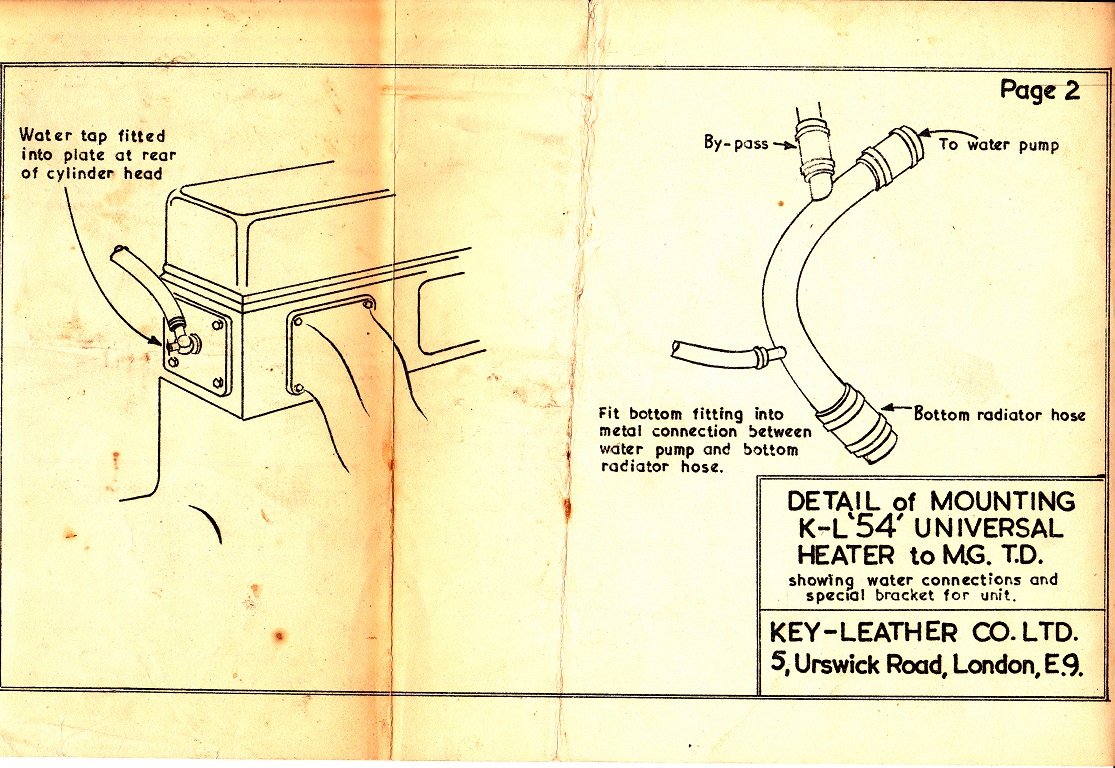 Key Leather A360 Heater for the MGTF
The KEY-LEATHER Company of 5, Urswick Road, LONDON E 9 was one of three suppliers of heater kits for the TF approved by the Factory (the others were Smiths – model CHS 4532 and Delaney Galley – model S1). The photographs are period 'shots' supplied by KL of their KL A360 model, described as "Special Heater, Defroster and Demister for M.G. TF."
Home | History | Details | Myths, Tips and FAQs | Literature | Entertainment | Gallery | Links | Map
| | |
| --- | --- |
| © 1999 - 2022 by Christopher C. Couper | Page last modified: 2022/03/28 |