MG MIDGET continued


quick steering--free of lost motion and the rubbery feel so often found in many heavier cars. Anyone who is in doubt as to what "road sense" or the "feel of the road" means should drive an MG and find out.
If the driver of an MG were permitted to enjoy this beautiful steering, and the top-notch handling and maneuverability that goes with it, everything would he fine. But he isn't. Having put the top down to get rid of the flapping and din which accompany its use, he finds himself assaulted by the wind coming over and around the windshield. Unless the road is very smooth, he will probably be annoyed by severe lateral vibration or shake of the cowl structure, including the steering wheel, and by severe fender shake.
Fortunately, the driver and his passenger are comfortably seated at the node of all the movement, where they obtain a ride which is firm and devoid of sway, though at times uncomfortably jarring; on the average, the ride is tolerable, and, as speed increases, it is generally satisfactory. This rather tight-to-the-road ride is matched by the MG's ability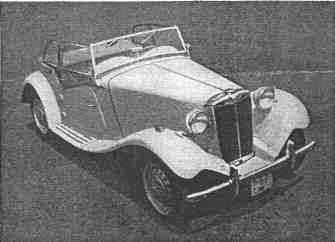 While most new sports cars look like streamlined beetles, the MG retains an old-fashioned, stripped-for-action appearance. Strictly a two-seater, the car is a brisk performer, steers with precision, and it hugs the road tightly whatever the surface
at keeping its wheels firmly on the road, on any and all types of surface. Nothing could be less true than the notion that because the MG is small, it is liable to bounce off the road into the bushes.

Summing up
Except in very rare circumstances, the MG, with its limited space, open-to-the-elements interior, and relatively uneasy ride, is not the car for a one-car family. On the other hand, if you want it as a sports car, or for use in competition, you can't do better, price considered, than the MG. (In the 1500 cc. class, you will be beaten by the Porsches, but a Porsche costs a thousand dollars more.) Other sports cars at prices comparable to MG are said to be in the offing; they probably will have larger engines with more speed and zip, but they are also likely to be outrun in competitions based on piston displacement.
If what you want is a relatively low-priced open car to ride around in at the moderate speeds, the MG's lacy of space tells against it. The now-discontinued Willys Jeepster was ideal for this purpose. At present, the cheapest car that can be opened to the weather is the Morris Minor convertible, $1465 at port of entry. The cheapest American convertible is the Chevrolet 210, $2093 at factory.
If you are looking for a low-priced car that is fun to drive, the MG is that; its nimbleness, excellent road behavior, small size, and quality details are in many ways a welcome relief from the big packages to which we are accustomed. But more utility, or at least more storage space, would help. So would a larger, quieter, and smoother engine, such as is found in the Morgan, the Porsche Amerika, or the new Triumph sports car. So would a body that would give more protection from wind and weather and lessen the car's wind resistance and wind noise.
In fact, CU's experts, bearing in mind the factors of utility, weather protection, and fun-to-drive, and excluding the competition angles, would suggest that the lower-priced Volkswagen (CONSUMER REPORTS, March 1953) might be investigated as an alternative choice to the MG. It isn't as fast or as flexible as the MG, but it's fun to drive, too; it is unusual, interesting to the mechanically minded, useful, and tough. True, you can't get really out-of-doors in the Volkswagen, but in the "sunshine" sliding roof model you can get plenty of air and sky-view, and have in reserve a shield from the weather when it is needed.