Gallery
Artwork
Original artwork featuring MGTD's.
Note: Much of the artwork seen here is available for sale or you may be able to commission the artist for your own private work. Please use the links provided for additional information on the artwork or artists.
Henk Kolk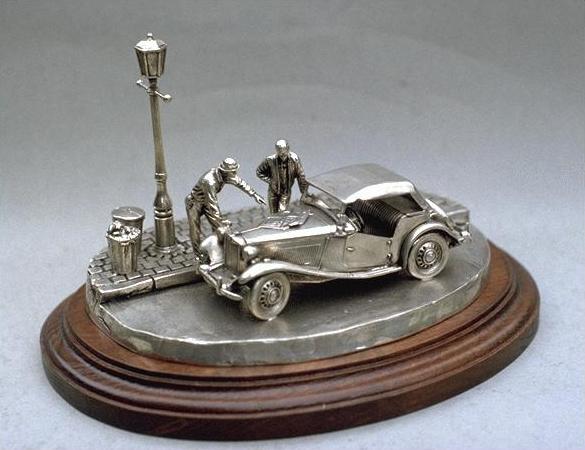 A picture of a metal MGTD sculpture by dutch artist Henk Kolk. It is available on request. It has a limited edition of 450 and costs 650 German Marks (approximately 330 US dollars)
Autosculpt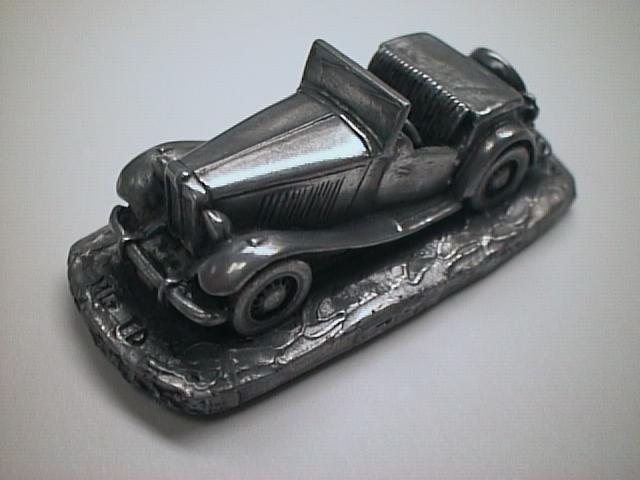 Model of the MG-TD by Autosculpt of England. It is made of resin with pewter looking powder mixed with it. It has a wealth of detail and is only about 2" long overall.
The Miniature Vehicle Manufacturing Company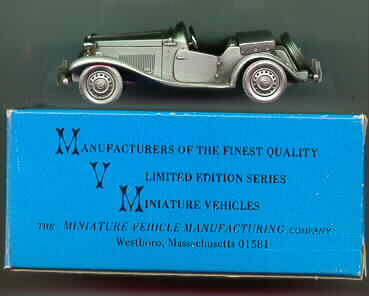 This convertible car measures about 3.5" long. The model is dated 1978 and is limited edition #126 of 3,000 total made with Certificate of Authenticity. It was made by The Miniature Vehicle Manufacturing Company of Westboro, MA.
FREDERIC STAFFORD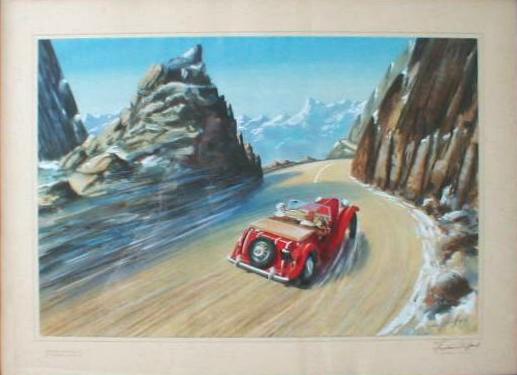 WATERCOLOUR PAINTING by FREDERIC STAFFORD. THE STYLE IS VERY SIMILAR TO THAT OF THE MG BROCHURE MOUNTAIN SCENE. IT CAME FROM THE ESTATE OF THE LATE IAN SHAW WHO WAS SALES DIRECTOR FOR B.M.C - MG - AUSTIN HEALEY IN THE USA. from eBay
Sculpted Model of a Soft Top MG TD Midget
A Sculpted Model of a Soft Top MG TD Midget. From the Classic Car Collection. Made from Cold Cast Crushed Marble Resin with a Pewter Finish and Hand Painted
Artist Unknown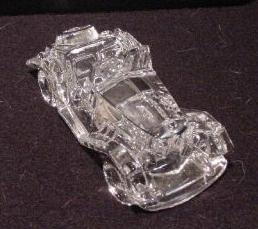 A glass model of an MGTD. Artist unknown.
David Lawley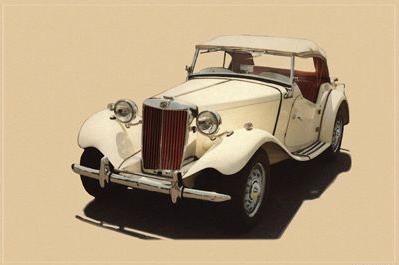 This print shows a Ivory MG TD. The 16x10 full color art print is signed by the artist David Lawley.
Tim Wait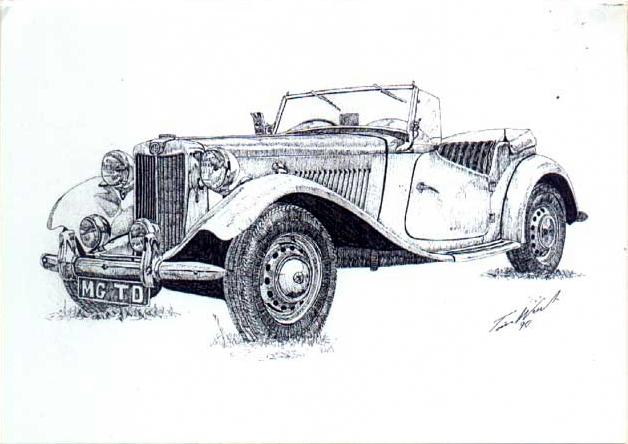 MG TD CARD AND ENVELOPE BY TIM WAIT. THE CARD FEATURES A PEN AND INK SKETCH OF AN MG TD.
Richard Browne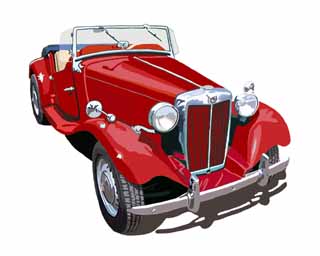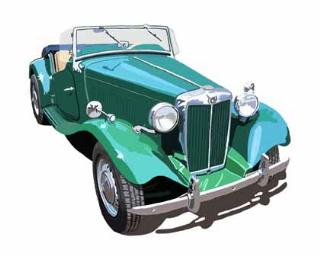 Richard Browne is a professional digital imaging illustrator.
Graeme Jenner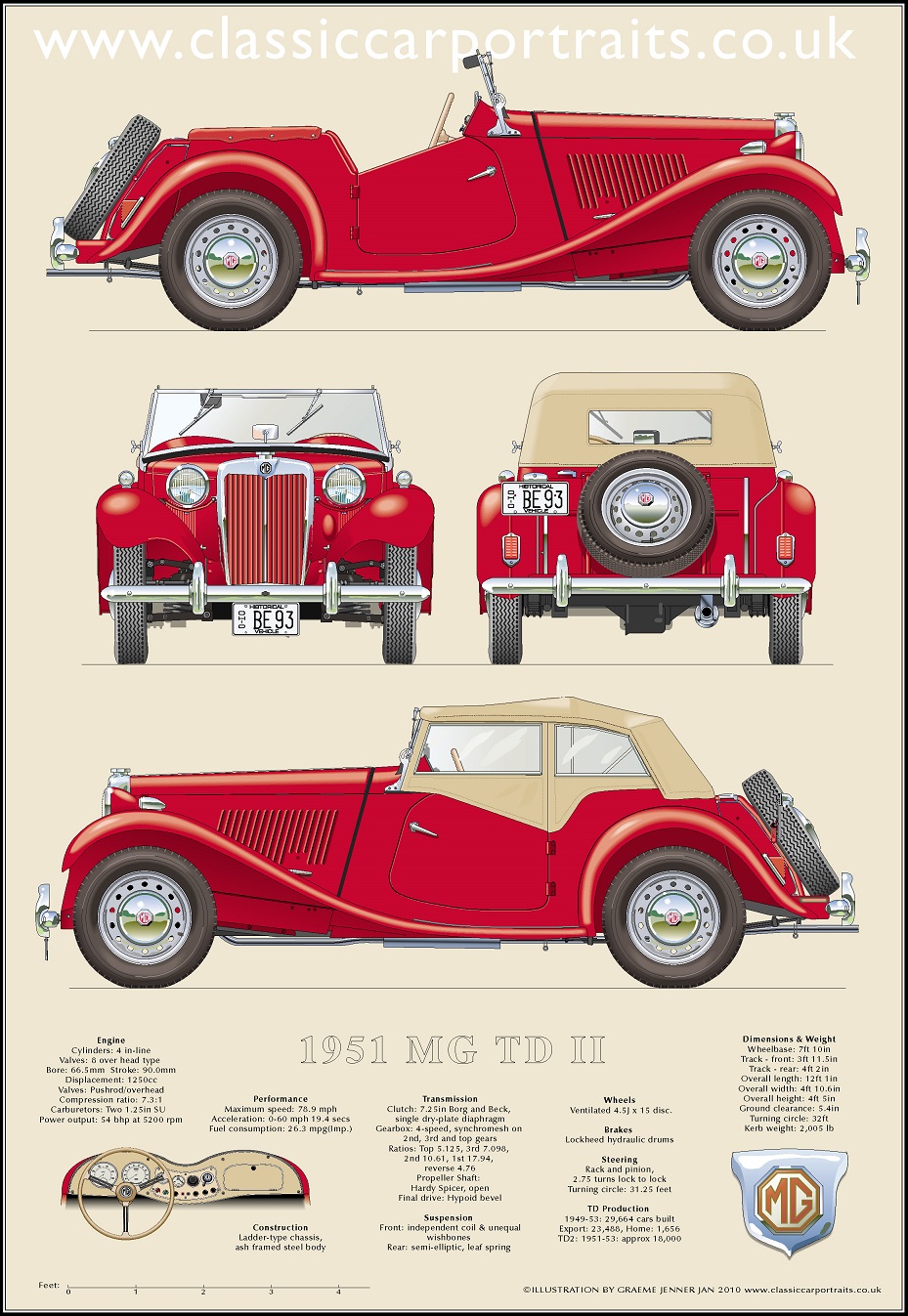 Graeme Jenner does classic car portraits in the style of a brochure. You can see other work by Graeme at Classic Car Portraits and consult with him about a personal work for your car.
Roy Nockolds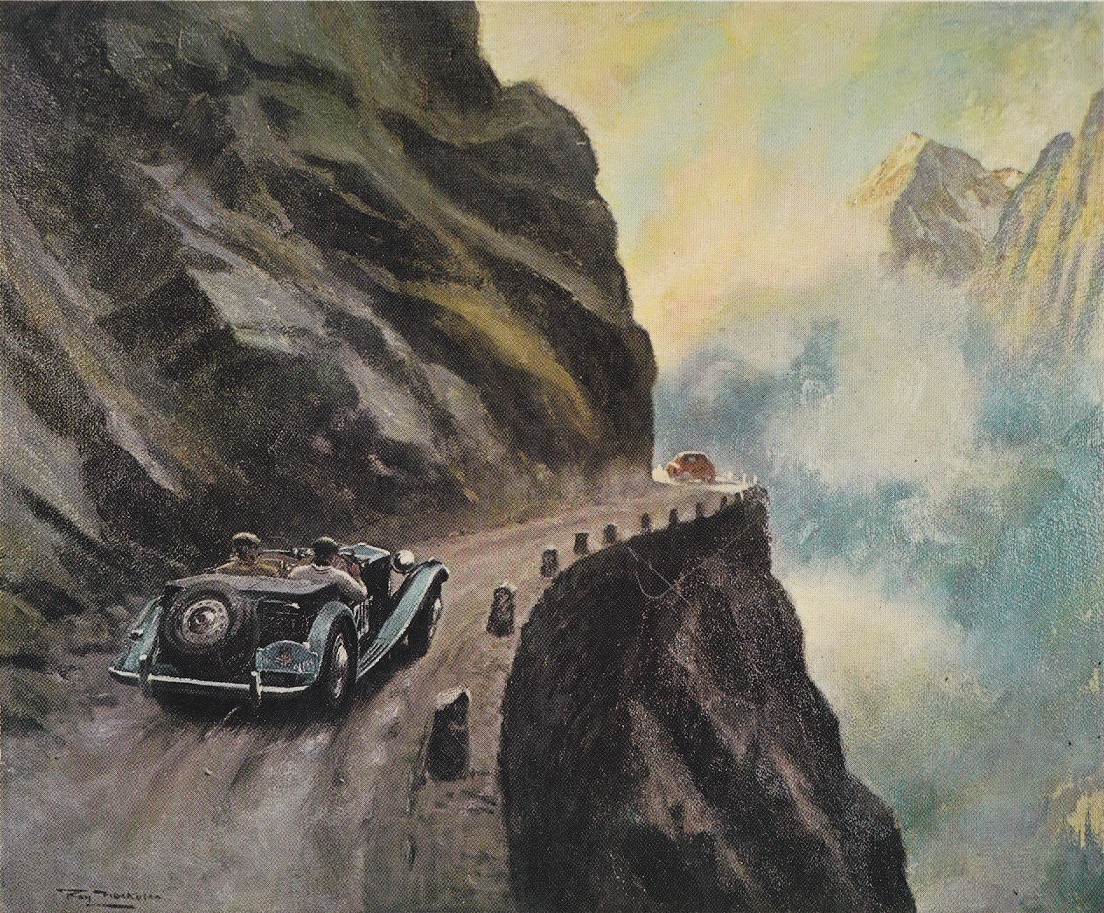 About Roy Nockolds
Roy Anthony Nockolds was born in London on January 24 1911. He was a self taught artist apart from taking some private lessons in figure drawing. He began sketching and drawing motoring subjects in the mid 1920's, contributing illustrations to Autocar, Motor and Motor Sport magazines. Nockolds was described as one of the pioneers of motoring art, and possibly the first to make the transition from illustrator to fine artist selling prints and paintings to the collector. During the Second World War he worked for the Ministry of Information, served in the RAF, and became an official War Artist. Post-war Nockolds painted mainly retrospectively, although he did from time to time visit events and paint 'plein air'. The artist died in 1979. Following his death much of his studio contents where sold. The last of his studio contents being auctioned at the end of 1989.
The above picture provided by Willem van der Veer and depicts Raymond Flowers special MGTD MkII on the Gavia pass in Italy. It gives the atmosphere of the International Alpine Rally in its great days.
Home | History | Details | Myths and FAQs| Literature | Entertainment | Gallery | Links | Map
| | |
| --- | --- |
| © 1999 - 2021 by Christopher C. Couper | Page last updated on March 2, 2019 |