MG TD Operation Manual
Digital Auto Guides®, the M.G. TD Operation Manual is an electronic owner's manual and reference for the M.G. TD Midget series sports car. The guide covers the years 1949-1953 and includes the TD, TD2 and TD/C or TD Mark II.
The Digital Auto Guides (DAG) do-it-yourself manuals or guides have been specially written for the owner who wishes to maintain their car in first class condition and to carry out their own servicing and repairs. Considerable savings on garage charges can be made, and one can drive in safety and confidence knowing the work has been done properly.
Within the service guides, comprehensive step-by-step instructions and illustrations are given on all dismantling, overhauling and assembling operations. Throughout the apps, hints and tips are included which will be found invaluable. A full set of capabilities will help you in managing the various tasks and projects needed to maintain your car in optimal condition.
Whilst every care has been taken to ensure correctness of information it is obviously not possible to guarantee complete freedom from errors or to accept liability arising from such errors or omissions. While we use the most advanced computer systems to convert the paper manuals and extensive proofreading, some errors do appear.
Instructions may refer to the righthand or lefthand sides of the vehicle or the components. These are the same as the righthand or lefthand of an observer standing behind the car and looking forward.
This application contains the same content as the paper manual but in addition has a number of enhanced features not available in a paper book. Amongst these are:
Available on the go for all the popular mobile devices
Rapid search using keywords to get you to the exact subject
Hypertext linked subjects and content
A place to document your cars history
A means to log all of your fuel consumption and automatically calculate fuel efficiency
The ability to determine which maintenance is due by distance and keep track of your progress and costs
Manage your projects and how much you have improved your car and when
Showing exactly when and how much you spent repairing and improving your car by subject area/date in order to determine its value
The ability to use all of these features on numerous devices and store the data automatically in the Dropbox™ Cloud for security and shared access
Use of your collected data in other applications such as spreadsheets and e-Mail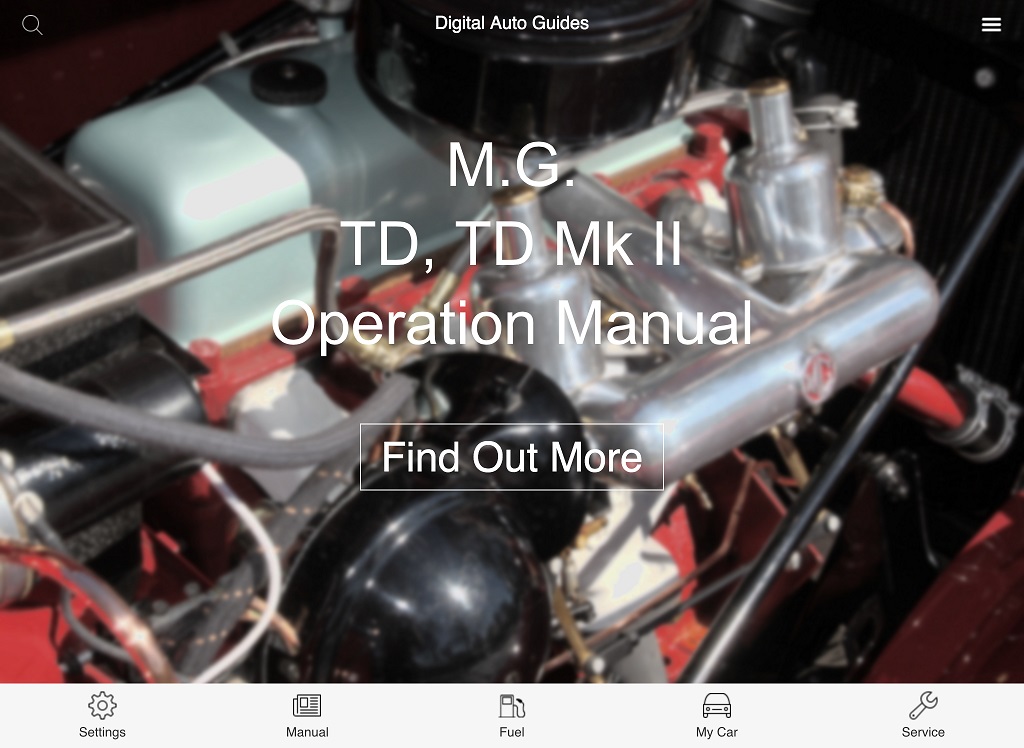 More information about this mobile application for the MGTD, and other cars, can be found at Digital Auto Guides.
Home | History | Details | Myths and FAQs| Literature | Entertainment | Gallery | Links | Map
| | |
| --- | --- |
| © 1999 - 2017 by Christopher C. Couper | Page last updated on June 11, 2015 |