Period Photographs
A sampling of factory photographs and other period pictures.
Factory Photos from Manuals and Brochures
Actual factory distrubed photos sometimes used in advertising.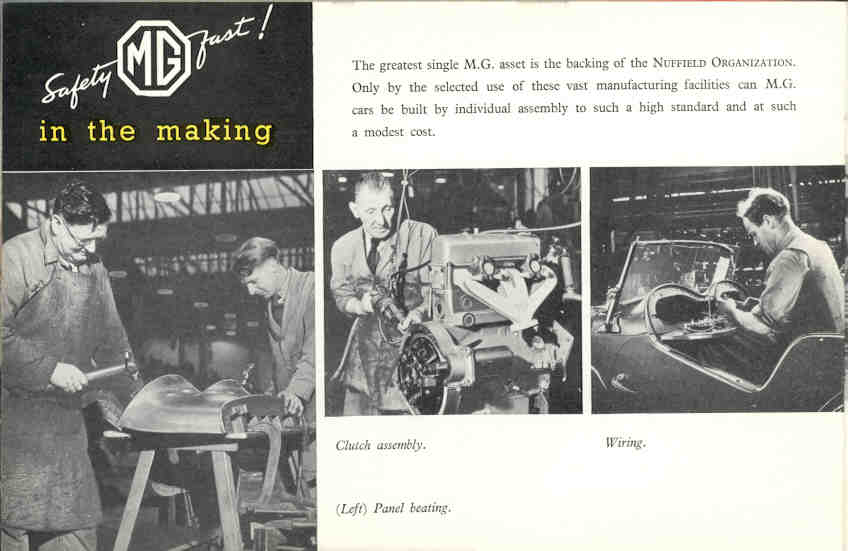 From Brochure NEL 158(A) Circa 1951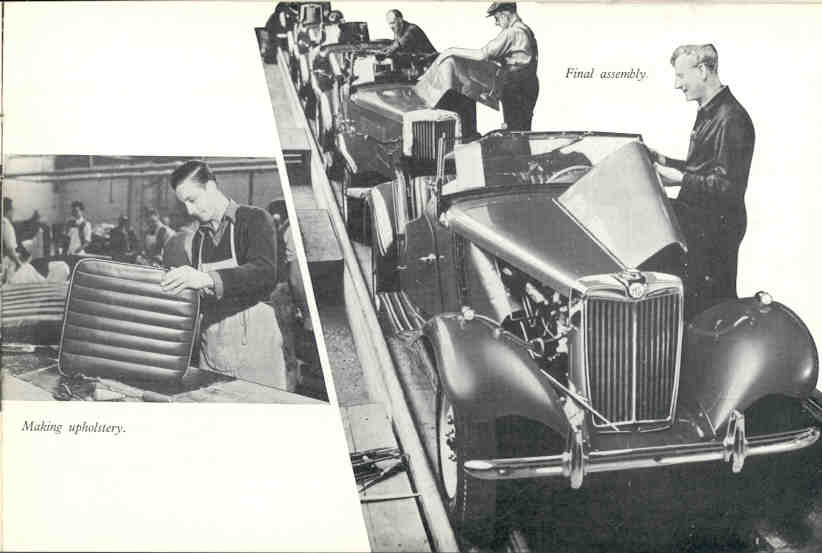 From Brochure NEL 158(A) Circa 1951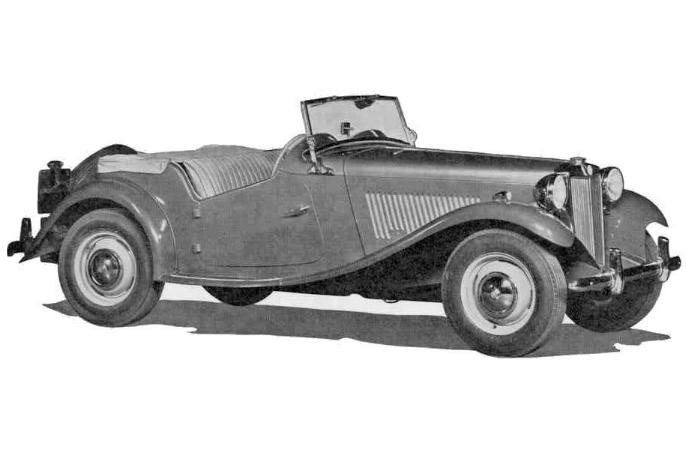 From the MGTD Workshop Manual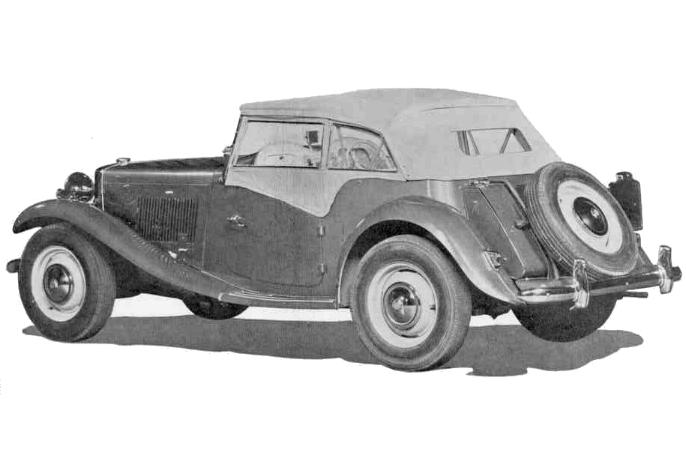 From the MGTD Workshop Manual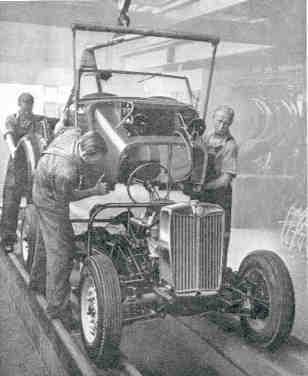 From the MGTD Workshop Manual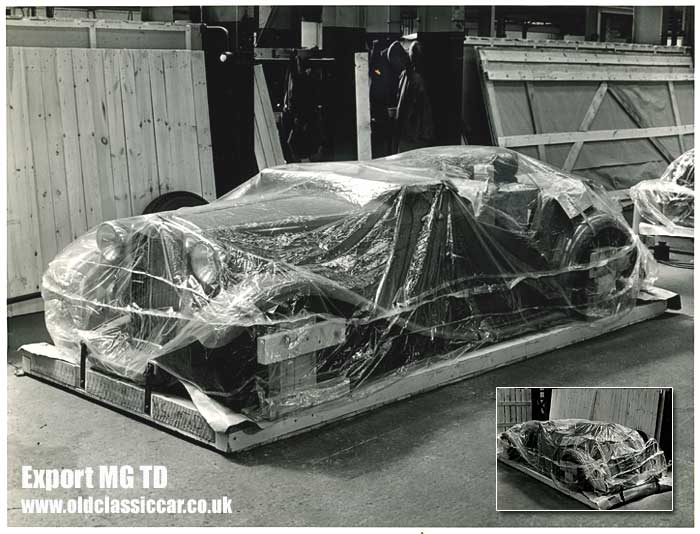 An MGTD being prepared for shipment in a market that did not allow tyres to be imported.
Press Releases and Media
Next four images: Matthew Magilton - I was going through some old issues of News Exchange, the Nuffield Exports magazine from 1953 and 1954 and came across some lovely period photos that I thought I would share.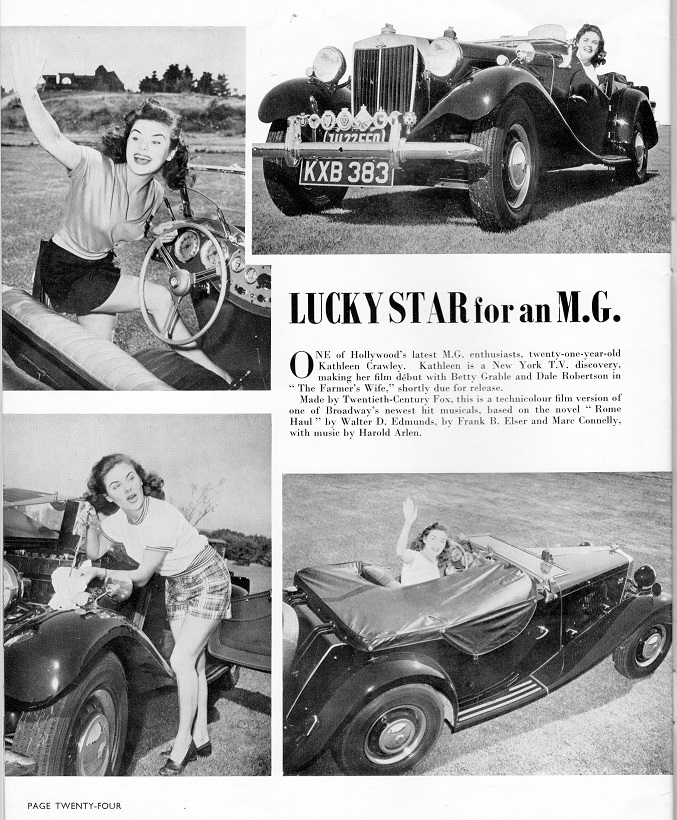 This page from the July 1953 edition shows Hollywood heart-throb Kathleen Crawley [sic Kathleen Crowley] who is soon to appear in "The Farmers Wife" [sic "The Farmer Takes a Wife"]. No mention of where these photos were taken but the UK plates make me think it was a British car bound for USA.
Note: David Littlefield was able to decipher the incorrect name of the movie and spelling of the aactor quoted in the article.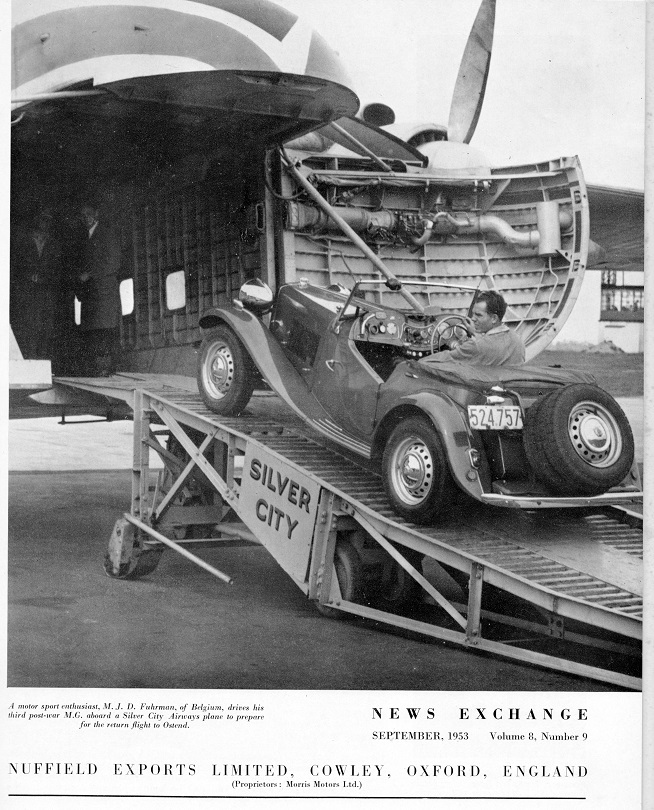 From the September 1953 edition: "A motor sport enthusiast, M.J.D. Fuhrman, of Belguim, drives his third post war M.G. aboard a Silver City Airways plane to prepare for the return flight to Ostend". How many extra fittings can you count on this car?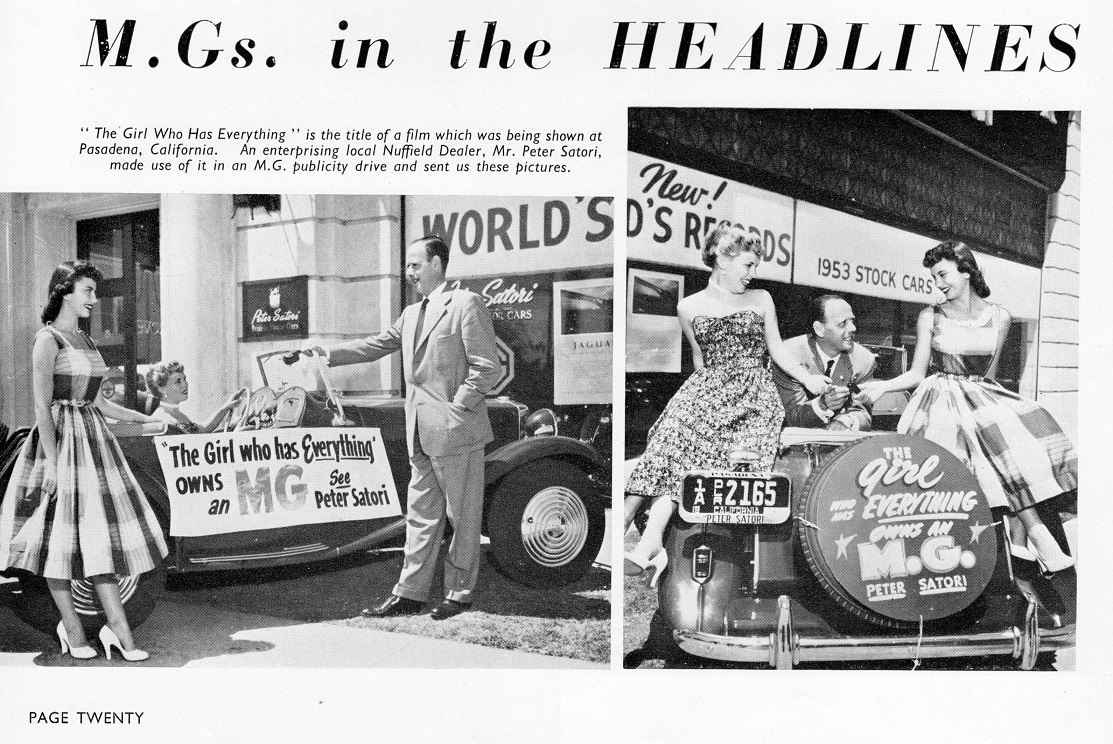 This page from the August 1953 Coronation Edition really shows off the fashion of the day. Note the wheel trims.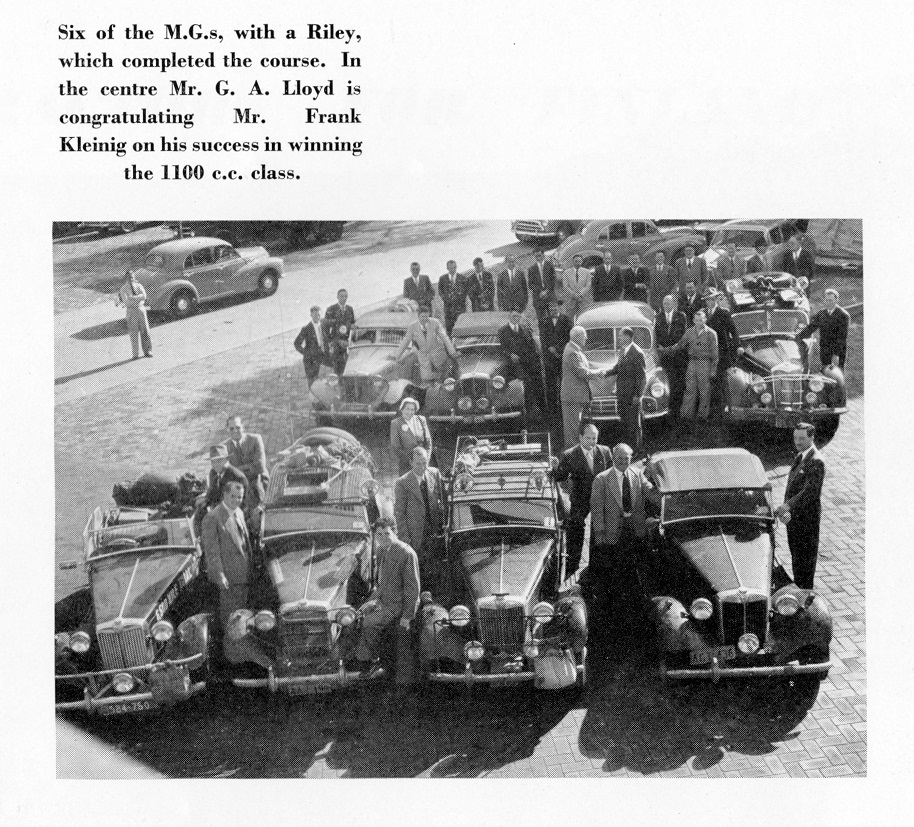 One from Australia: The 1953 REDeX 6,500 mile Reliability Trial covered a huge part of Australia on some of our most punishing corrugated and potholed dirt roads.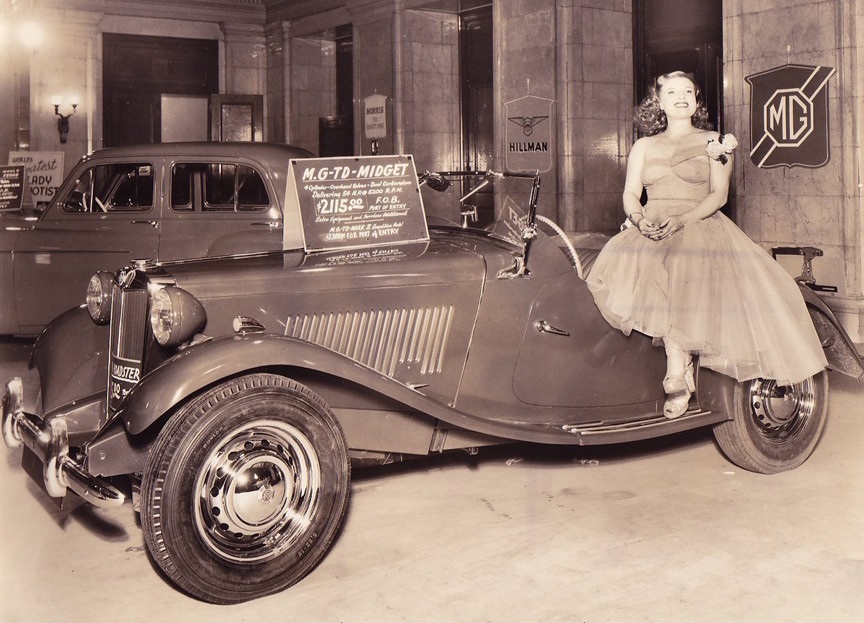 Dealer/Importer promotional photograph. Note the chrome wheels and beauty rings added by the exhibitor. Also notice that the headlamp rings are painted by the exhibitor. The sign says: 4 Cylinder - Overhead Valves - Dual Carburettors, Delivering 54 hp @ 5200 RPM. The price is listed as is $2115 FOB from the port of entry for a normal TD. At the bottom of the sign the price of a TD MK II competition model is $2360 FOB. The fine print seems to state that Extra Equipment and Services Additional but its hard to make out. This photo was taken at the Springfield's Exposition, Food and Home Show; Springfield, MA 1953 Apr 13-18.
This following additonal image was shown published in the August 1952 issue of "Nuffield News Exchange" page four. The caption reads: "Packard-Holyoke Motors Inc., Nuffield Dealers in Holyoke, Mass.,displayed this M.G. "TD" at the Food and Home Show held in Springfield Mass." Trying the car on for size is "Aunt Jemima", famous figure of American advertising, with Mr. Archie Simmonds, Yankee Division veteran and committee member, at the wheel. Mr. Dave Ash, Field Representitive of J.S. Inskip Inc., Nuffield Distributors in New York City, and Mr. Donald F. Hahn, Sales Manager of Packard-Holyoke Motors Inc., look on.
These photographs were taken at the same show.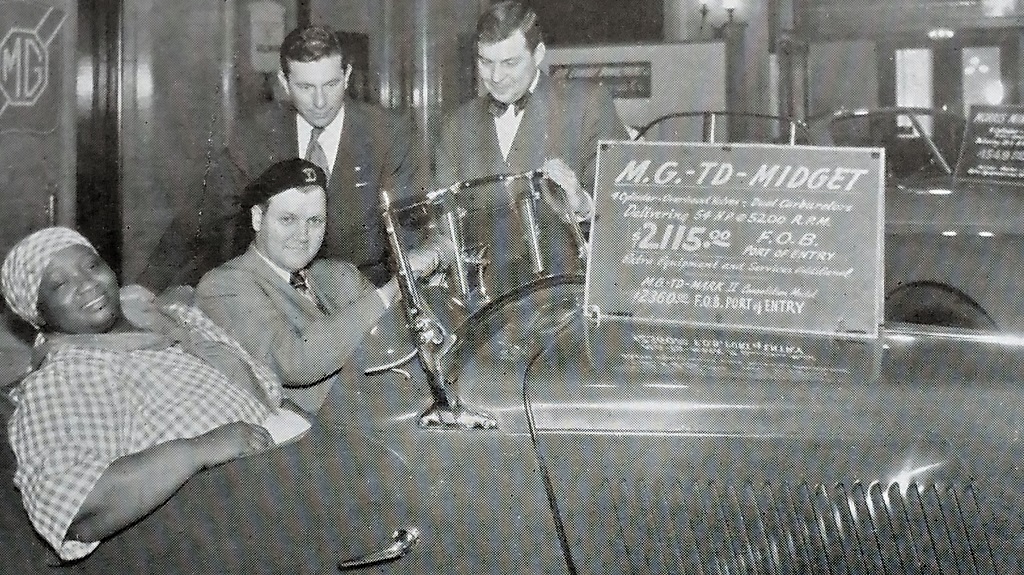 Photo courtesy Niek Herwegh.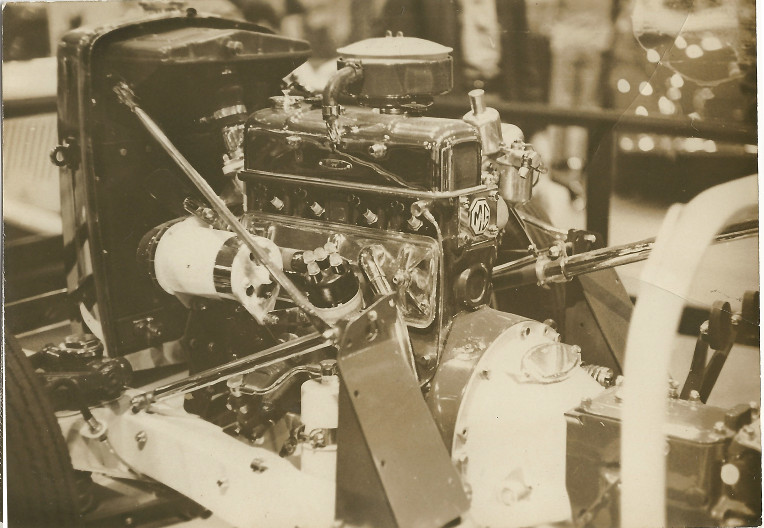 From the 1952 Los Angeles Motorama show. An MGTD chassis all tricked out in bling. Photo courtesy Tom Lange.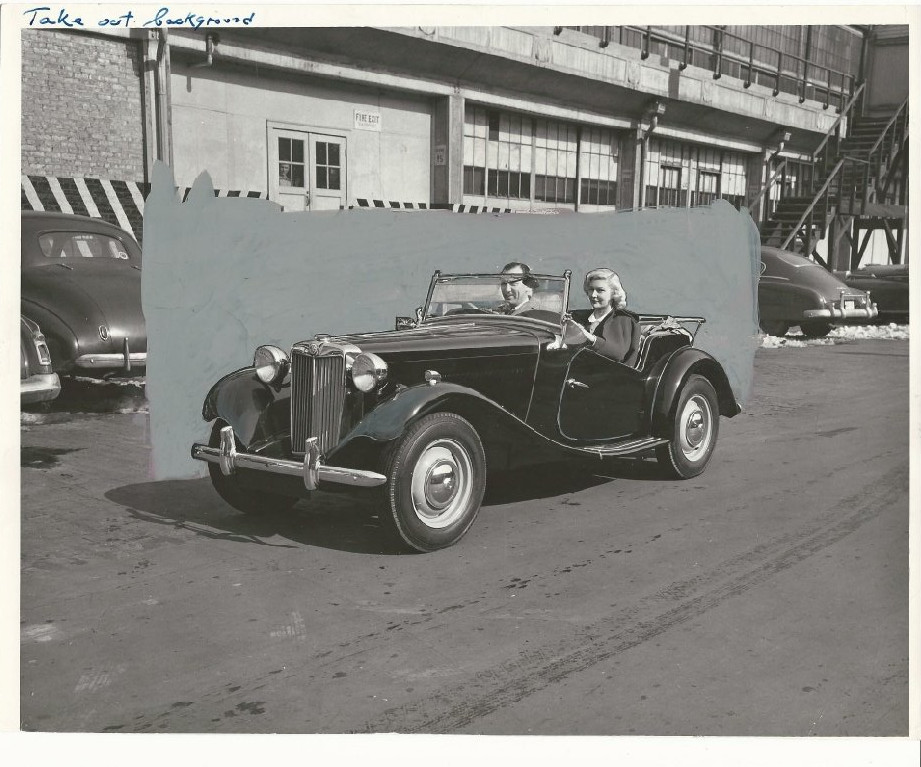 Captioned: "The first 1952 MG TD Mark II English auto to arrive here went on display Friday at the Wisconsin Auto Sales Co.... ."
Taped to the back of this 8x10 photo are three captions documenting use in whatever paper it was (presumably something in the Chicago/Wisconsin area), the first on Nov. 9, 1951, with a few details of the Mark II. ["The auto's top speed is 96 miles an hour."] Another caption is from 1979, "The MG brought home by GIs after World War II looked much like the 1952 model pictured above." The final one is from 1980, and reads, "The classic 1952 MG: Still a favorite for many car buffs." Penned along the bottom of the image is "1951 TD series MG - S. H. Arnolt Inc. - Chicago - Distributor." Photo courtesy Tom Lange.
Period Photos from the Public
Here are a few pictures of MGTD's during the 1950's taken by the public.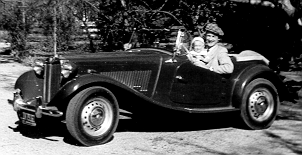 Author and father in November of 1952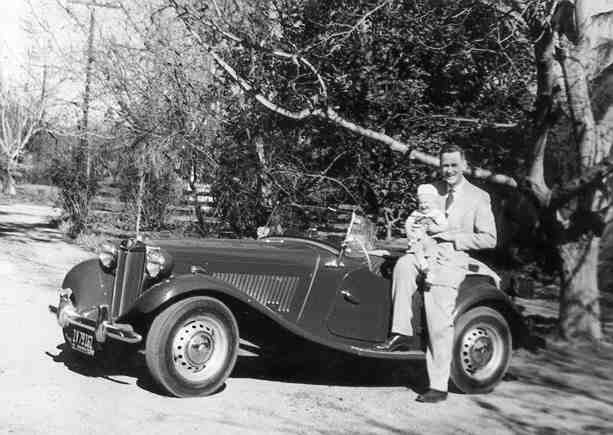 Author and father in November of 1952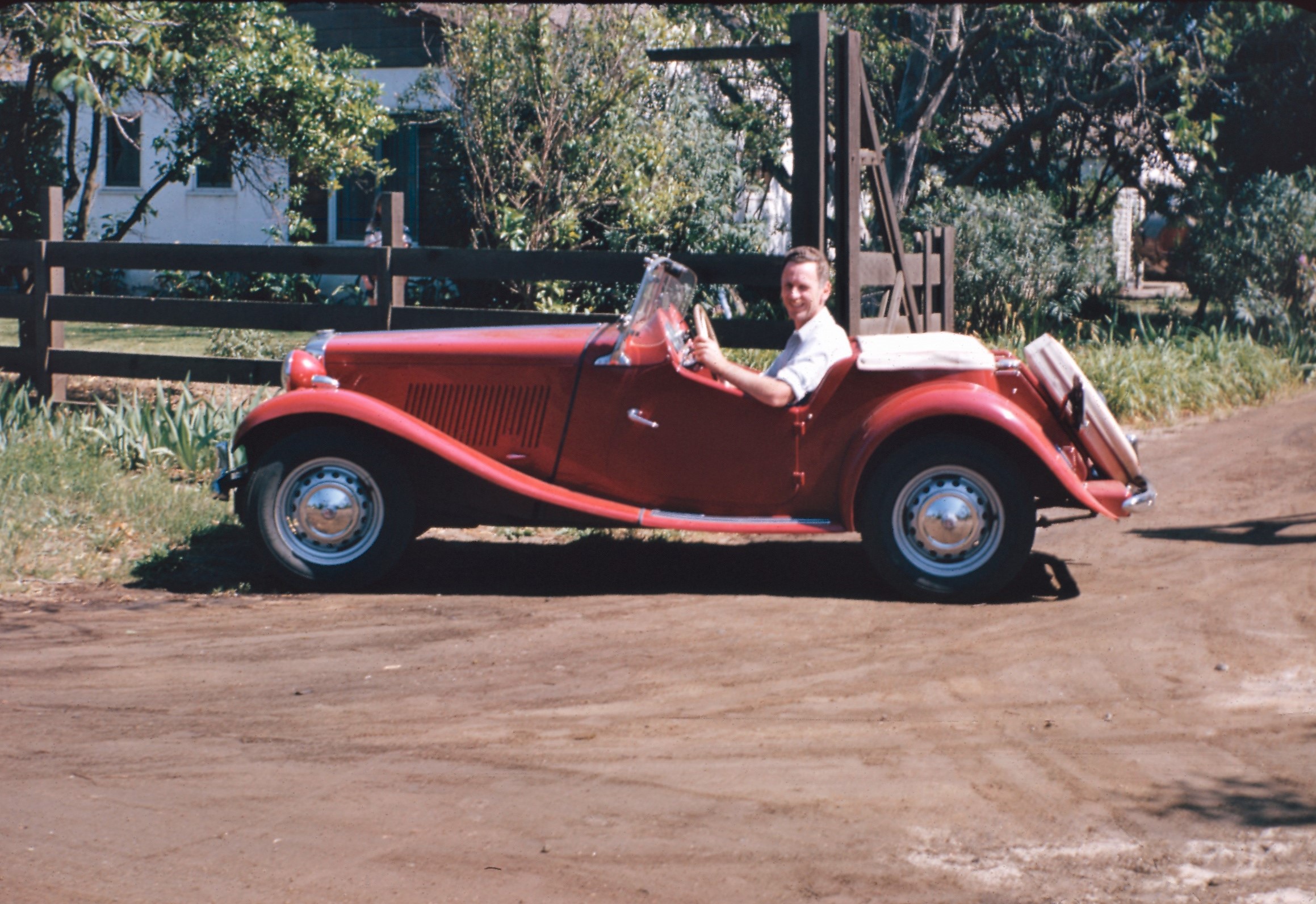 Authors car in November 1952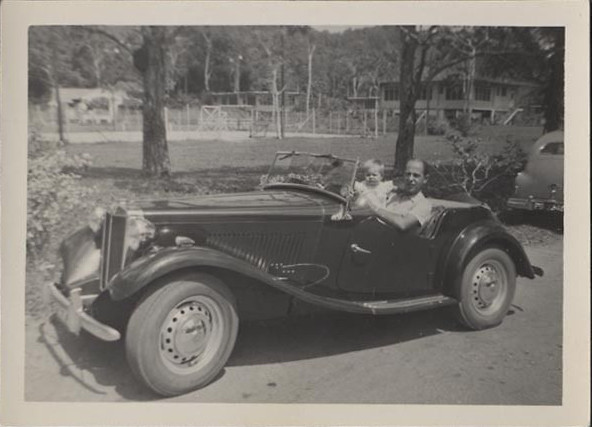 Unknown man and baby circa 1951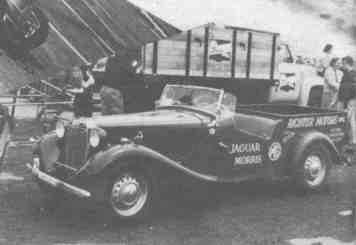 Richter Motors (Moss) Pickup Truck circa 1952
From Edition 18 of Moss Motors parts catalog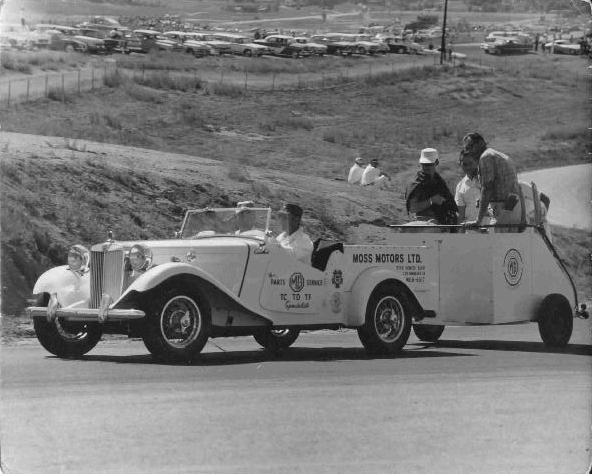 Moss Pickup with Chariot circa 1956 c/o Susie Bigler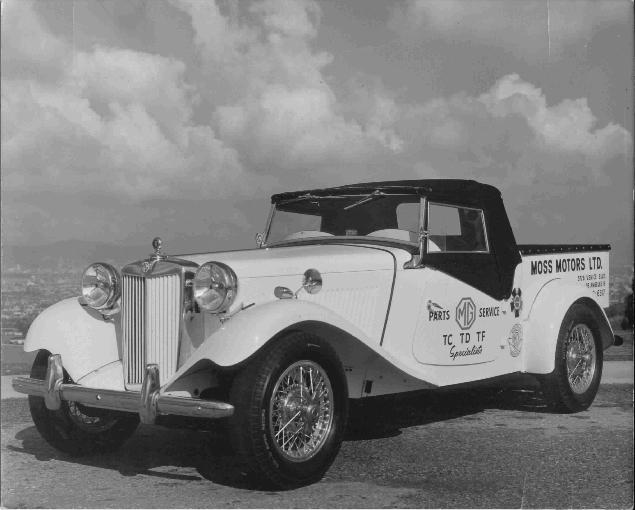 Moss Pickup in LA circa 1956 c/o Susie Bigler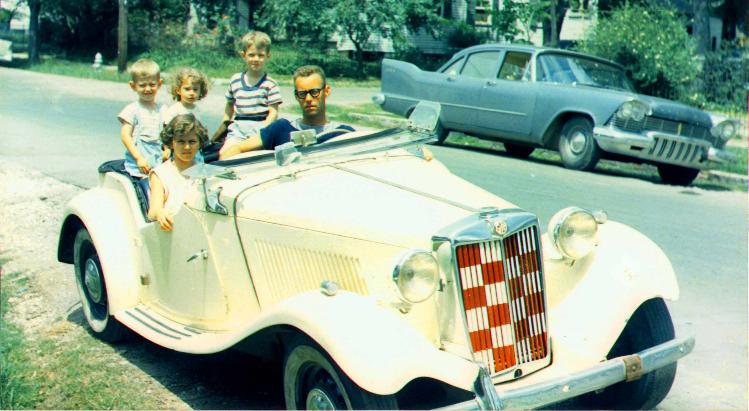 Roger Jeffrey (New Orleans, USA) circa 1959 with his father and family. Notice the checkerboard grill which was very popular with racing enthusiasts as well as the missing left front bumper overrider. These overriders where always being knocked off. Large white side walls, black interior and top were also popular. Looks like he also kept a plastic bag over the windshield wiper motor. Maybe it leaked and then shorted out during the rain? (ed).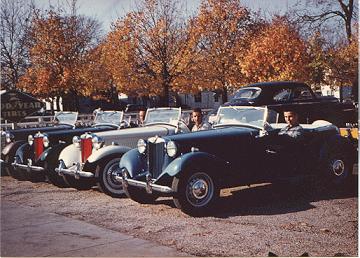 From back to front, left to right is Henry Kraaz, 51 TD Ford V-8 60 Engine, Al Clenaghan 53TD, Jerry Kraaz 51TD, Richard Adams 52-TD. The Photo was taken in the fall of 1956, in front of Richard's fathers Shell station in East Islip L.I. New York.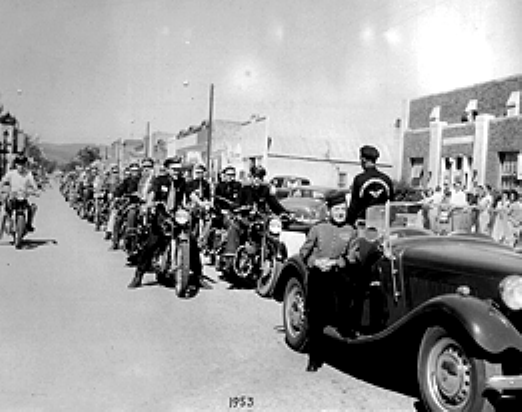 TD leading the 1953 Sturgis Motorcycle Rally parade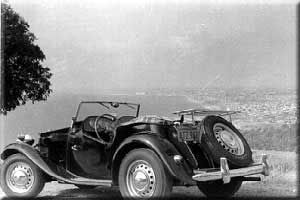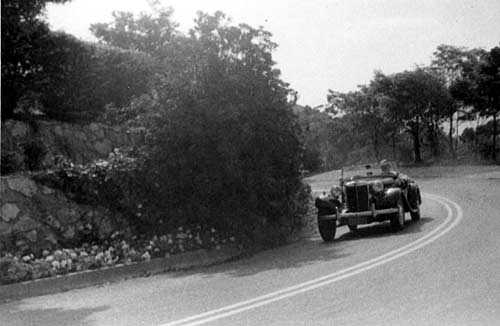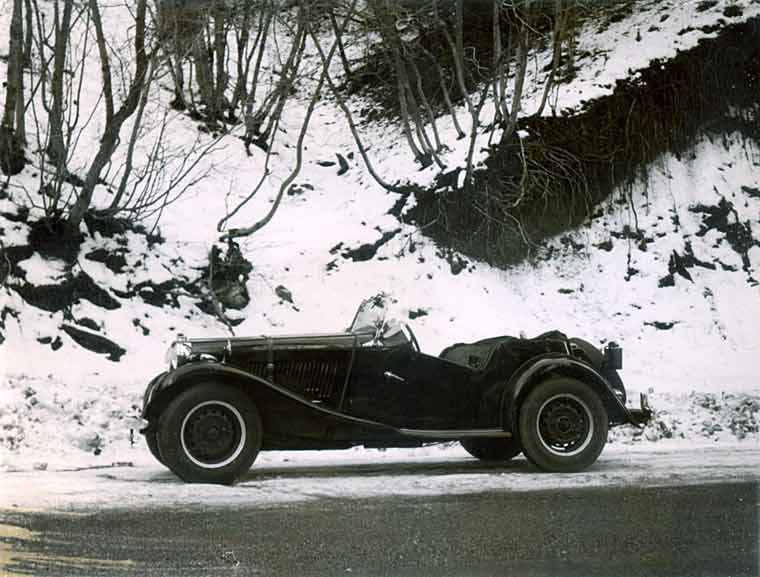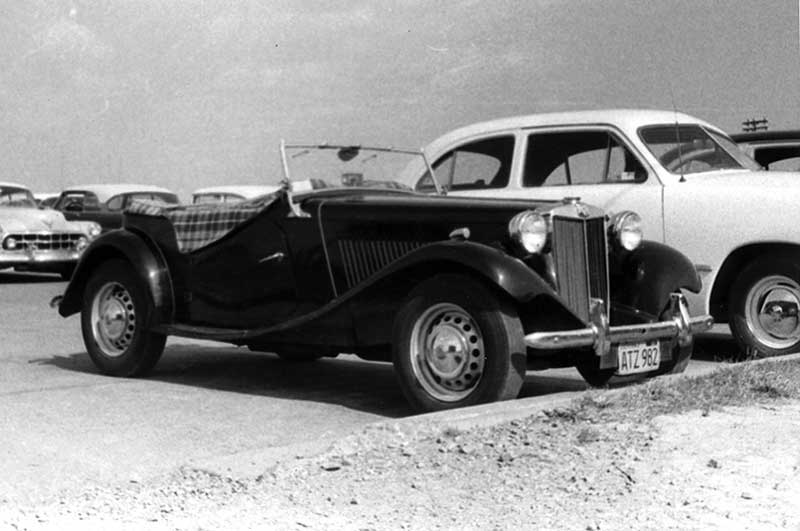 This group of pictures is from the Frank M Sheffield website where you can get more information about his early experiences with the MGTD and racing.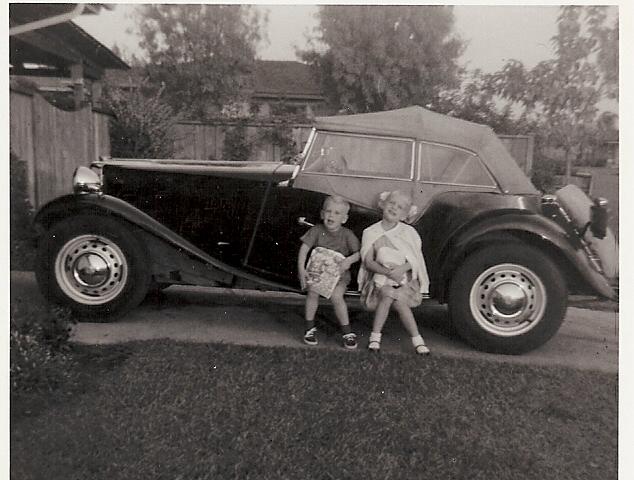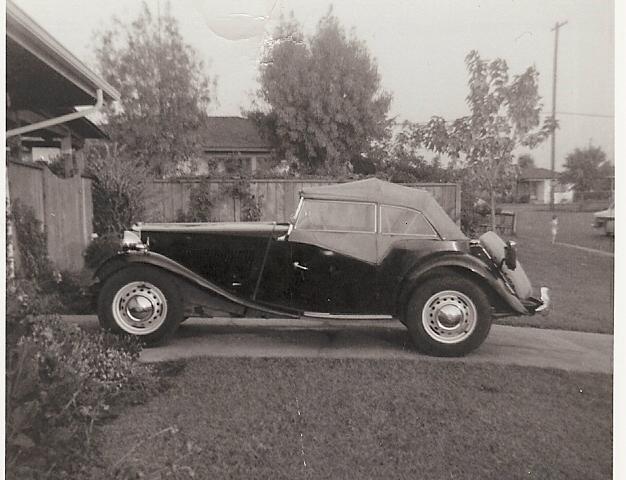 Ephriam West's late Father's 1951 MG TD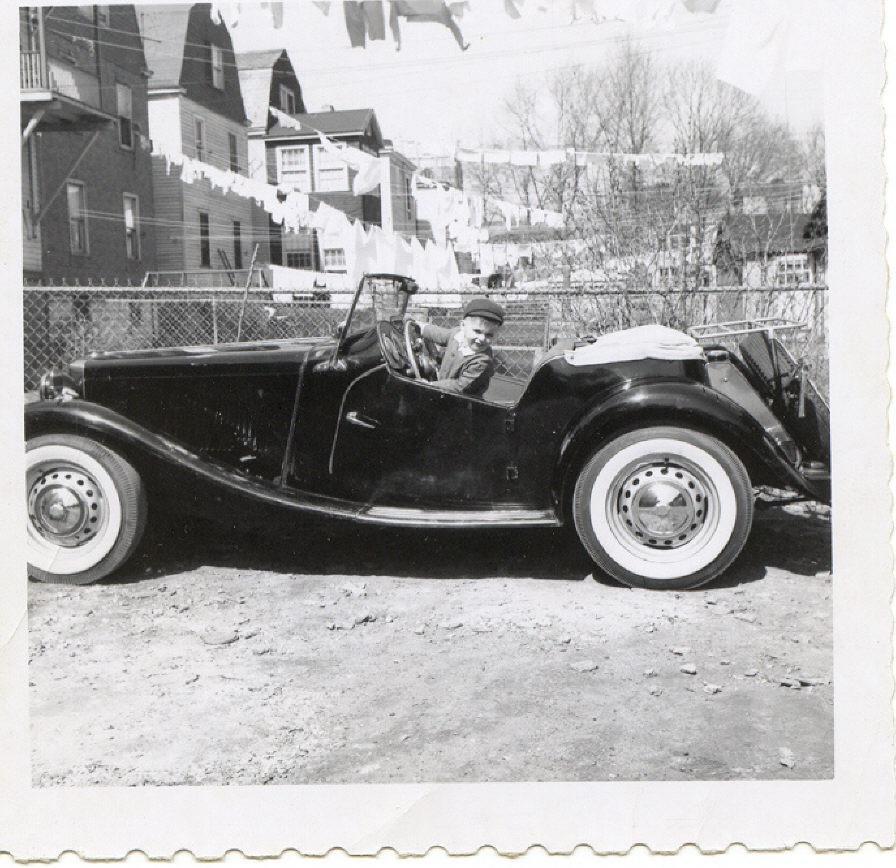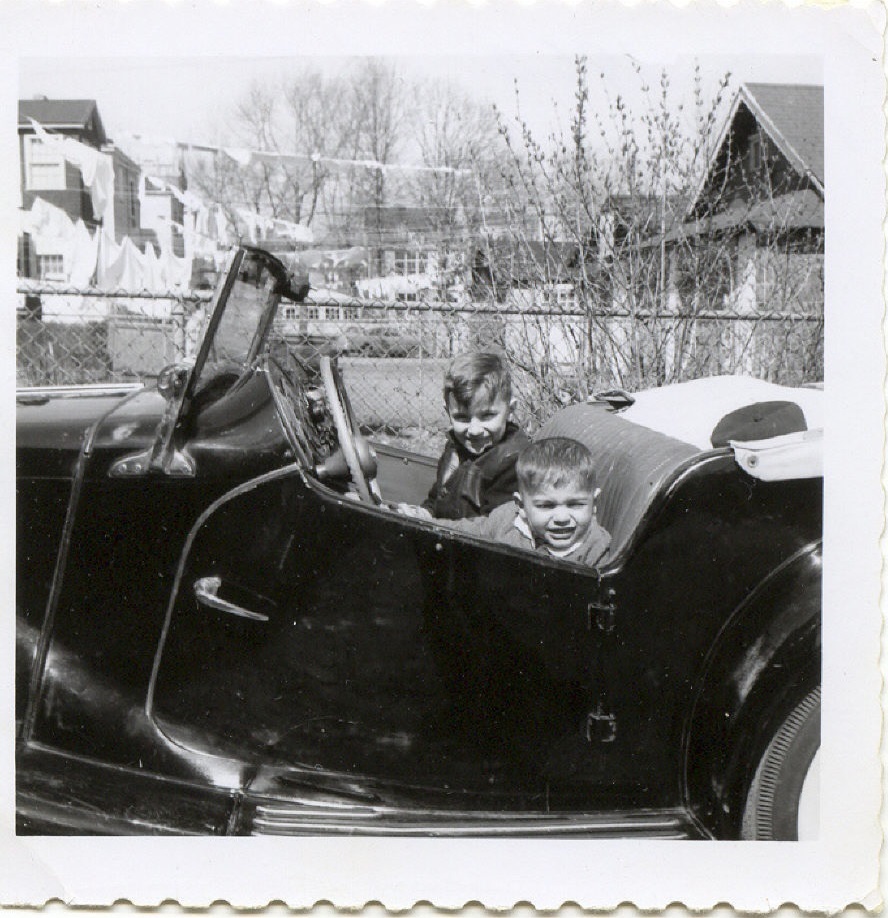 Gary Malanga in his fathers 1953 TD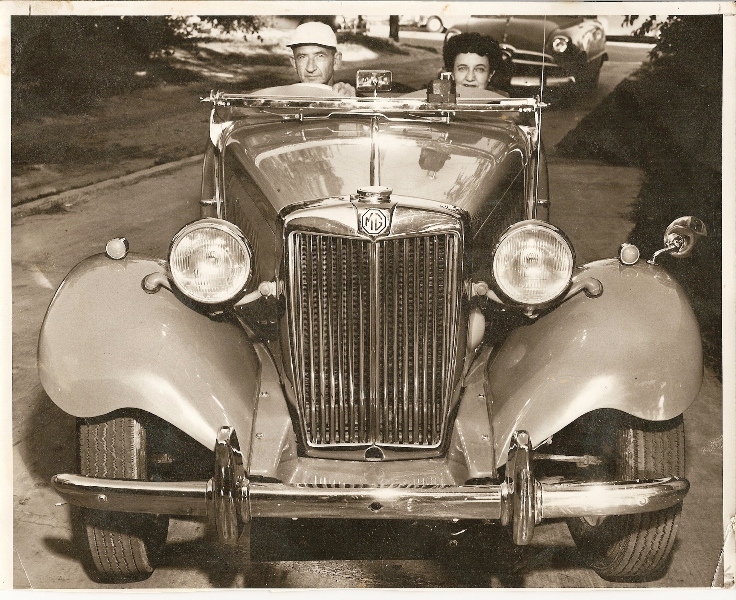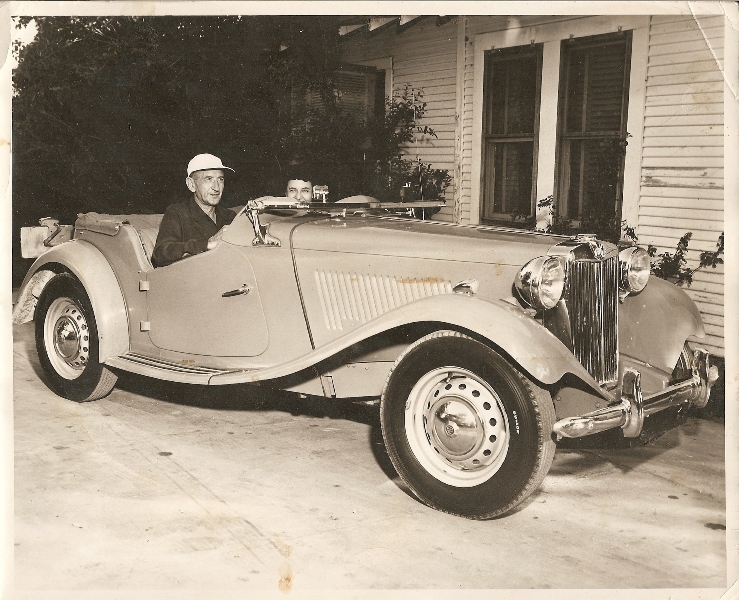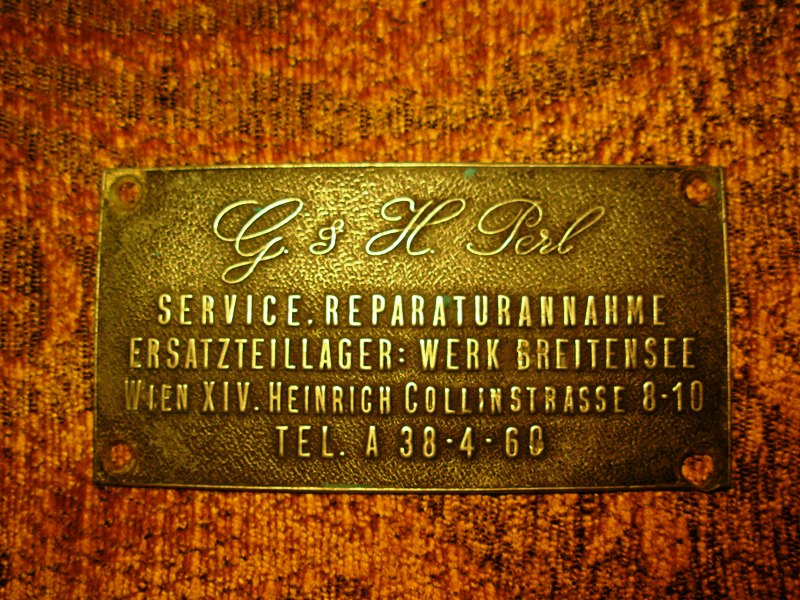 Tripp - These were actually taken in June of 1952. Haskell and Hattie Davis, San Angelo, Texas. My grandfather called the car Bo Peep. The original color was Clipper Blue. If you look at the GH Perl tag you can see a speck of the blue color above the "H". Dealer tag was on the firewall close to the ID tag. and yes the fins (sic) are chrome. My dad said it was a dealer option at the time.
Alexander Bouyouris - JFK with Jackie in the MG TD, and as the caption down left is saying (in Greek), it is shot in Sept 1953 as they depart for their honeymoon to Acapulco.I have never seen this before and I think all MG TD fans should have it.
Senator John F. Kennedy and Jacqueline Bouvier Kennedy ride in a car on their honeymoon in Acapulco, Mexico, September 1953. Source of picture and more information about the wedding.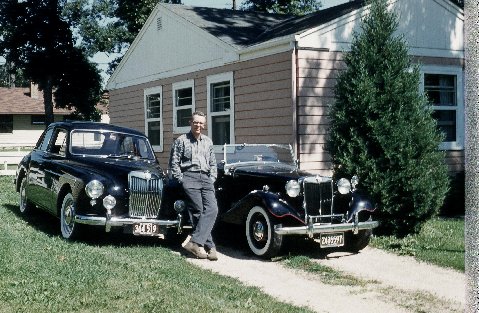 Dick Thomas - This was taken in July 1959 in Dekalb, Illinois with my 1952 TD and my 1957 MG Magnette. I purchased the TD from the original owner in Ft Wayne, Indiana in about 1956. I purchased the Magnette new from a dealer in Dekalb.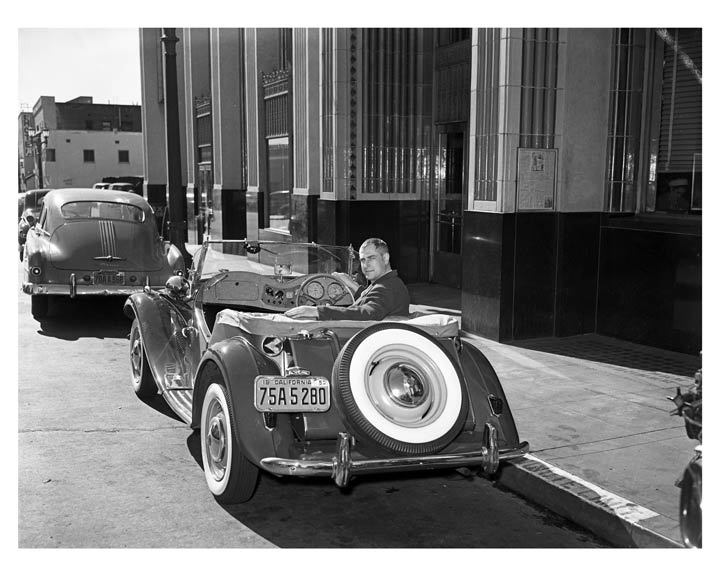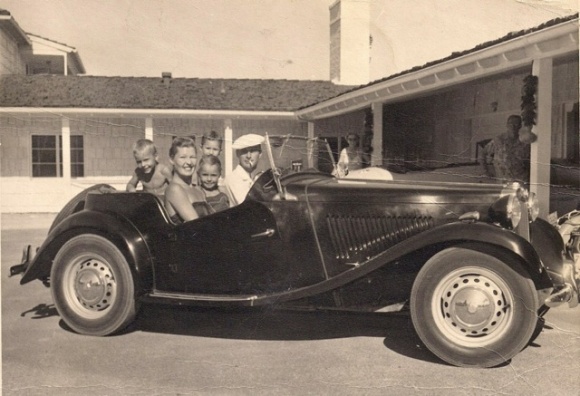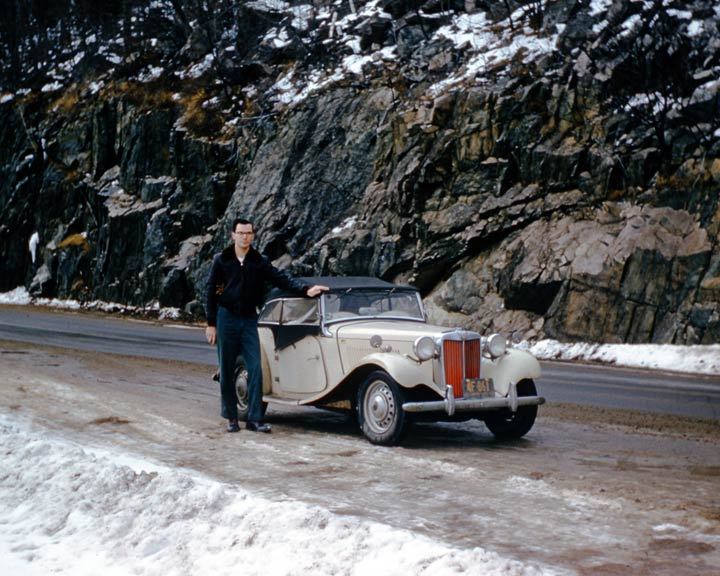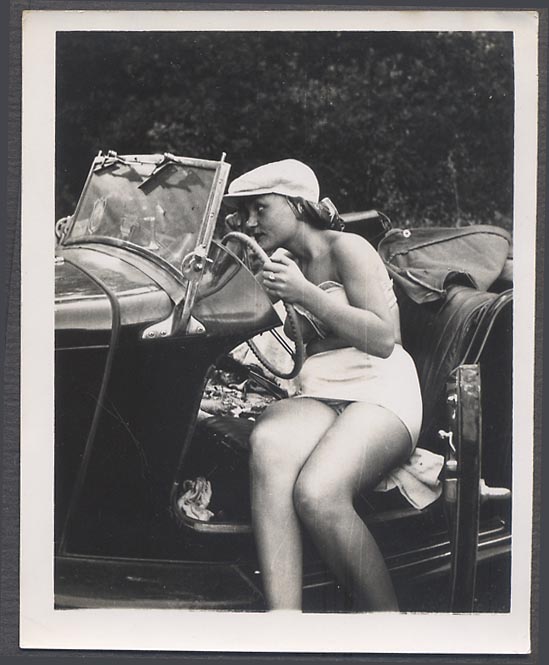 Pretty Girl in Pin Up Swimsuit checks in Mirror of 1950-53 MG TD Sports Car circa 1950s - ebay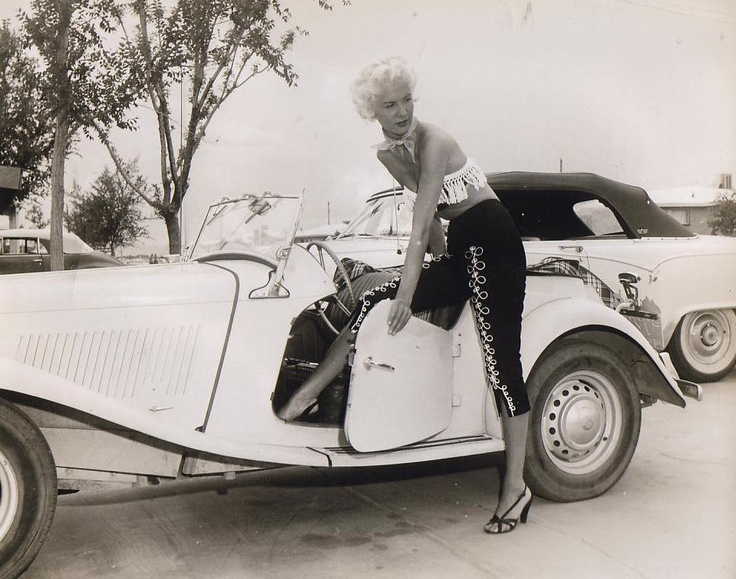 1950's advertisement photo for an unknown product.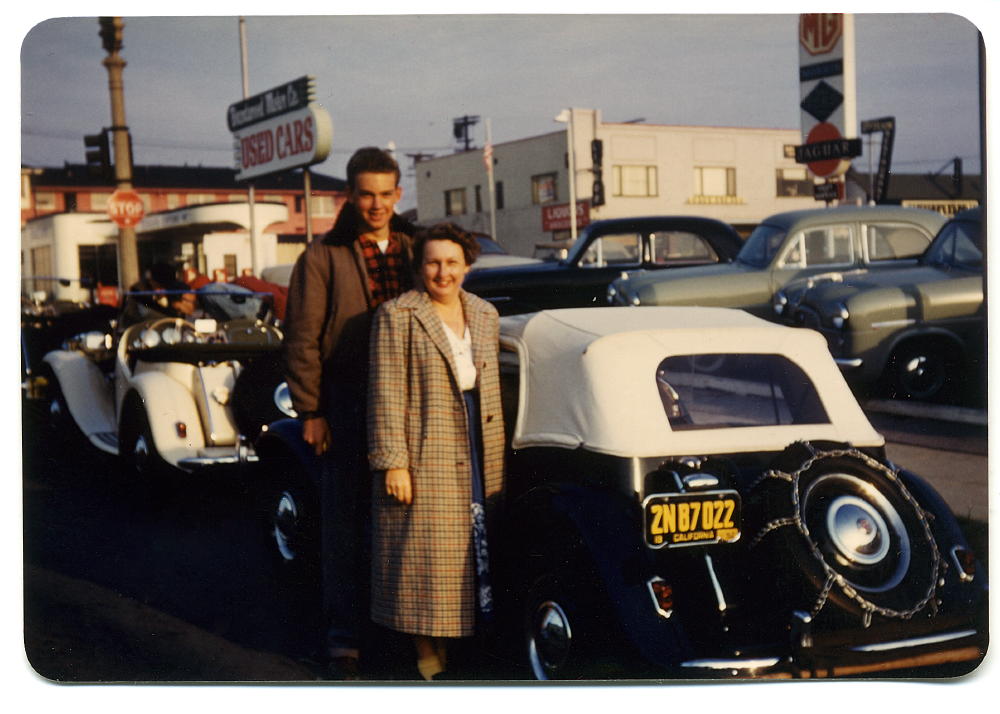 John and Jean Burkhard at the start of a FCCA Santa Monica Chapter event at Brentwood Motors in late 1952 or early 1953. The car is a 1952 MG-TD Mk. II that Jean ran in many FCCA and Cal Club events. - John Burkhard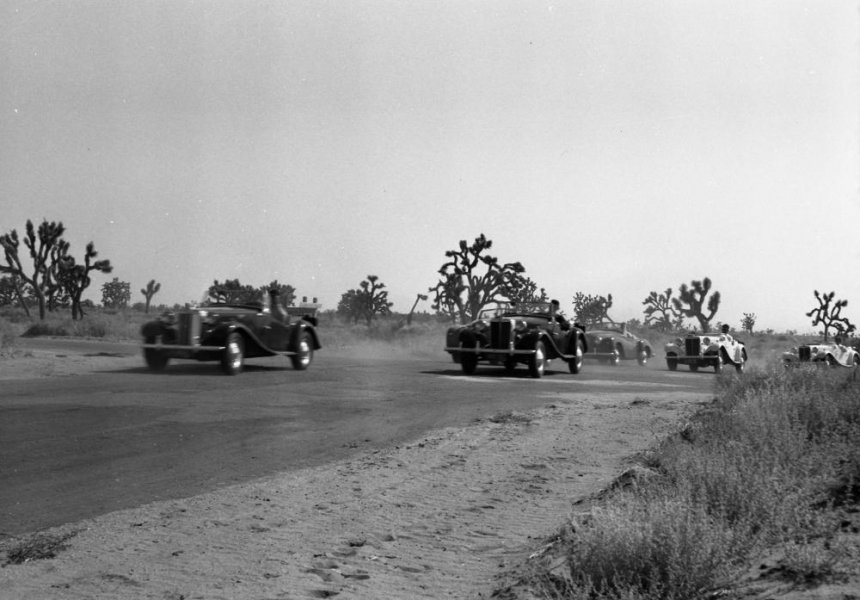 TWO MG-TDs LEAD THE FIELD IN THE STAGED ROAD RACE EVENT. From the FCCA.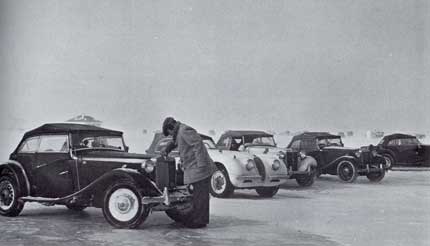 Possibly taken at the St. Paul Winter Carnival in the early 50's.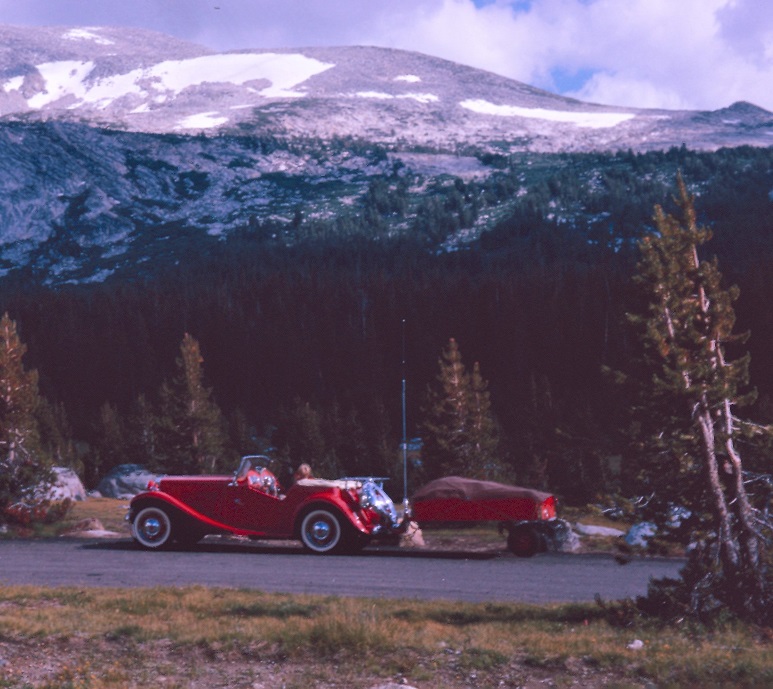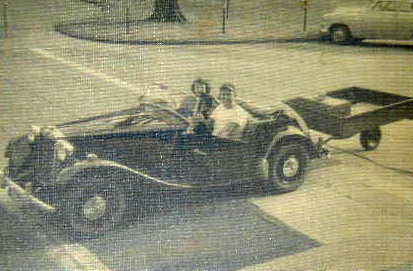 The above two images show MG TD's towing a single wheeled trailer in the 1950's or early 1960's. The picture on the left is my car (I am the passenger) and the picture on the right is Al Andersen of Denver, CO.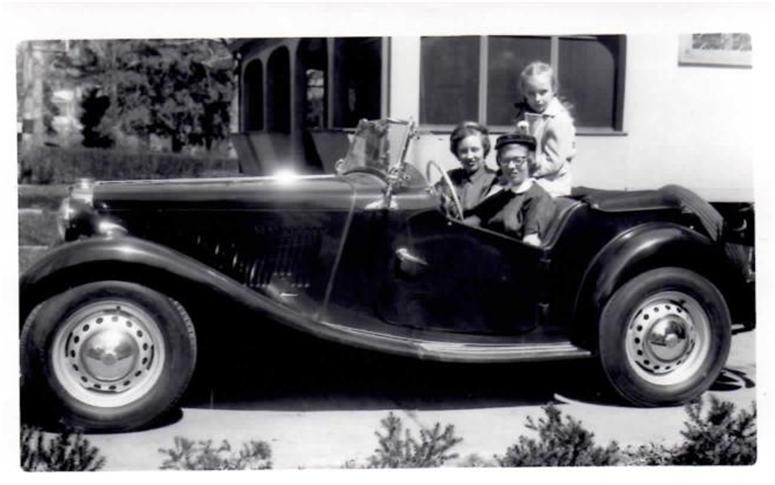 Dick Dickstein's TD new in 1952. This is the same car bought from Bekrag Auto Sales in East Orange, NJ in 1953.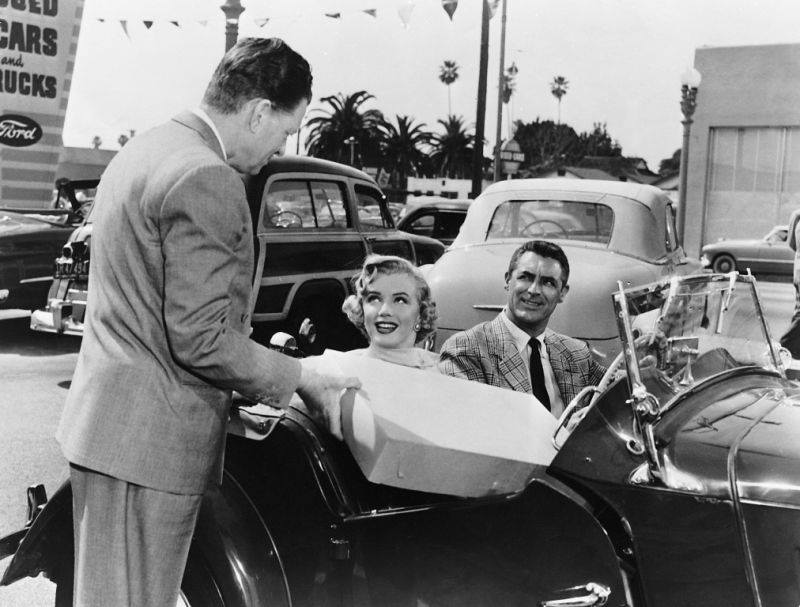 Marilyn Monroe and Cary Grant in a TD for the movie, Monkey Business, 1952.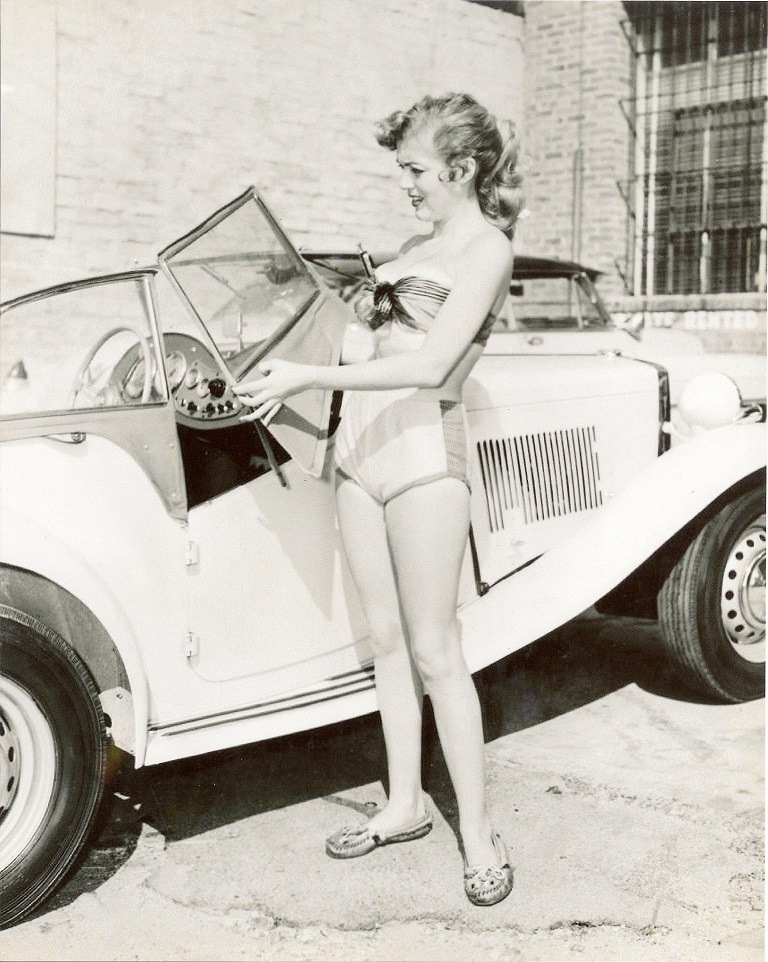 Marilyn Monroe pondering a set of TD sidecurtains circa late 1952 or 1953.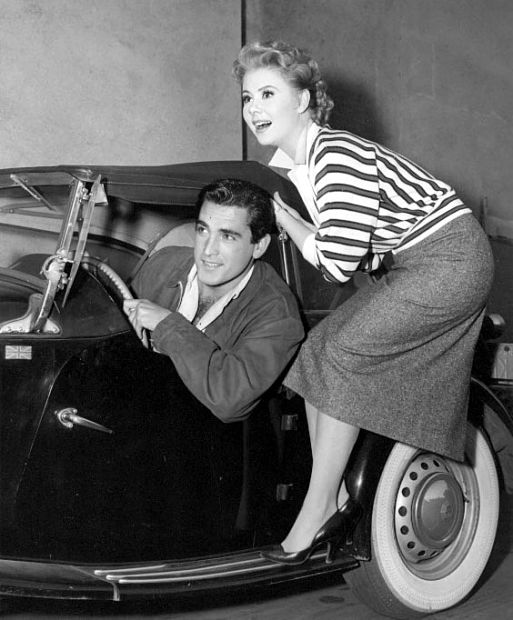 Les Girls costars Jacques Bergerac and Mitzi Gaynor pose with his MG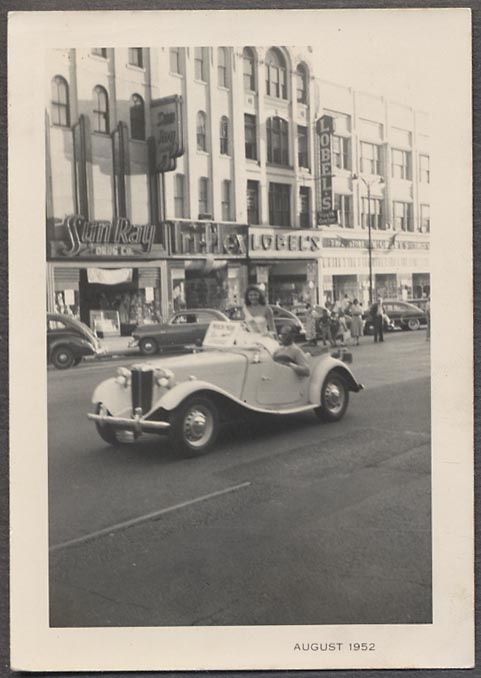 Beauty Queen on Parade stamped Reading PA dated 1952
A montage of TD0267 taken in the early 1950's. The car was imported to Australia and purchase at Lanes in Melbourne and is one of the earliest TD's still surviving. The car is currently owned and being restored by Robert Browne.
TD3966 in 1966. The car is currently owned by Jasper Nederhoed.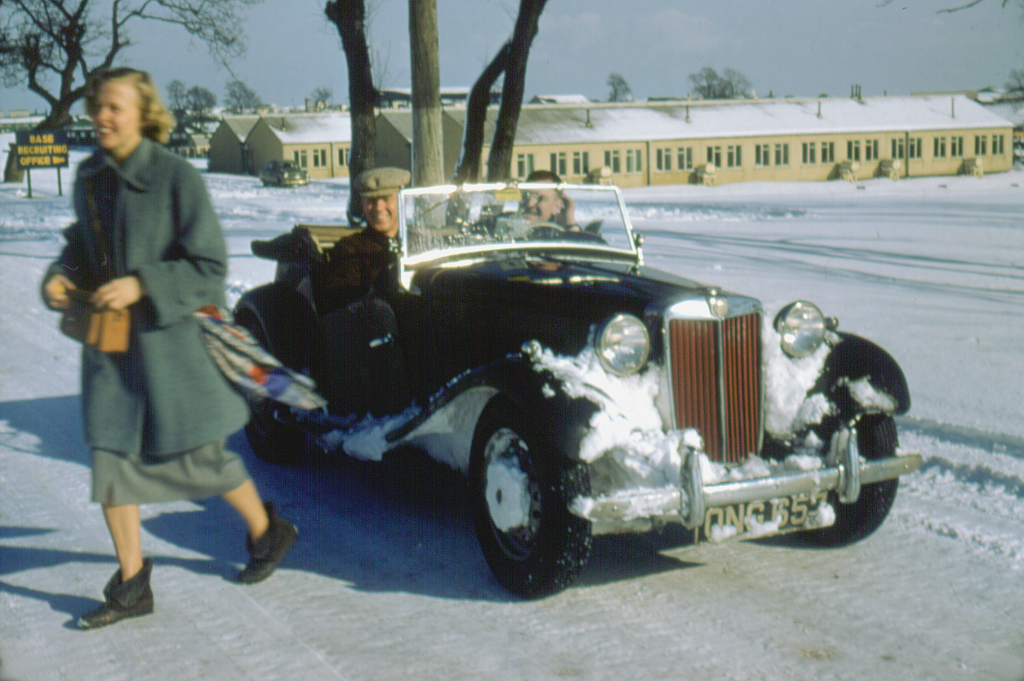 1953 - RAF Sculthorpe, Norfolk, England by doveson2002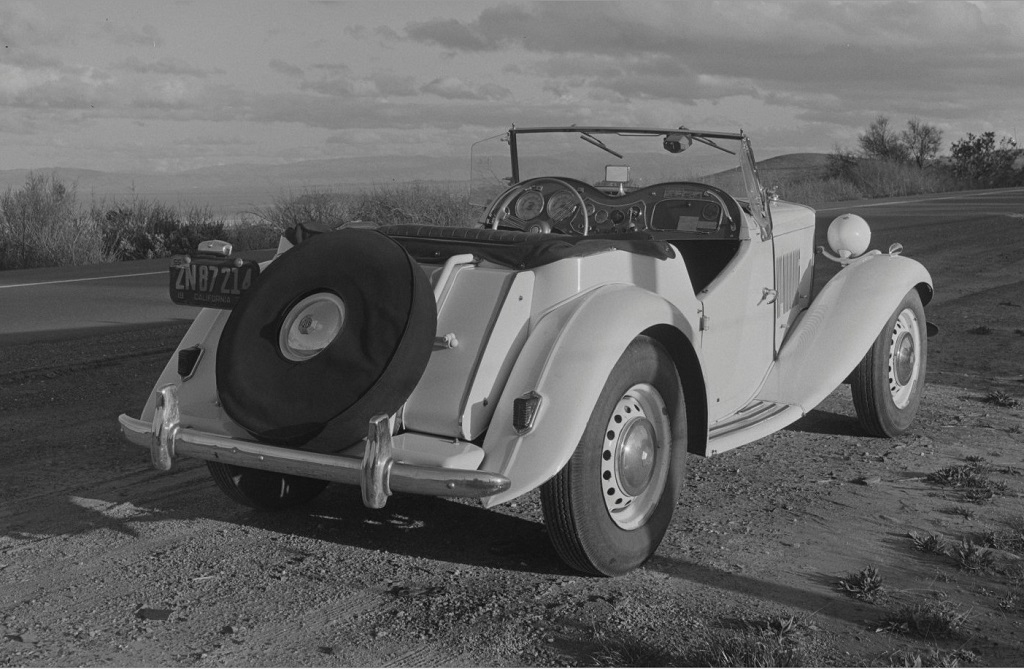 MGTD near Salinas, California in 1956.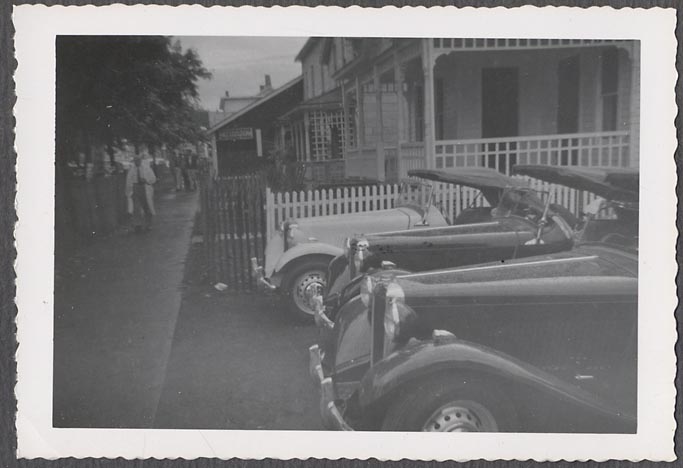 Watkins Glen Grand Prix 1953.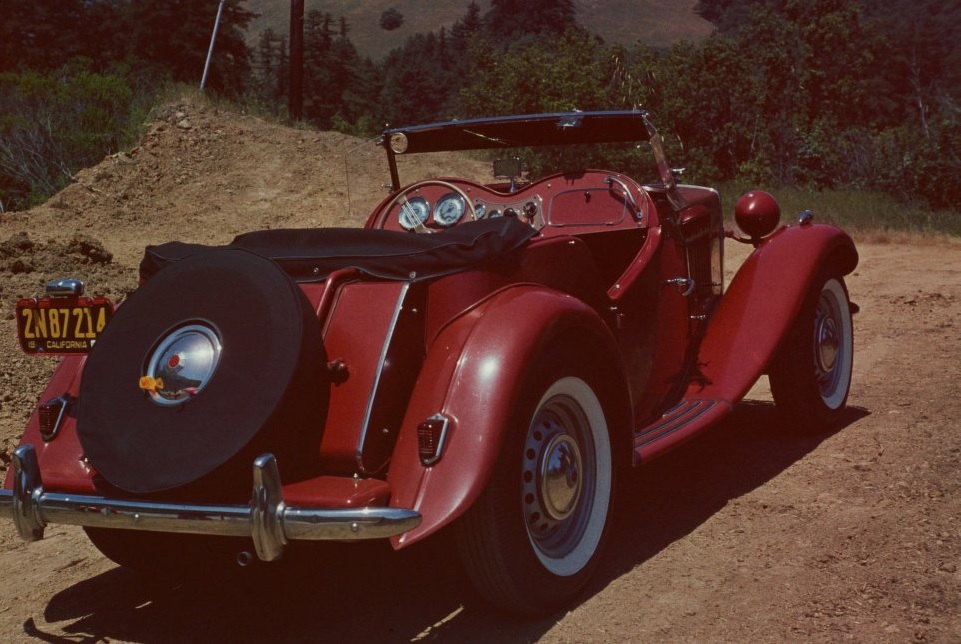 MGTD in California sometime in the 1950's. Note the sunvisor and the fisheye rear view mirror.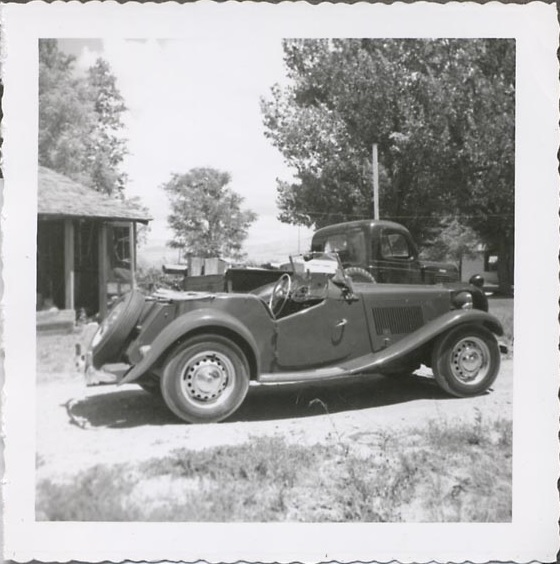 1953 MGTD on a 3.5 inch photo.
From Tim Dyke about his brothers (A.L. Dyke), MGTD: My brother's co-driver was Ron Goldbourn, local car dealer and one-time British Rally Champion. Brother Tony went on to a TR2, which he rallied both here and abroad, and then a TR3A, from which he joined the Triumph works team as navigator on theTulip Rally, also in a TR3A.
He also navigated for the Citroen works team on the RAC Rally, with Paul Coltelloni, European Rally champion, and for Tom Gold, for the works BMC team, in a Frogeye Sprite.
His TD was sold to a pair of sisters who ran a filing station at Endon, near Leek, who eventually took the car to Australia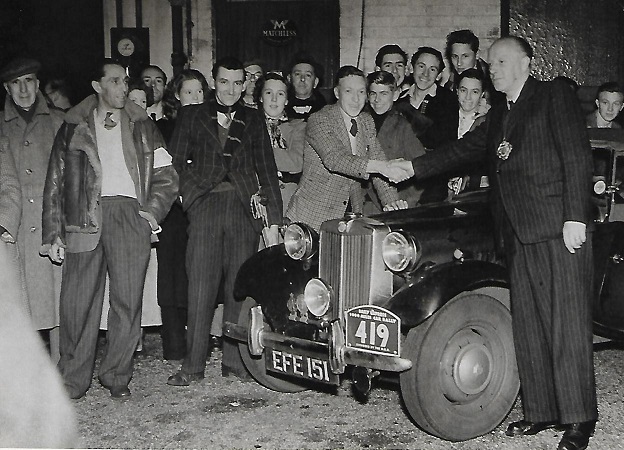 1950 MCC Daily Express 1000 Miles Car Rally held from 8th to 11th November 1950
Photo courtesy Niek Herwegh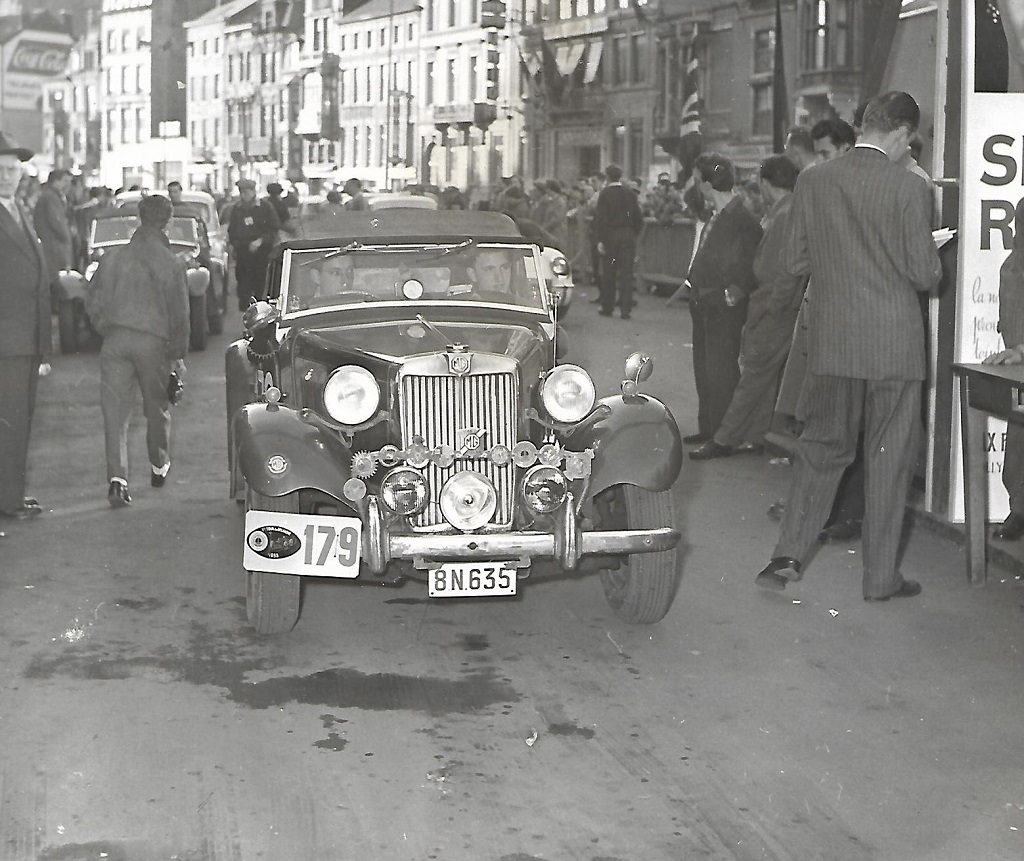 The 1955 Tour de Belgique. Starting number 179 is the Jamart/Mullens team which finished 25th overall and 10th in class.
Photo courtesy Niek Herwegh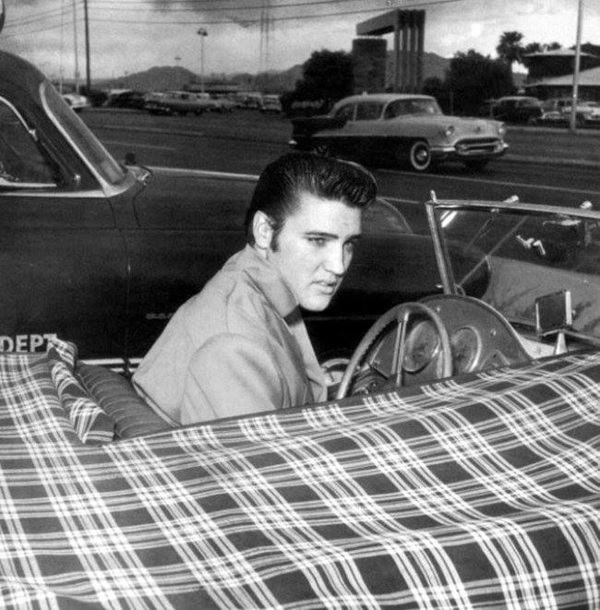 Elvis Presley with tartan tonneau cover 1953 TD. The picture was taken at least as late as 1955 as the Oldsmobile above Elvis is a 1955 Oldsmobile 88. Tartan tonneau covers were all the rage in the later 1950's and early 1960's. My own car sported one during the period.
Photo courtesy Bruce Cunha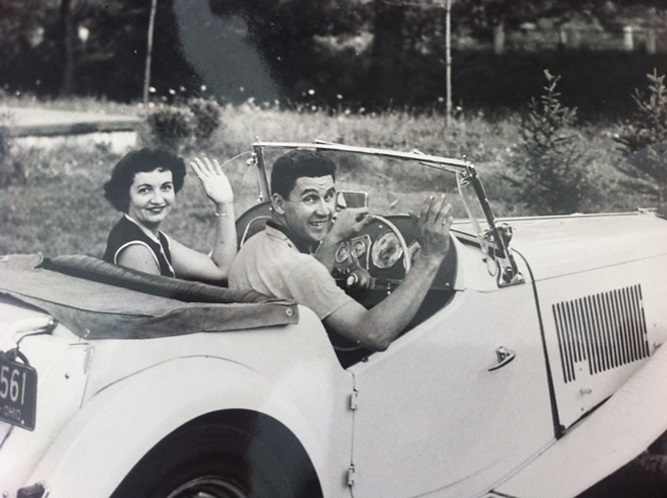 Anne and Austin Davis of Davis Sales and Service
Photo courtesy of Cheryl Davis-Wilcox
These pictures were sent of one of the Davis Sales and Service field trials held behind their dealership in the 1950's.
Photo's courtesy of Bill Davis via Dan Styduhar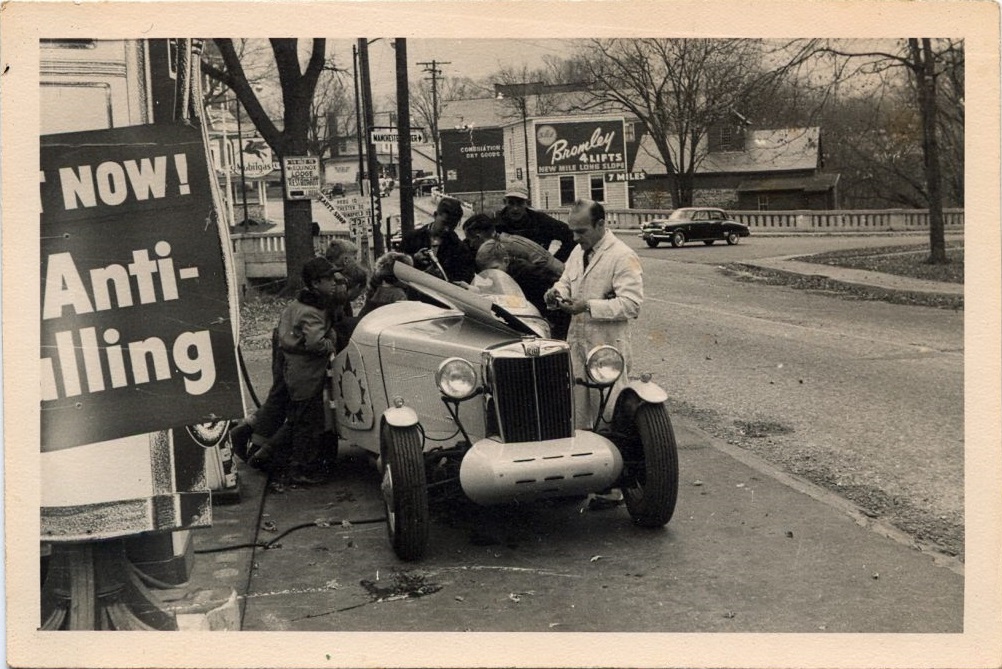 Early MGTD racing car driven by Marshall Green, a Canadian. The car was painted cream. Believed to be taken at Manchester Center, VT in October of 1951 before or after the Equinox Hill Climb.
Photo's courtesy of Dave Aldrich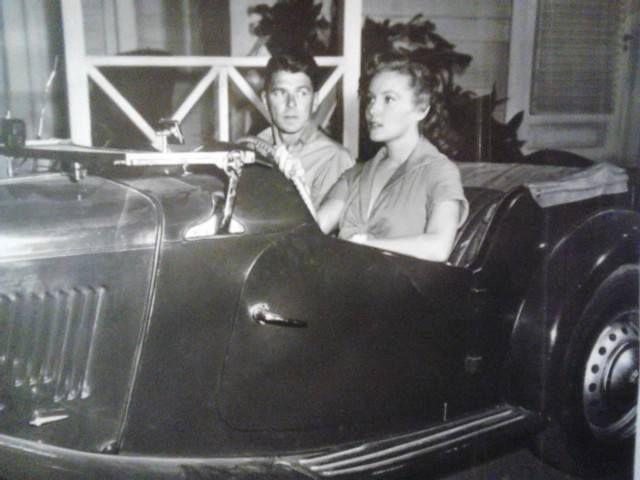 Ronald Reagan and Rhonda Fleming in Tropic Zone in a MGTD, 1953.
Home | History | Details | Myths and FAQs| Literature | Entertainment | Gallery | Links | Map
| | |
| --- | --- |
| © 1999 - 2017 by Christopher C. Couper | Page last updated on October 5, 2018 |