necessary clearances a somewhat undesirable arrangement of wire spokes would be necessary. A dished disc wheel avoids these perplexities. The new disc wheels have large chromium plated nave plates, and the appearance is quite pleasing.
Since one of the main assets of the Midget is its capacity to cover the ground fast without a heavy consumption of fuel, it was considered that no change in the excellent existing power unit was necessary. The four-cylinder 1,250 c.c. overhead valve engine is continued practically without alteration. It is able to develop 54 b.h.p. The only change of note is the provision of a T-shaped air intake pipe to the two S.U. carburettors, drawing through a single oil bath air cleaner. Efficient air cleaning plus full flow oil filtration should preserve the engine in dust-laden climates.
The mounting of the power unit in the chassis is similar to that of the 1¼ -litre. The front rests on a rubber pad, the tail of the gear box rests on twin rubber cushions, and a rubber buffer resists rebound movement. The engine is prevented from undue rocking movement by an adjustable tie fairly high in front. It has, therefore, a cushioned mounting, but one in which any excessive movement is prevented. As before, a four-speed gear box with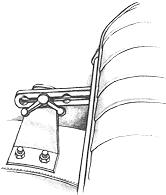 The angle of the back squab of the front seats can be set to suit the driver, and can be locked by the clamping screw shown. The seat cushion is adjustable for leg reach.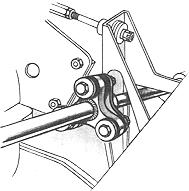 Flexible joint in the steering column of the M.G. Above it is the torque reaction tie for the engine mounting.
a short remote central gear lever is provided. But the gear box is improved; it is more compact, and the shafts have roller bearings. The tail of the gear box extends farther than formerly in order to reduce the length of the propeller- shaft. The clutch operating mechanism is cable controlled in a manner insulating it from engine movement. Aft of the open propeller-shaft is another innovation, a hypoid bevel rear axle drive.
Last, but not least, in the mechanical specification is the adoption of the latest Lockheed two-leading-shoe hydraulic

One of the features of the engine of the M.G.TD is the T-shaped air intake to the two S.U. carburettors connecting to an oil bath air cleaner.

brakes with 9in drums. The hand brake lever is of the pull-up type, centrally situated, and provided with a press-button ratchet; that is to say, the brake lever does not stay in the " on " position unless the button is pressed.
Although the Midget has not departed from its familiar and attractive styling, from its honest radiator to the large fuel tank at its tail, the body has been modified to considerable advantage, giving extra room, and the car as a whole is four inches wider. This does not detract from the appearance; in fact, the general impression is of increased sturdiness. There is much more room and luggage space. The single seat squab is adjustable for angle. The body is an open two-seater, with steel panels and leather upholstery, and the windscreen can be folded flat forward. Detachable side

Engine.-

4 cylinders, 66.5x90 mm, x1,250 c.c. Overhead valves operated by push rods. Three steel-baeked main bearings. Pump and fan water circulation. Forced oil feed by gear pump; full-flow oil filtration. Twin S.U. semi-donwndraught carburettors. Compression ratio, 7.25 to I. Maximum b.h.p@, 54.4 at 5,200 r.p.m. Piston speed at max. b.h.p., 3,068ft per min. H.P. per, sq in of piston area, 2.5. Road speed at 2,500 ft per min piston speed, 61.18 m.p.h.

Transmission.-

Single-plate. Borg and Beck clutch. 4-speed gear box. Overall gear ratios: Top 5.125, third 7.098, second 10.609, first 17.938 to 1. Hardy-Spicer open propeller-shaft. Hypoid bevel final drive.

Suspension.-

Wishbone and coil spring independent front, half-elliptic rear. Luvax Girling hydraulic dampers.

Steering.-

Helical toothed rack and pinion. Right or left hand. Column adjustable for reach.

Brakes.-

Lockheed hydraulic, two-leading-shoe, 9 in drums. Cable operated hand brake on rear wheels with adjustment at central hand lever. Total friction area, 99.48 sq in.

Tyres and vvheels.-

Dunlop 5.50x15in tyres. Bolt-on disc wheels.

Fuel System.-

12.1-gallon rear tank. S.U. electric pump. Claimed fuel consumption 39 m.p.g. at steady 30 m.p.h. Maximum fuel economy 42 m.p.g. at steady 20 m.p.h.

Electrical Equipinent.-

Lucas 12-volt, with automatic advance and c.v.c. dynamo. Both head lamp beams dip. Twin stop and tail lamps, twin horns.

Main Dimensions.-

Wheelbase, 7ft roin (238.8cm); track, front, 3ft 11¾in (120.3cm); rear, 4ft 2in (127.0cm); overall length, 12ft 1in (368.3cm); height, hood down, 3ft 9in (114.3cm), hood up, 4ft 5in (134.6cm); width, 4ft 10 5/8in (148.9cm); Ground clearance, 6in (15.24CM); Weight (chassis only) 1,155lb (519.75kg).

---

screens are provided. The spare wheel is mounted at the back of the fuel tank, which has a quick-release filler cap. Another feature is a rearrangement of the instruments. As before, the scuttle has two rounded humps. On the face of that opposite the driver a 5 in speedometer and 5 in rev counter with clock are mounted. There is a central panel carrying the ammeter, oil gauge, light switches, dip switch, horn button and minor controls, and on the passenger's side is a locker fitted with a Iid. Provision is made for extras such as an inbuilt radio, chromium-plated luggage rack, twin spare wheel carrier, 6-inch rear tyres and wheels for competition purposes, fog lamp with support bar, and badge bar. A Road Test of the new TD M.G. wi!l be. found on pages 6-8.
| | |
| --- | --- |
| Functional style of the back of the car with the snap filler cap over the large tank,and the spare wheel, easy to reach. Two spare wheels can be had as an extra for competition purposes. In the latest arrange- ment of the instruments the speedometer and rev counter dials are in front of the driver, over the minor controls grouped in a central panel. | |