| | |
| --- | --- |
| | MG Original Equipment Manufacturers |
These pages contain brief information on the major Original Equipment Manufacturers (OEMs) to MG during the period of the MGTD/TF.
A great amount of information about British industrial companies, and the source of much of the information and images contained in these pages can be found at Grace's Guide.
Thank you to Nick Herwegh of the Netherlands who supplied some of the key advertisements images.
Abingdon King Dick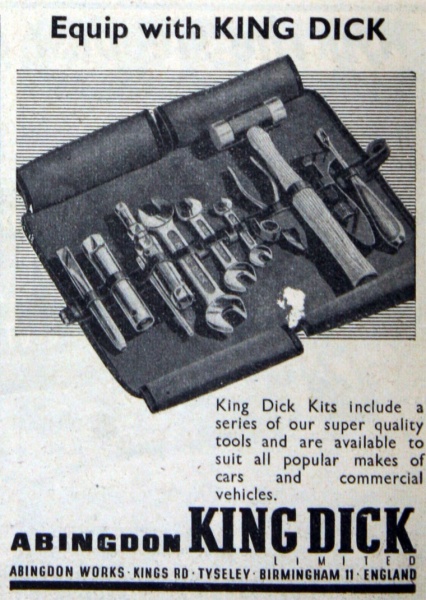 From the King Dick website
Founded in 1856, Abingdon King Dick is an established manufacturer of quality engineering tools. Originally Abingdon Engineering, the company made a variety of goods, such as gear boxes, chains and motorcycles, for several years before concentrating solely on producing quality, professional user tools from the turn of the twentieth century onwards.
At that time the King Dick name and logo was adopted. It was that of the Company Owner's show winning bulldog, and was seen as being symbolic of British tenacity and strength of character:- The KING DICK Brand was born
Parts Supplied
Jacks and tools.
AC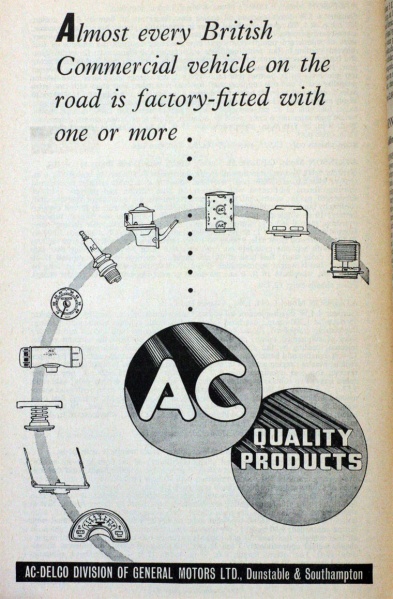 AC stands for Albert Champion, a colorful character in early automotive history. He initially started a spark plug and magneto business based on his name (Champion Spark Plugs) but not under his financial ownership. Later he would be a founding engineer within General Motors and helped start Champion Ignition Company.
The name Champion Ignition was changed on Feb. 15, 1922, to AC Spark Plug Co. to avoid confusion with Albert Champion's first company, Champion Spark Plug, which the Stranahans had moved to Toledo, Ohio. Both firms AC Spark Plug and Champion Spark Plug could trace their beginnings and their names to Albert Champion.
Champion has been called one of the most colorful characters in the early auto industry. He died unexpectedly at age 49 on Oct. 27, 1927, in his home city of Paris, hours after he was punched by an ex-prize fighter in an altercation over Champion's wife. More information on Champion can be found at this AC Delco site.
AC was part of the General Motors corporation and made automotive components for not only GM cars, but the automotive industry in general. After many reorganizations and name changes, the AC and Delco components finally came together in 1974 as the AC-Delco Division.
Parts Supplied
Oil bath air cleaners for the MGTD.
Andre Components Ltd.
Andre Components LTD was a manufacturer of vehicle suspension products. They were located on 38 Felsham Rd, Putney, London, S.W. 15.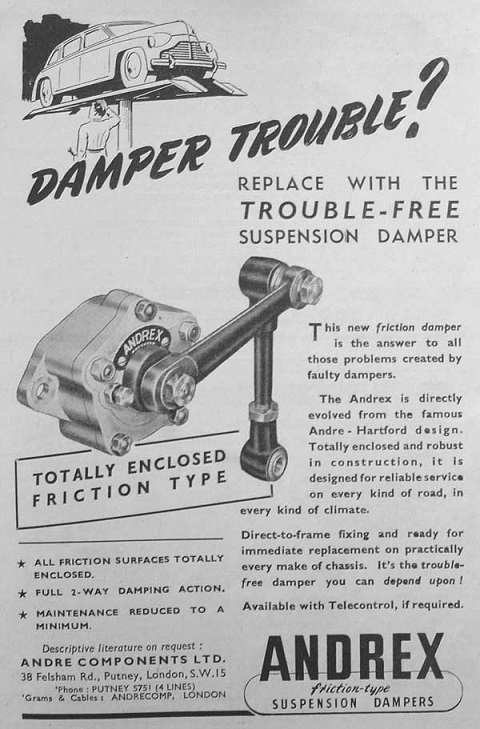 In 1936, The Andre Components LTD received a patent for independent vehicle suspension. The inventor was Albert Henry Godfrey Girling.
From the The MGA With An Attitude website: When hydraulic shocks with pressure relief move at high speed (as with harsh road bumps) they act a lot like friction shocks with constant force over full travel (perhaps different max force in the return direction), effectively putting the "brakes" on suspension travel. But with slower suspension travel speed (as with body roll during cornering) the hydraulic shocks don't do much (unless they may be adjusted to be very stiff and harsh). This is where friction shocks can give some advantage. Friction shocks can be set to provide moderate resistance that can be effective at damping out low speed body roll and low speed road bumps. As such the friction shocks have some cross over characteristics of sway bars, springs and hydraulic shocks. Some people find these useful for suspension tuning, especially for sudden left/right steering changes in the absence of a sway bar. It is like having a stiffer sway bar for sudden steering maneuvers, and better low speed damping for undulating road surface.
Not to be confused with the British toilet paper company Andrex.
Parts Supplied
Andrex supplemental friction shock absorbers for the MGTD Mark II.
Armstrong Shock Absorbers Ltd.
1926 Company founded by F. G. Gordon Armstrong. In 1935 the public companies name was Armstrong Shock Absorbers Ltd. The Patents Company continued as the operating company. Armstrong was also the patent owner of the Heli-Coil.
Parts Supplied
Hydraulic shock absorbers for the MGTD and MGTF.
Auster Ltd.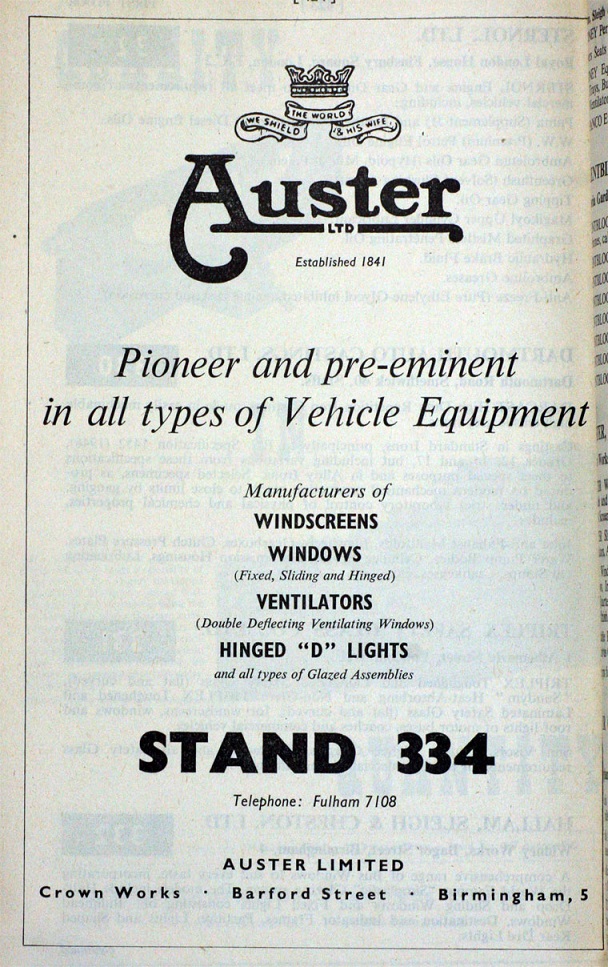 Auster of Crown Works, Barford Street, Birmingham. Established in 1841. Auster is a name given by the Romans to a warm wind. Auster Ltd was making aviation windscreens under the Auster Triplex trade name in 1914 (or earlier), about the time William Morris began making bicycles (1913). In 1939 they became a supplier to the aircraft industry.
Note: There does not appear to be a direct relationship with the Auster aircraft company.
Parts Supplied
Windscreens.
British Jaeger Instruments Ltd.
From COSGB.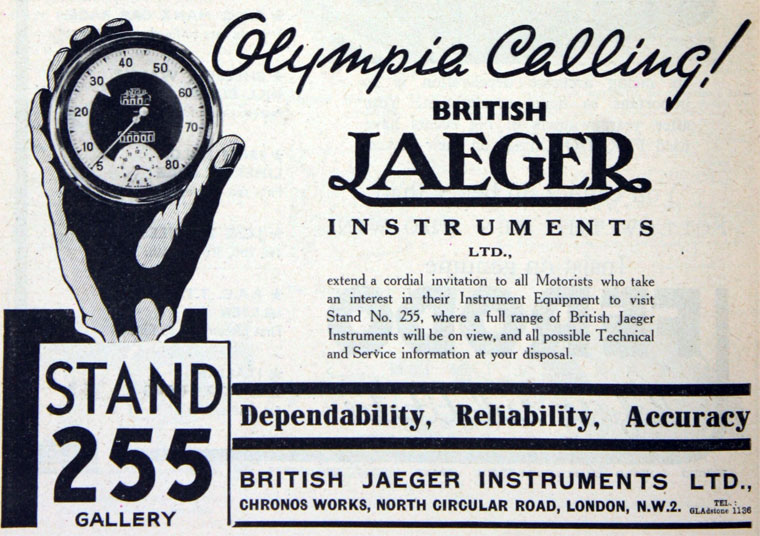 British Jaeger Instruments Ltd. was a manufacturer of speedometers, tachometers, and other motoring instruments. The origins of the company can be traced to 1880 when the renowned French watchmaker Edmond Jaeger established a company in Paris. Jaeger devoted his life to developing mechanisms for measuring speeds and was a pioneer in the development of chronometers, tachometers, and automobile and cockpit clocks. Jaeger's company grew to become the largest manufacturer of speedometers in the world.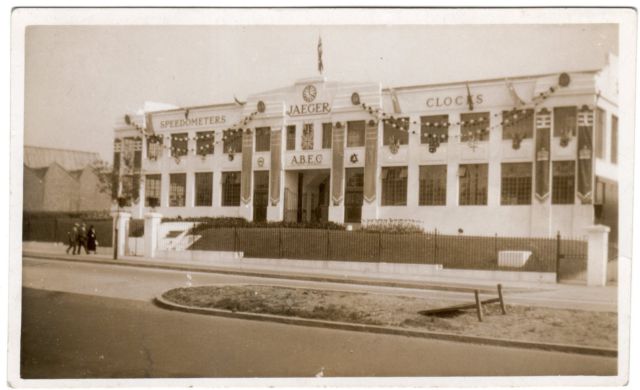 A British arm of the French company, called Edmond Jaeger (London) Ltd., was soon established. In 1927 this company was acquired by Smiths, the well-known clock-making company. In 1931 the business was renamed British Jaeger Instruments Ltd.
British Jaeger continued with the French styling of the speedometers it manufactured, which typically featured a black face imprinted with stark contrasting white lettering, numerals and indicator needle. Other instruments made by the company included: tachometers, electrical thermometers, car clocks, water, oil and temperature gauges, and fuel indicators. The vast majority of British cars, motorcycles, and other vehicles manufactured from the late 1920s to the 1990s were equipped with instruments manufactured by British Jaeger.
Parts Supplied
Tachometer, speedometer, oil pressure, temperature, ammeter gauges for the MGTD models.
Cam Gears
Established in 1928. By 1961 they were manufacturers of motor vehicle steering gears with 1,300 employees. Purchased by TRW Steering Systems in the mid 1960's.
Parts Supplied
Steering rack and pinion assembly.
Champion Spark Plug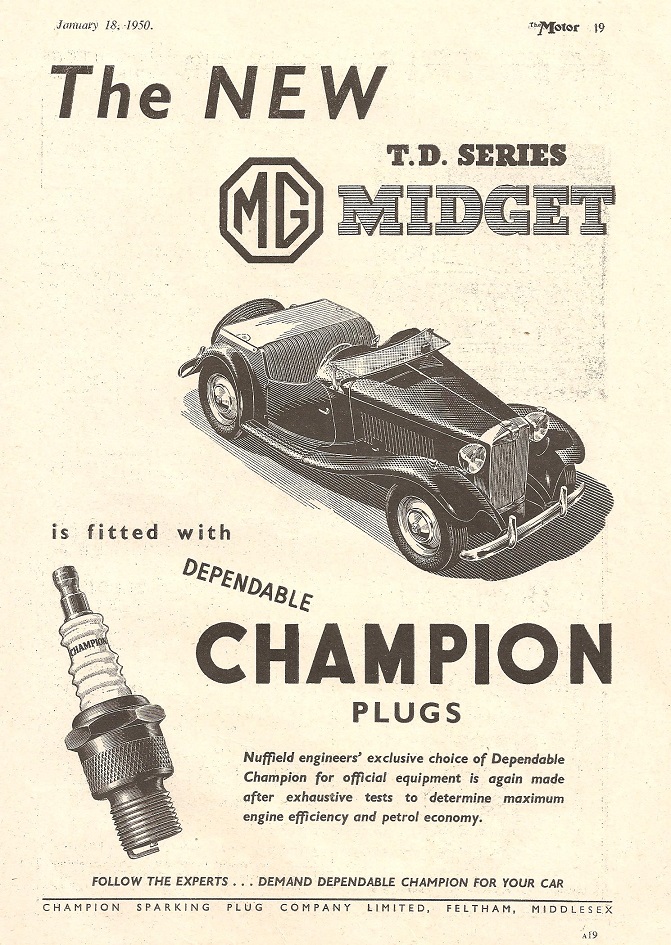 Started by Albert Champion in 1905 and backed brothers Frank and Robert Stranahan. Albert Champion later helped form AC Delco and AC Spark plugs after leaving Champion, his namesake. The beginnings of AC Spark Plug (now part of AC Delco) and General Motors have a lot in common—both are over 100 years, both were founded by William C. "Billy" Durant (Champion's financial backer and organizer of his firm) and both trace their earliest days to Buick Motor Co. and Flint, Mich.
Parts Supplied
Spark plugs.
Connolly Bros (Curriers) Ltd.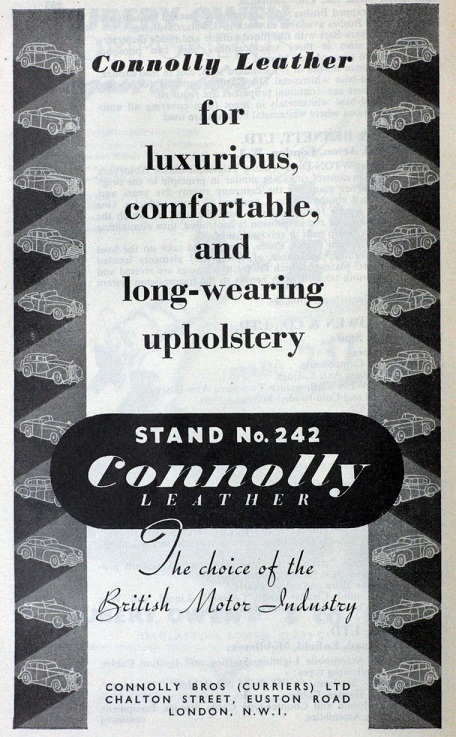 Excerpted from Wikipedia
Connolly Leather was a British company supplying highly finished leather primarily to car manufacturers such as MG, founded in 1878. The term is also used to describe the particular brand of leather itself, when fitted in a car interior. The family started a retail business, Connolly Luxury Leathergoods Limited, selling exclusive and bespoke leather goods and accessories. The business developed a high profile clientele which included celebrities, socialites and industry leaders.
Parts Supplied
Leather for seat fronts/tops and door panel trim.
Coventry Hood & Sidescreen Co Ltd
Established in 1931. Still needs to be verified that they actually supplied to MG for TD and TF.
Parts Supplied
Hoods, sidescreens and tonneau covers
Desmo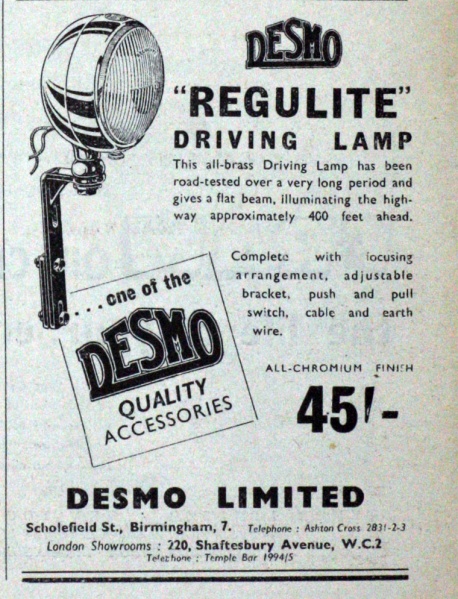 Desmo, Birmingham, founded in 1922 as Desmo Limited at 31, Stepford St. The works was in Scholefield Street Birmingham 7, which disappeared from the map in 1961 or 62 during the Newtown slum clearance programme of the time. Desmo then moved to Brierley Hill. It made a huge range of motor accessories from wing mirrors to radiator mascots.
Parts Supplied
Rear view mirrors.
Dunlop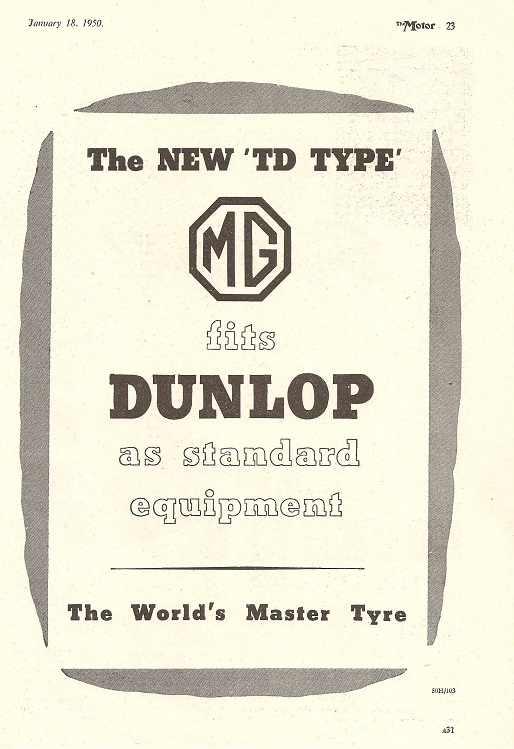 In 1888 Dunlop's founder, John Boyd Dunlop, was watching his young son riding his tricycle on solid rubber tyres over cobbled ground. He noticed that his little boy was not going very fast and did not seem very comfortable. In trying to provide his son with a smoother ride and better handling Dunlop took the tricycle, wrapped its wheels in thin rubber sheets, glued them together and inflated them with a football pump. That way he developed the first air cushioning system in history, and laid the foundation for the first pneumatic tyre.
Dunlop immediately patented his idea and started to develop his invention into a commercial venture, founding what quickly became known as the Dunlop Pneumatic Tyre Co. Ltd. In 1890 Dunlop opened its first tyre plant in Dublin, Ireland and three years later its first tyre factory in mainland Europe in Hanau, Germany. By 1895 Dunlop tyres were also being sold in France and Canada, and manufactured in Australia and the USA. By 1898 the business had outgrown its Dublin base, and production was transferred first to Coventry, England and then in 1902 to the 400 acre site in Birmingham, England - later known to the world as Fort Dunlop.
Parts Supplied
Tyres and tubes, seat cushions (see Dunlopillo below).
Girling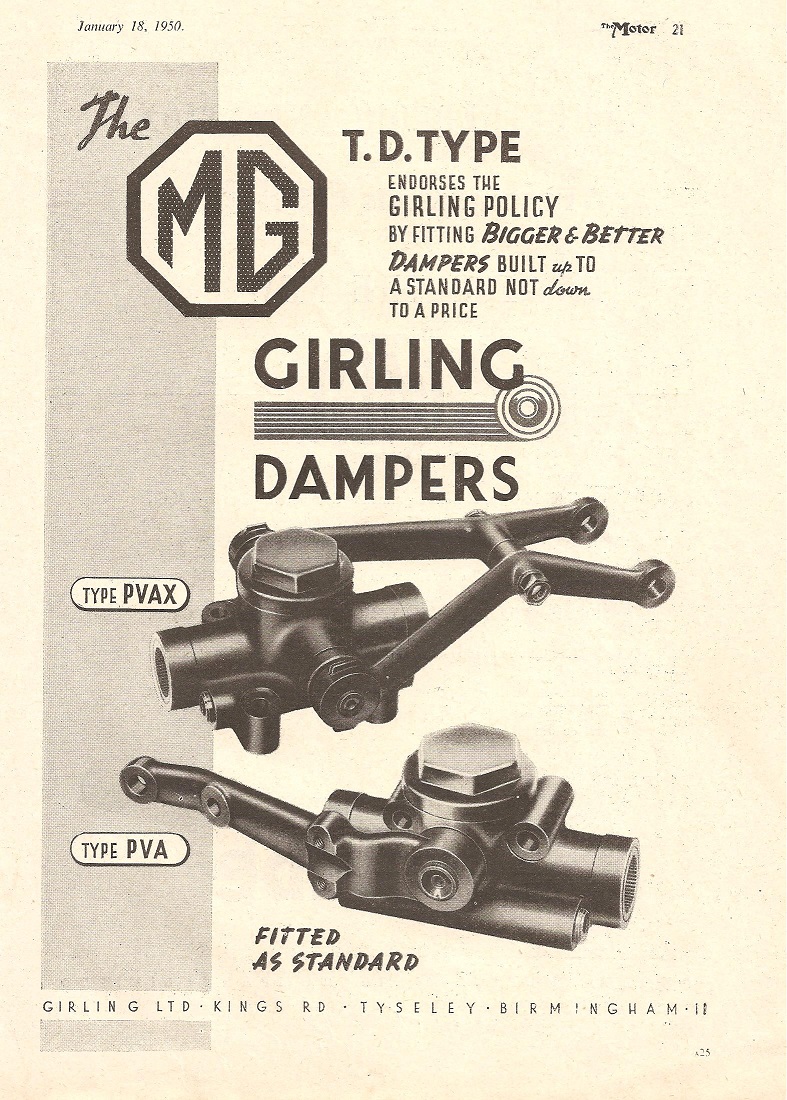 A division of Lucas Industries. The company started as a car brake manufacturer after, in 1925, Albert H. Girling (also cofounder of Franks-Girling Universal Postage) patented a wedge actuated braking system. In 1929 he sold the patent rights to the New Hudson company. Girling also had a patent owned by the Andre Components Ltd, makers of Andrex shock absorbers.
Girling later developed disc brakes, which were successful on racing cars from the early 1950s to the 1970s.[7] Girling brakes had the quirk of using natural rubber (later nitrile) seals, which caused difficulties for some American owners of British cars because of incompatibility with US brake fluids. Girling brake manufacture was taken over by Lucas in 1938, but the patent remained held by New Hudson until this in turn was purchased by Lucas in 1943. Lucas then moved their Bendix brake and Luvax shock absorber interests into a new division which became Girling Ltd.
Parts Supplied
Hydraulic shock absorbers for the MGTD.
Imperial Chemical Industries Ltd (ICI)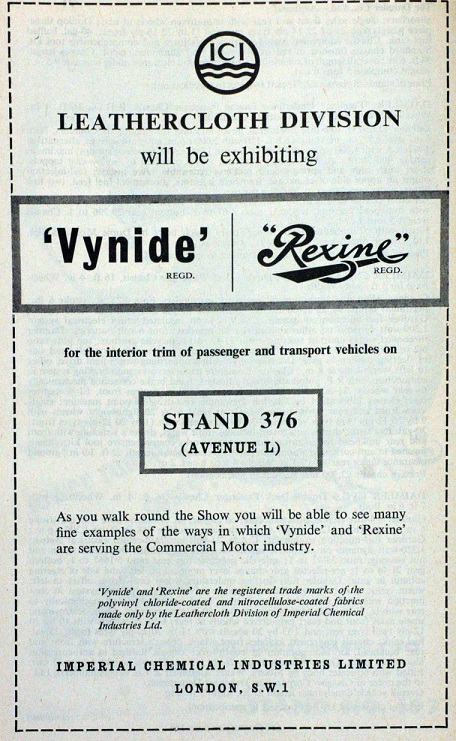 Excerpted from Wikipedia
In its heyday, ICI was the largest manufacturing company in the British Empire, and commonly regarded as a "bellwether of the British economy". It produced paints and speciality products (including ingredients for foods, speciality polymers, electronic materials, fragrances and flavours).
Parts Supplied
Rexine fabric for seats, paint.
A. E. Jenks and Cattell
Formed in 1882.
Parts Supplied
Tappet and side covers, battery retainer, other non cast brackets.
Lockheed
Excerpted from Chasing the Sun via PBS
Brothers Allan and Malcolm Loughead first became fascinated with aviation after witnessing several glider demonstrations. In 1910, Allan began work as an airplane mechanic and shortly thereafter learned how to fly.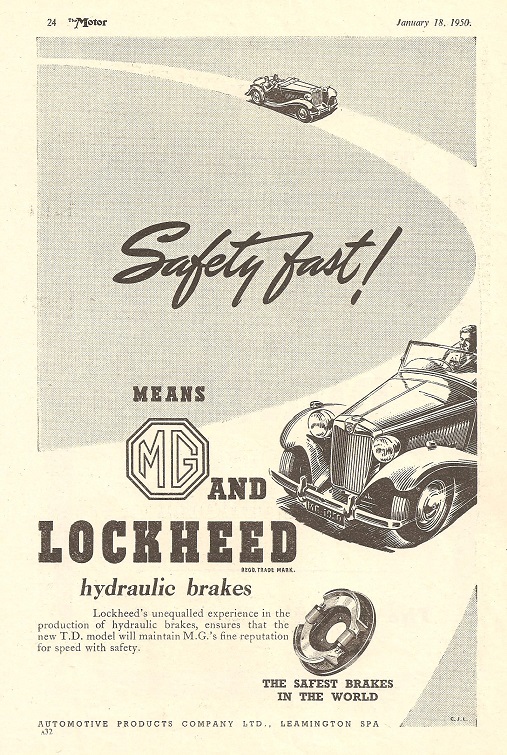 Borrowing $4,000 from a local cab company, the Loughead brothers built their two-seat flying boat, the Model G. in 1913. The ten-dollar fee the brothers were charging for a plane ride was apparently more than most people were willing to pay. Unable to make payments, the creditors seized their plane. For the next two years, the brothers tried every scheme possible to earn the money to get the plane back - even panning for gold. Eventually they succeeded and the brothers brought their plane to the Panama-Pacific International Exposition in San Francisco. The huge crowds there enabled the brothers to find plenty of willing passengers. With the small fortune they made at the exposition, the brothers moved to Santa Barbara and started the Loughead Aircraft Manufacturing Company in 1916.
After World War I, the company devoted its energies to the S-1, a single-seat biplane for civilian use. It was supposed to be inexpensive, but after spending $30,000 developing and building it, the plane's $2,500 asking price was too much for the typical plane-buyer. Financially strained, Loughead Aircraft closed in 1921.
Malcolm Loughead quit the aviation industry, moved to Detroit and became successful with a hydraulic-brake system he developed for cars. Hydraulic brakes were invented in 1918 by Malcolm Lougheed. Tired of his name being mispronounced "Log-head", Malcolm officially changed the spelling to match its pronunciation. He called his new company the Lockheed Hydraulic Brake Company. Mechanical brakes, besides requiring drivers to exert significant force on the brake pedal, did not brake all wheels evenly, sometimes leading to loss of control. Using cylinders and tubes, Lockheed sent fluid pressure against brake shoes, pushing them against the drums. It required much less exertion for the driver to apply these brakes.
In the meantime, Allan became a real estate salesman, while Jack Northrop moved on to work for Donald Douglas. In 1926, Allan Loughead and Jack Northrop reunited. They secured the money to form the Lockheed Aircraft Corporation - specifically incorporating the "Lockheed" spelling to associate themselves with Malcolm's successful brake company.
Parts Supplied
Brake components.
Joseph Lucas Ltd.
Excerpted from Wikipedia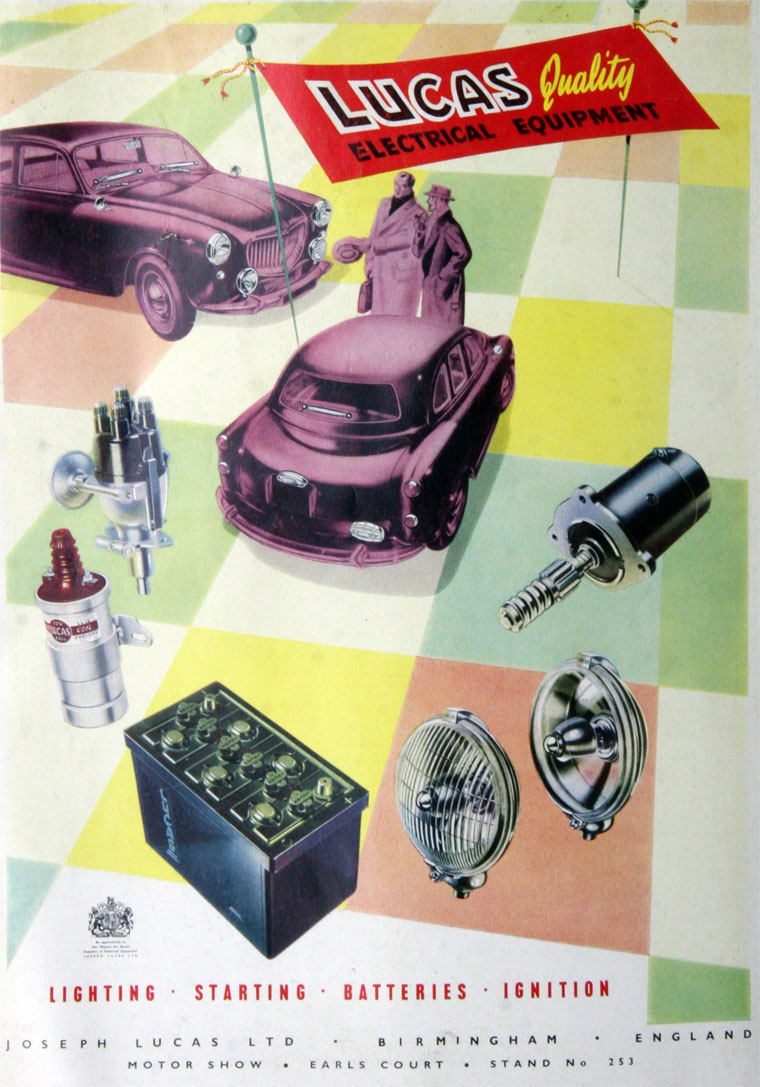 Lucas Industries plc was a famous British manufacturer of components for the motor industry and aerospace industry. It was based in Birmingham.
In the 1850s, Joseph Lucas, a jobless father of six, sold paraffin oil from a barrow cart around the streets of Hockley. In 1860, he founded the firm that would become Lucas Industries. Harry Lucas, his son, joined the firm around 1872, aged 17. Initially called Joseph Lucas & Son from 1882 it was based in Little King Street, later Great King Street Birmingham. At first it made general pressed metal merchandise including plant pot holders, scoops and buckets and later in 1875 lamps for ships, later moving into oil and acetylene lamps for bicycles from 1879. In 1902, what by then had become Joseph Lucas Ltd, incorporated in 1898, started making automotive electrical components such as magnetos, alternators, windscreen wipers, horns, lighting, wiring and starter motors. The company started its main growth in 1914 with a contract to supply Morris Motors Limited with electrical equipment. During the First World War Lucas made shells and fuses, as well as electrical equipment for military vehicles. Up until the early 1970s, Lucas was the principal supplier to British manufacturers (such as BSA, Norton and Triumph) of magnetos, dynamos, alternators, switches and other electrical components.
Parts Supplied
Electrical parts such as head and tail lamps, voltage regulator and fuse blocks, turn signal equipment, batteries, electrical dash knobs and accessories.
Purolator
Excerpted from Purolator's website.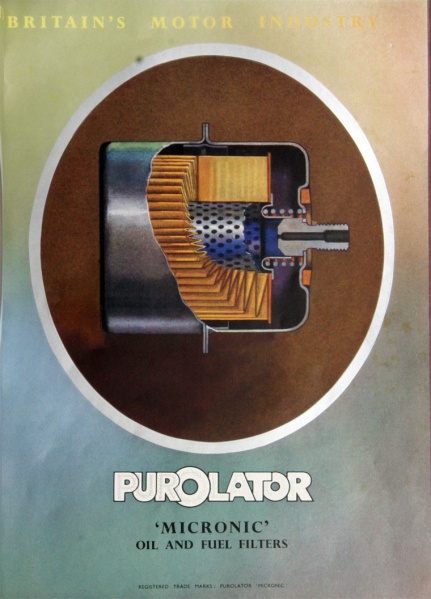 Purolator has been manufacturing, marketing and distributing filters since 1923. Ernest Sweetland and George H. Greenhalgh patented the first automotive oil filtration system. They called their invention "Purolator", short for the words "pure oil later". That same year, James A. Abeles converted a Twelfth Avenue garage in New York City to manufacture the product under a new company name; Motor Improvements, Inc. It was later renamed Purolator Products, Inc.
In 1937, the Purolator cotton waste oil filter was developed, providing the first filter replacement capability. Nine years later, Purolator introduced a "pleated paper" oil filter and this technology is still being used today.
In 1943 Purolator developed the first "full flow" filter that was capable of filtering 100% of the engine's motor oil. This led to the full flow lubrication system that is in use on today's vehicles. In 1948, Purolator developed the first original equipment (OE) "Block mounted" oil filter. This was an important milestone in the filter industry because now the oil filter had become a standard part of the automobile engine. Earlier oil filters were typically mounted on the firewall somewhere underneath the hood of the vehicle.
Parts Supplied
Oil filters.
Smiths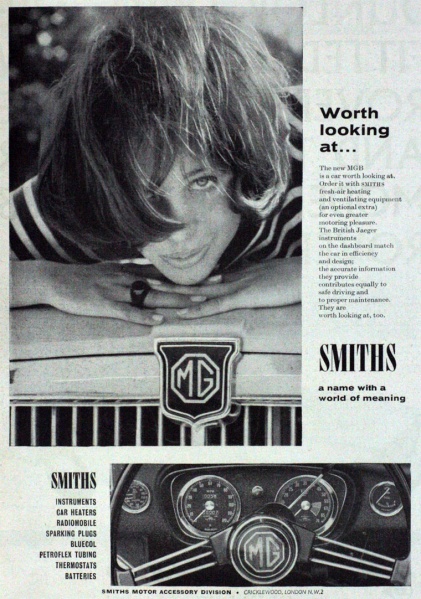 Excerpted from Wikipedia
The company was founded by Samuel Smith in London in 1851 as a clock and watch business. At the start of the 20th century, the age of the early automobiles, the company produced the first British odometer ("mileometer") and speedometer. In the 1930s Smiths agreed to a trading deal with Lucas whereby the two would not compete in certain areas and Lucas took on part of Smiths non-instrumentation assets. Smiths became the dominant supplier of instruments to British motorcar and motorcycle firms. From 1915 Smiths had a factory at Cricklewood, north London and later moved their headquarters there.
Parts Supplied
Fuel sending units, parent company of British Jaeger Instruments and supplier of MGTF gauges.
SU Carburettor
Extracted from Austin Memories

SU carburettors (named for Skinners Union, the company that produced them) were a brand of carburettor of the sidedraught constant depression type. During WWI the company was involved in munitions production, along with production of carburettors for Aero engines. After the War normal work started back up, but there was not much work about, so in 1919/20 the company made a loss. The company continued supplying carburettors to Wolseley, Austin, Lagononda and Napier for many years. But in 1922 the company supplied it first carburettor to Morris Motors and in that year total production increased to 2,000 carburettors and mechanical pumps. In 1926 the company was getting into financial difficulties yet again, and Mr G H Skinner decided to leave the company. So it was left to Carl Skinner to find away out of the difficulties. So he approached W. R. Morris (Lord Nuffield) and following negotiations the S.U company was purchased by Morris for £100,000.
After WWII car carburettors and petrol pumps resumed and the company moved to a new site in Wood Lane Erdington Birmingham in July 1947, seen below. With production approaching a total of 223,000 carburettors and pumps per year. In December that year the company's founder Mr T C Skinner retired and the company decided to sell its fuel injection manufacturing to the Stirling Company of America.
With the merger of Morris Motors Ltd with the Austin Motor Co Ltd in 1952 to form the British Motor Corporation, production was again increased. A Service Department was set op on the Wood Lane site so that customers cars fitted with SU carburettors and fuel pumps could book in for an engine tune, and in the early 60s on average 150 cars per week would be serviced.
Parts Supplied
Carburetors and fuel pumps.
Tecalemit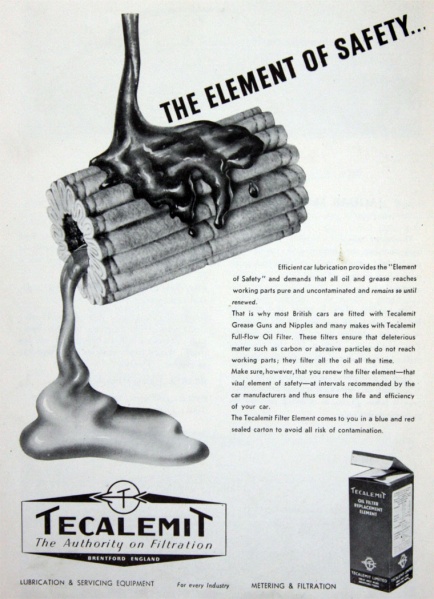 Tecalemit originated in London during the 1920s, the factory in Plymouth was opened in 1948. They mainly specialised in supplying lubrication equipment and component parts for the motor car industry. During the 1960s, Tecalemit employed over 6,500 people making it the largest employer in the City next to the Dockyard. Tecalemit was not just a business it was a way of life, very similar to the Cooperative. They had various sport clubs and boasted an impressive bowling green!
1937 British Industries Fair Advert for Comprehensive Lubrication and Garage Equipment. "Tecalemit", "Tecazerk", "Hydraulic", "Alemite", etc. Grease Gun Systems, Lubrication Batteries, Brake Testers, mechanical Lubricators, Air Compressors, Car Lifts, Car Washers, Tyre-Groovers, Fuel Pumps, Oil Filters.
Parts Supplied
Oil filters.
Vokes of Guildford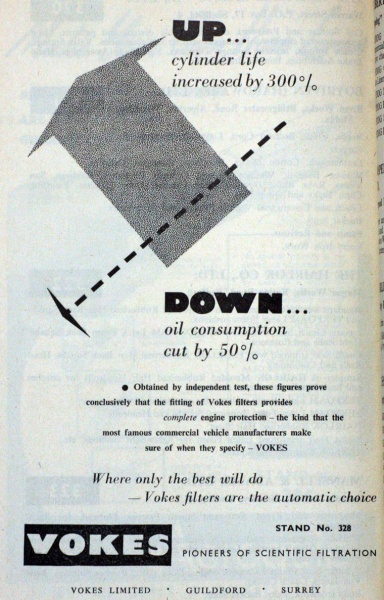 In 1921 Cecil Gordon Vokes forms the company bearing his name to manufacture and sell accessories for motor cars. In 1927 Mr Vokes visits America and discovers a company making air filters for engines. Filtration technology was virtually unknown at the time, but Mr Vokes saw the potential of filtration for the engineering industry and secured the rights to manufacture filters in Britain and the Empire. During WWII Vokes designed and produced 3,000 types of filter for the Services. Vokes manufactured parts for the De Havilland Mosquito. Vokes Air is still in business to this day.
Parts Supplied
Air filters for the MGTF.
William E. Cary Ltd.
William E. Cary of Red Bank, Manchester.
Parts Supplied
Front coil and rear leaf springs.
Wilmot-Breeden Ltd.
Leading supplier of components to the British automotive industry.
Parts Supplied
Ignition locks, throw away oil filter on early TD's. To be confirmed but potentially: bumpers & overriders, TD badges, radiator grill and shell, door and hood handles, steering wheel, side curtain lock posts and knobs, gas cap.
Lesser or Material Suppliers
The following are images of advertisements for some of the lesser involved or material suppliers to MG during the production of the MGTD/TF.
Bakelite is a material based on the thermosetting phenol formaldehyde resin, (polyoxybenzylmethylenglycolanhydride), developed in 1907–1909 by Belgian-American Dr. Leo Baekeland. Formed by the reaction under heat and pressure of phenol (a toxic, colourless crystalline solid) and formaldehyde (a simple organic compound), generally with a wood flour filler, it was the first plastic made from synthetic components. It was used for its electrically non-conductive and heat-resistant properties in radio and telephone casings and electrical insulators, and was also used in such diverse products as kitchenware, jewellery, pipe stems, and children's toys. In 1993 Bakelite was designated an ACS National Historical Chemical Landmark in recognition of its significance as the world's first synthetic plastic. The name Bakelite was originally a brand, trademark name, but it is currently considered a generic term for all phenolic resin products, though some phenolic products besides Bakelite are brand-named.
Additional Lessor Suppliers
| Company | Products |
| --- | --- |
| GKN | Bolts, nuts and other fastners (eg GKN and Bee tradenames) |
| L. H. Newton | Manufacturers of screws, nuts, bolts and pressings, of Birmingham |
| Rubery, Owen and Co | Bolts, nuts and frame components |
| A. P. Newall and Co | Nuts and bolts (hardened) |
| Joseph Fray Ltd. | Badges for the radiator shell, spare wheel, and the for the TF dash |
| Automotive Products Co. LTD. | Various components perhaps for the service trade. |
| Lace Web Spring Co. | Makers of spring seat backs. |
| Springcot Ltd. | Makers of spring seat backs. |
| Ahlström Osakeyhtiö | Finnish based company of high quality wood products. Sticker found inside the seat bottom of a late 1951 TD EX/NA |
| Thomas Crompton and Sons | You will find T.C. stamped on the MGTD/TF side curtain box hinges. |
| The Automotive Products Company | Manufacturers of oil fuel and air filters, "Thompson" steering and suspension joints and spare parts for "Lockhead" brakes and "Borg and Beck" clutches. 100 employees. AP licensed many automotive products from the US and Thompsons Tie Rods, Lockheed brakes and Borg and Beck clutches are amongst them. |
| John Summers and Sons | Maker of raw sheet steel for MGTD/TF. Located in Hawarden Bridge, Shotton, near Chester. You may find this marking on your cars sheet metal if you strip the paint completely. |
Home | History | Details | Myths and FAQs| Literature | Entertainment | Gallery | Links | Map
| | |
| --- | --- |
| © 1999 - 2021 by Christopher C. Couper | Page last updated on March 2, 2019 |