MG TC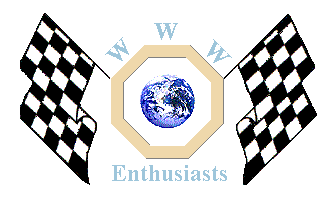 Click here to add your MG News.
---
Extract from April's MGCC publication - Safety Fast
TC Profile
by Doug Hastie
In 1958 John purchased his car from Graham Keillerup. Prior to Johnís purchase, the car was road registered and used very successfully as a weekend racer, winning in the late 1950ís something called the M.G. Road Racing Championship, however no details of this claim are available.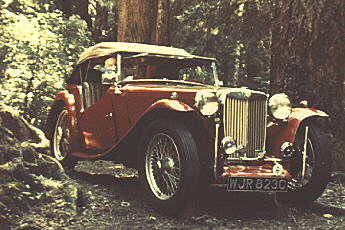 During the fifties the car ran both unblown and blown, equipped with the Shorrock supercharger which can be seen hanging out the side of the bonnet in the shot of the car at Templestowe hillclimb a few months before it was purchased. After looking at lots of TCs (there were lots available in those days) John paid £485, which did not include the good engine or the blower.
In fact, it didnít have much of an engine at all when John bought it, but more of that later. It was otherwise a good basic TC, with standard engine, full guards, Singer Nine bucket seats, painted cream with house paint, battery box removed from the scuttle and the battery box removed from the scuttle and the battery moved back behind the rear wooden bulkhead and telescopic dampers all round. The front springs had one leaf less and were set up higher. The rear springs were tied, so the car rode differently but with teles fitted it felt good except that the rear springs bottomed easily.
So it was a good basis for what John wanted. He advertised in Australian Motor Sport magazine for a Marshall J75 blower but the kit he found had an inadequate drive set up and a 13/8Ē SU carburettor, so it produced only about two punds boost. Mixture also wasnít right but the late Barry Papps (the master needle filer) got him going on an interim basis and the car did a seventeen second dead, standing quarter at one of the old Fishermanís Bend sprint meetings (at the time John felt there must have been a timing error but he didnít let on). It did prove, however, that a well set up car with suitable gearing could be quicker than some of the clever cars that were never quite right.
Unfortunately the engine didnít last long. When it was opened it was found to be fitted with Repco four-ring pistons which have been Knurl-sized instead of being replaced. (Knurl-sized was a proprietary process used to revive worn pistons at the time). Brian Sampson overhauled the engine and did some cylinder head work - in fact it was one of the very first engines Brian built after he felt his fatherís business to start Motor Improvements.
Shortly after this, in about 1959, the car was severely deformed by a drunk running a red light in two tons (this was pre-tonnes) of Dodge Phoenix. So John set to with a new chassis which came from under Harry Fordís house. Les Thurgood boxed and strengthened the chassis and Peter Thomas steel framed the body. John came across a TF 1500 block and the engine was rebuilt again round that.
The cylinder head ports were opened up so you could almost put your fists in them - indeed today you can now look down the ports and see the valves. The blower was made to run faster using twin A-section belts and a new carburettor manifold was made to accept a 13/4Ē SU. A second-hand extractor exhaust system completed things and the car proved to be very fast for a fully equipped road-going square rigger. It was all a bit much for super petrol, but fortunately there were roadside pumps selling 100 octane and sometimes Avgas. You could also buy Benzol at BP stations, but with the gradual withdrawal of these products either a compression ratio reduction or water injection became necessary. After looking at the many off-the-shelf units then available John decide to build his own system which used blower manifold pressure to deliver the water with some simple valving to control it. The system worked well and is still fitted to the car.
Many other modifications have been made over the years, including a conversion in 1960 or 61 to rack and pinion steering using a Triumph Herald rack. The triumph rack is lighter and more compact than a BMC rack and has the further advantage that it is designed to go ahead of the axle. This allowed it to be shortened by about six inches and to mount it upside down on the right hand side of the chassis, using only one end of the rack to connect to the drag link, where it preserves the original geomtry and provides the best steering it is possible to get from a TC.
Some 20 years ago, following another major collision in which John was lucky to survive, the car was started on its third incarnation, but divorce and lack of facilities (and funds) meant the rate of progress was so slow that John was unlikely to live long enough to see the project completed. So he was very pleased when Geoff Norwell, who had just built an exact replica of his own TC, the most notable of which was the Bicentennial event at Oran Park in 1988. As a result John owes Geoff many drives in his car.
For a while, progress was rapid, but then Geoffís real business began to intrude and the car was moved to David Lower who has done some amazing work, including a completely new blower manifold and exhaust system. The car is due to emerge just before or just after Christmas (1955), depending on trimming and when the final painted bits such as the cycle guards and stanchions come back.
In Johnís hands the TC has run at Calder, Winton, Templestowe, Rob Ray, Mount Martha and Fishermanís Bend and in lots of rallies and motorkhanas. The plan is to give it more of the same.
Johnís most notable outing was in a Mount Martha hill climb event organised by the M.G.C.C when John beat Fritz Norden in 1962. Like the famous original axe, not much is left of the car which left the factory nearly fifty years ago, but it has a good history and continuous ownership and it will probably now survive forever.
Johnís goal is to compete regularly in future, first outing to be Eastern Beach Sprints and then in circuit races and historic racing register events like Mangalore Sprints, Hillclimbs at Morwell, Tarrengower and Rob Roy.
Now, to help you date your car, a summary of TC and TD production dates, which Iíve lifted from M.G. Talk, the South-eastern T-Registerís Newsletter.
TC Production dates

1945
1946
1947
1948
1949
Jan
1 0352
1 1052
31 0432
5 4412
31 2281
5 7503
29 4667
31 7775
Feb
5 0433
28 0512
3 2282
10 2341
2 4668
26 4902
1 7776
25 8038
Mar
5 0513
27 0600
5 2342
31 2490
1 4903
31 5140
3 8039
31 8335
Apr
1 0601
30 0711
1 2491
30 2681

1 5141
30 5397
1 8336
28 8571
May
1 0712
31 0871
1 2682
30 2881
4 5398
28 5608
2 8572
31 8858
Jun
3 0872
28 1031
2 2882
30 3101
1 5609
30 5911
1 8859
30 9127
Jul
7 1032
26 1181
2 3102
24 3281
1 5912
23 6150
1 9128
22 9329
Aug
12 1182
29 1301
11 3282
29 3451
10 6151
31 6374
8 9330
31 9566
Sep
12 0252
28 0272
2 1302
28 1501
1 3452
30 3681
1 6375
30 6701
1 9567
30 9845
Oct
16 0273
30 0285
2 1502
31 1711
1 3682
30 3951
1 6702
29 6976
3 9846
27 10065
Nov
1 0268
26 0315
1 1712
29 1887
3 3952
26 4171
3 6977
26 7244
1 10066
29 10251
Dec
6 0316
21 0351
2 1888
31 2051
1 4172
31 4411
1 7245
24 7502
TD Production dates

1949
1950
1951
1952
1953
Jan
2 0349
31 3612
1 5170
31 5799
1 12578
31 13374
1 23645
30 24631
Feb
1 0613
28 0838
2 5800
28 6391
1 13375
28 14064
2 24632
27 25623
Mar
1 0839
31 1173
1 6392
30 6948
3 14085
31 14797
2 25624
31 26487
Apr
3 1174
28 1469
3 6949
27 7467
1 14798
30 15561
1 26488
30 27285
May
1 1470
31 1846
1 7468
31 8041
1 15562
30 16746
1 27286
29 28127
Jun
1 1847
30 2320
1 8042
29 9701
4 16747
30 17646
3 28128
30 28964
Jul
3 2321
28 2822
2 8702
26 9362
1 17647
25 18606
1 28965
24 29723
Aug
14 2823
31 3058
13 9363
31 9928
11 18607
29 19345
10 29724
17 29915
Sep
1 3059
29 3592
3 9929
28 10655
1 19346
30 20433
Oct
2 3593
31 4123
1 10656
30 11322
1 20434
31 21587
Nov
10 0251
25 0273
1 4124
30 4724
1 11323
30 12100
3 21588
28 22612
Dec
5 0274
20 0348
1 4725
22 5169
3 12101
20 12577
1 22613
31 22634
More on MG T Types
T Type Gallery
MGCC Home Page
MG TC Parts
MG TD Parts
MG TF Parts
MG T Series Top
MG T Series Tonneau
MG T Series Books


Back to the News content
---




Made in England