To cater for those who like travelling in MG convoys, three road runs were arranged - from Farningham in Kent, Godstone in Surrey and Cuckfield in West Sussex, culminating at Penshurst Place. Following some simple directions, the tours took entrants along some pretty country lanes. The main attraction for locals was to spot just how many people managed to lose themselves in the maze of minor roads that crisscross this part of the country and for entrants, the sight of MGs travelling in the opposite direction will always cast some doubt on the skills of the navigators! The sun soon broke through the early morning mist, paving the way for a glorious day, and restored harmony in one or two cockpits!

The Gathering was again organised so that there should have been some activity for everyone. It included a judged Concours, self judged Pride of Ownership, Gymkhana, Adult Treasure Hunt - which toured the wonderful gardens and Toy Museum, Children's Activities - with no charge and prizes for all entrants, Trade Stand displays, Other Marques section, Club display and of course, the lovely venue of Penshurst Place and Gardens. The standards in the Concours and Pride of Ownership were exceptionally high and those cars in the Premier Concours Class were displayed in front of the marquee, where they attracted a stream of admirers all day. One viewer was heard to remark that their engine compartments were so clean that they must have arrived on trailers - he is still trying to escape the wrath of the proud owners! There were quite a number of RV8s and MGFs at the event and it was pleasing to see some of the owners of these modern MGs entering into the Pride of Ownership class, which will maybe encourage a few more to do so in future years.

The Gymkhana competition incorporated six tests, which assesed a contestant's driving skill and the agility of the passenger. Some cars are more easily manoeuvred around cones than others, but many drivers were surprised to find just how difficult it is to judge how far their car would coast in neutral or how close they were parked to an imaginary kerb. A few more trips in the MG to the supermarket car park may be called for!

At the end of the afternoon, June and Bill Wallis - MG Car Club President - presented the awards in front of the marquee, with a parade of the winners' cars from the Concours and Pride of Ownership. Car of the Show was deservedly won by Paul Garett, in his 1964 MGB, which has previously won first in class at Silverstone and Duxford.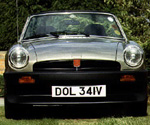 Aston Martin Prototype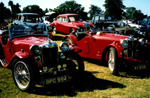 Pride of Ownership J2 entries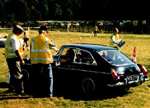 Colin Johnson in the Gymkhana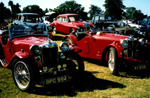 Pride of Ownership J2 entries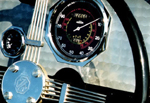 J2 speedometer detail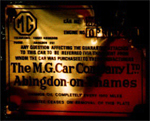 SA commission plate detail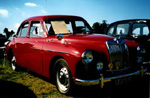 1958 ZB (pride of ownership)