Watch

Click here to add your MG News.
---
March 1st, 2000
1920's MG Pocket Watch Uncovered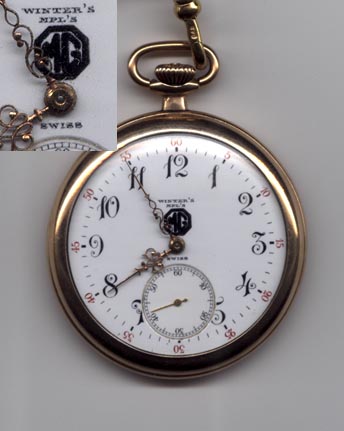 Who owned this watch????

Seeing as we have discovered some old hubcaps, perhaps someone might know about this watch? This is a 1910 21 Jewel Longines, that was apparently re-cased in the late 20's or early 30's. Though the back is now securely cross-threaded and stuck on so I can't find the name, but remember the jeweler stamped inside was in England.

The small MG logo was fired on the face when the face was originally fired... so this was some sort of custom job. The words are "Winter's" (who we imagine was the watch face maker but could be wrong) then "MPL'S" (which we have no idea of) and then the "MG" logo and then "Swiss". It is interesting that it is a recycled movement. This was apparently frequently done back then to save cost. The style of the watch is what dates the case to the late 20's and early 30's.

This was the very early years of MG history... does anyone have a hunch as to why this watch was made? Was MPL'S an early MG dealer? Was is a prize of some sort? Any help would be greatly appreciated.

Hey and visit http://www.mg-cars.org.uk/farina for all you Magnette Mk. III & IV desires!
---




Made in England