Total Page
Hits since
21-3-01

Click on the images for a larger version
Curtis Jacobson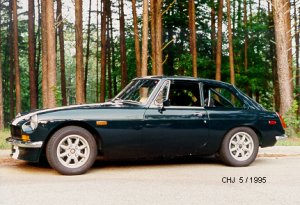 If you look closely, you can see that the exhaust exits just forward of the rear wheels. No, it doesn't soften the tires!

The car includes a full cage, a wide racing stripe, and quickly removable rear windows. Also, I'm quickly approaching my goal of eliminating ALL Lucas electrical parts; you can see that the front turn signals and side markers are more modern designs. I've throttled back on the chrome, and painted later model MGB side-views body color to give a more modern, more racy appearance.
Bill Guzman
Mike Cook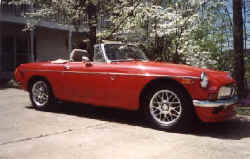 As well as being a very nice V8 conversion, this car has also been converted from rubber to chrome bumpers.
Simon Green