Total Page
Hits since
21-3-01
RV8 Rear Springs

Click on the images for a larger version
John Bourke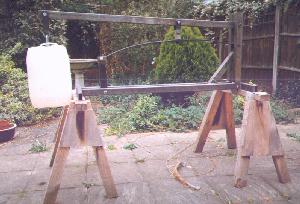 This shows the testing rig that I built to test the spring rate of the RV8 springs that I am using on the rear suspension. I suppose that it's a bit over the top but nobody could come up with reliable figures - no data in the workshop manuals etc. The system is simple - the top beam multiplies the weight of the water container by three - ie the lever ratio is 3:1 - you pour water into the the container until the spring is deflected by one inch, then weigh the container and multiply by 3 to get the LBS/INCH rate. The spring is held in the same relationship - upside down as it would be on the car - (from the body alignment drawings in the workshop manual) - and the rear pivot swings to replicate the action of the shackles.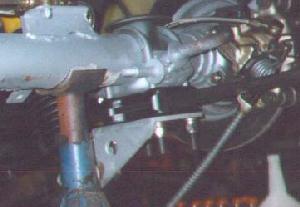 The special length lower shock brackets to allow for the very thin RV8 spring.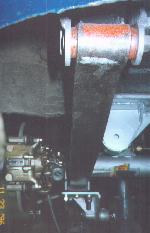 A view looking forward under the LH rear spring - NB the specially made rear shackles to clear the chassis rails-the panhard rod body bracket and special lower shock bracket in the background.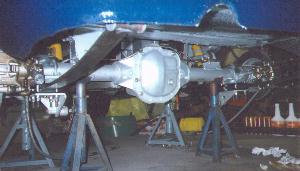 A general view of the rear suspension minus the petrol tank-hand brake cables yet to be fitted.

Fitting a V8 engine into an MGB

This site forms part of MG - The Classic Marque
Email: webmaster@mg-cars.org.uk