| | |
| --- | --- |
| | Variants of the MGTD |
A number of MGTD chassis' were sold to independent companies who outfitted them with custom bodies. In addition some MGTD's started out original, and then found their life drastically changed. These pages will describe some of the these.
Pictures and supplemental specifications used by permission from Terry Sanders.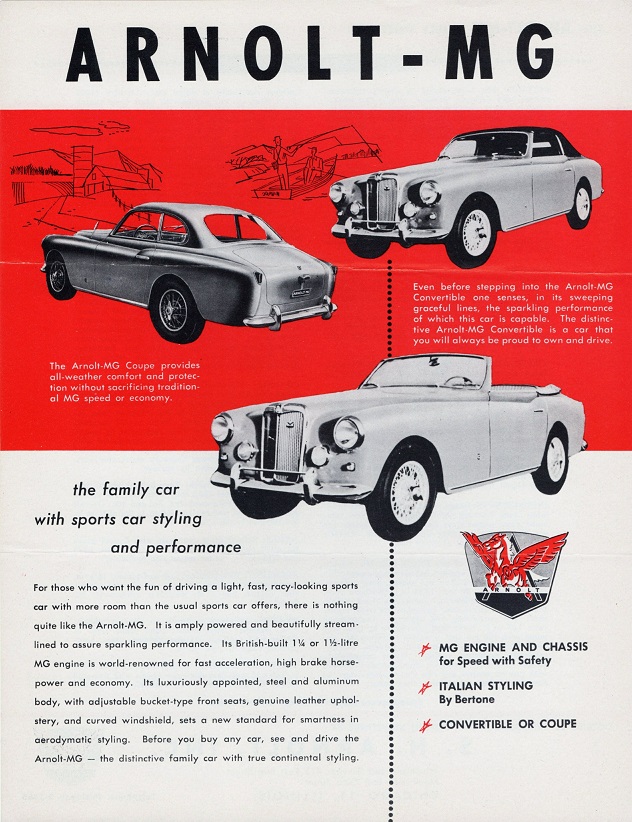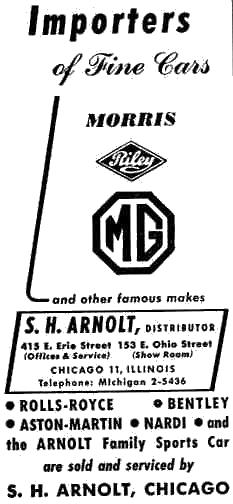 Many of you that are familiar with the MGTD also recognize the Arnolt name. Stanley Harold Arnolt, a.k.a. Wacky Arnolt was a Midwest MG, Morris and Riley dealer during the early 50's. Not only did he have the distributorship for MGTD's in the Midwest, he sold MGTD's, imported accessories, and had his own high quality accessory line. Many current MGTD's sport Arnolt accessories, and many new items that are for sale are copies of original Arnolt accessories.
Although this certainly is an impressive commitment to the MGTD line, it wasn't enough for Wacky Arnolt. It appears that he even went so far as to have his own 'family' line of MGTD's built. These were MGTD chassis that sported custom bodies by Bertone of Italy.
It is rumored that Arnolt was touring the Turin Auto Show of 1952 when he spotted two sleek sports cars. These were custom open and closed body coupes built by Bertone of Italy. Because Fiat had recently changed to a unibody construction technique, there were no chassis available to create custom bodied sports cars by the small designers such as Bertone. Bertone's son, Nuccio had located two used MGTD chassis which proved to be just right for a small, agile sports car.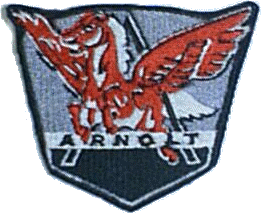 The Bertone's commissioned Franco Scaglioni to assist them in designing a new line of custom bodied cars. The two prototypes were displayed by Rome MG Dealers, Fattori and Mantani. When Arnolt spotted the cars he immediately asked to purchase them. Bertone was reported as asking "Both of Them?" from which Arnolt replied "No, one hundred of each.". Arnolt thought that the cars would appeal to a more 'refined' class of driver than the original MGTD with the closed coupe and Italian styling. In fact the cars were marketed as 'an Arnolt family sports car'. These cars would fit right into the current offerings that Arnolt was marketing. A number of Arnolt accessories became standard components of the cars. Arnolt cars even offered something MG refused to put on the original TD's, wire wheels.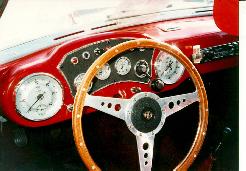 Not only did Arnolt cars sport Arnolt accessories, they used the original MGTD parts in unusual situations. Take a look at the Arnolt dashboard in the picture on the right. You will notice the familiar MGTD dash cluster, inverted, and painted wrinkle black. The large dial instruments were also retained and placed in the more traditional T series arrangement as was found on the MG T's prior to the TD.
Speed Age stated So well designed are the bodies that the convertible weighs only 20 pounds more than the stock MG roadster; the coupe 40 pounds more. Arnolts were priced at $2,995 for the coupe and $3,145 for the convertible. Overall only 102 Arnolt MG's were ever built. These were 65 coupes and 35 convertibles, as well as the two prototypes. It is rumored that a falling out between Arnolt and Abingdon ceased the continuance of the line, as Abingdon refused to sell Arnolt more chassis.
See the story and pictures of the unrestored Arnolt Coupe old by Arnolt himself auctioned off in 2013.

Arnolt Brochure
The following brochure was produced in 1953 for the Arnolt cars.
| | | |
| --- | --- | --- |
| | | Two page Arnolt MG Family Sports Car brochure. Circa 1953. |
Facts and Figures
STYLING
The body, styled by Italy's renowned custom body designer, Bertone, reflects the newest trend in smart aerodynamic styling. It combines the luxury and comfortable roominess of a family car with the rakish, sweeping lines of the most beautiful sports car. Available in two models - coupe and convertible.
DIMENSIONS
Wheelbase 7 ft. 10 in. (2.387 m).
Tread, front 3 ft. 11 3/8 in. ( 1.203 m ), rear 4 ft. 2 in. ( 1.27 m ).
Overall length 13 ft. 4 in.
Overall -height 444 ft. 7 in.
Overall width 5 ft.
Ground clearance 6 in. ( 15 cm )

WEIGHT
Coupe-with 1 1/4-litre engine 2,103 lbs., with 1 1/2-litre engine 2,113 lbs. Convertible-with 1 1/4 -litre engine, 2,083 - Ibs., with 1 1/2-litre engine 2,093 Ibs.
CONSTRUCTION
Combination steel and aluminum. Molded rubber components to minimize vibration. Finished in wide choice-of colors of finest quality cellulose paint for lasting beauty. Chrome-finished bumper and bumper guards, front and rear. Large trunk for luggage and spare wheel. Trunk door and hood opened by inside control. Lights in trunk and hood. Accessible tool storage compartment with tools fastened in place.
VENTILATION
Draughtless ventilating windows. Fresh air ventilator. Heater and full windshield defroster optional.
INTERIOR -DETAILS
Front seats, adjustable bucket type; backs may be tilted to the taste of the individual. Steering wheel may be adjusted up or down and in or out to assure most comfortable driving posture. Arm rests and rubber padding further enhance comfort of passengers. Map compartments in both doors. Upholstery and body trimming finished in genuine Connolly leather to harmonize with exterior colors. Driving mirror. Auxiliary light. Two tinted-transparent sun visors.
INSTRUMENTS
Large speedometer dial with head-lamp beam warning light. Tachometer and combined water temperature and oil pressure gauge and gas gauge. Fuel warning light. Ammeter. Electric clock. Radio optional at extra cost.
ENGINES
Choice of two British-built MG 4-cylinder overhead valve engines. Standard equipment: 1 1/4 litre (1250 c.c. or 76.28 cu. in.) engine. Bore 66.5 mm. (2.62 in.). Stroke 90 mm. (3.54 in.). Overhead valve push rod. Three-bearing counter-balanced crankshaft with shimless:, steel-backed, white metal crankshaft and connecting rod bearings. Compression ratio 7.25 to 1. Force feed lubrication by gear-type pump with 100 per cent filtration by removable element filters. Air silencers and cleaners. Thermostatically controlled cooling. Water temperature gauge. Controlled expansion aluminum alloy pistons, with one oil control and two compression rings. 14 mm. spark plugs. Aluminum alloy sump.
Optional equipment
at extra cost:
1 1/2-litre (1466 c.c. or 89.45 cu. in.) engine--the same basic engine that now holds 29 American and 8 international Class F speed records. Four-cylinder; 72 mm. (2.835 in.) by 90 mm. (3.4 in.) capacity 1466 cc. (89.45 cu. in.) O.H.V. pushrod; three-bearing counterbalanced crankshaft; compression ratio 8.3 to 1; cooling by water pump and fan with thermostatic control; forced-feed engine lubrication by gear-type pump with 100 per cent filtration; oil capacity, 12 1/2 pints; filler on valve cover; controlled expansion aluminum alloy pistons, with one scraper and two compression rings; 14 mm. spark plugs; aluminum alloy sump.
FUEL SYSTEM
Twin 1 1/2 in. diameter S.U. carburetors with individual air cleaners; S.U. electric gas pump ; tank capacity 11 gallons. Fuel warning light on dash, indicating 3 gallons reserve.
ELECTRICAL EQUIPMENT
Ignition by 12-volt coil and distributor with automatic advance; suppressor equipment, belt-driven dynamo, compensated voltage control to suit load and condition of battery; single-pole positive earth wiring system with 2 fuses; twin wind-tone horns; dash control starter switch; twin-blade windshield wiper with concealed electric drive motor. Twin stop/tail lamps. Seal beam units in headlamps, main beam warning light; foot-operated dimming switch; separate side lamps with flashing direction indicator control. Twin fog lamps.
CHASSIS
Electrically welded throughout with boxed side members and tubular crossbracings. Boxed member for independent front suspension. Independent front suspension of the wishbone type, incorporating coil springing. Inlet points mounted on flexing rubber bushes. Rear suspension by means of semi-elliptic laminated springs, interleaved with rubber; mounted on rubber bushings and controlled by Girling or Armstrong hydraulic shock absorbers. Drive and torque taken by springs.
TRANSMISSION Clutch
Borg & Beck single dry. plate 8 in. diameter (20.3 cm.).
TRANSMISSION Gearbox
Four speeds and reverse; synchromesh 2nd, 3rd and 4th. Overall gear ratios : 1st and reverse, 3.5 to 1 ; 2nd 2.07 to 1; 3rd 1.385 to 1; 4th 1 to 1.
AXLES
Semi-floating rear axle with hypoid gears for quiet operation and long life. Gear ratio 4.875 and 5.125 to 1. Other ratios also available.
STEERING
Direct-acting rack-and-pinion, 161 1/2 in. diameter spring-spoke steering wheel with plastic rim, column has 3 in. telescopic adjustment for length.
BRAKES
Lockheed hydraulic on all four wheels; 9 in. diameter brake-drums; hand brake lever of racing type centrally situated between seats, actuated by cable on rear shoes.
TIRES AND WHEELS
Dunlop 5.50 x 15 tires fitted to 4.00 x 15 well-base disc-type wheels with five-stud fixing. Knock-off wire wheels available at extra cost.
Specifications subject to change without notice.
DISTRIBUTED THROUGHOUT THE WESTERN HEMlSPHERE BY-
S. H. ARNOLT, INC.
Wholesale and Service: 415 East Erie Street
Retail: 153 East Ohio Street
CHICAGO 11, ILLINOIS
Table is based on an original data sheet.
More information can be obtained by reading the April of 1953 Motorsport road test of the Arnolt MG. Also a quick overview of the Arnolt car as reported in Speed Age, January, 1953.
Check these excellent sites to understand more details of the Arnolt cars:
Story by E. Alan (Al) Moss and Chris Couper
Like the first Arnolt cars, the MGTD pickup was created from the remains of two wrecked MGTD's.
There was a speed equipment shop, catering to the hot rod and race car trade, called Bell Auto Parts, surprisingly enough, located in Bell, California. The owner was Roy Richter, an early builder and driver of midget racing cars. In the mid-1950s, Roy opened an MG and Jaguar agency (Richter Motors) in South Gate. In 1951 or 1952, Roy commissioned two of his employees, Chuck Reynolds and George Beavis to build a pickup truck from the remains of two wrecked TDs. Roy was the founder of Bell Helmets, today the largest producer of crash helmets. He also was an importer of J2 Allards for a short time, winning the Santa Ana Blimp Base road race in 1950. George Beavis hailed from Australia, where he was a champion Midget driver. Around 1953, he campaigned a stock bodied TD with an Offy engine under the hood! He later ran an MG-based Offy special. I nearly hired George in the early 70's to run my machine shop stated Al.
The TD pickup was Born
On the back cover of Moss Motor's early T-Series catalogs, in the photo montage, there is a picture of the original pickup, still owned by Richter Motors, far right, 3 inches from the bottom. Al took this photo at one of the local road races. The truck was originally red in color, and remained so until Al purchased it. The two frames were welded together to provide about six additional inches in length. The body in back of the seats was finished off separate from the bed, which was a nearly square box, with no tailgate. The car was left in otherwise original configuration as regards to trim, lights, wheels, engine, etc. Rather unfortunately, instead of fabricating a gas tank to go under the bed, they made a vertical one to fit behind the seat, thus providing very limited room for the driver.
Around 1956 Al Moss was contacted by the current owner, wanting to know if he was interested in purchasing the truck. Al said, It was still located in East Los Angeles and I recall the two of us towing it with a rope to my Venice Blvd. shop. The vehicle was in pretty sad condition with a shot engine (might have been a 1500) and in need of a major restoration, which Al gave it. Al completely dismantled the whole works, sandblasted all the body parts, painted the exterior and grille refrigerator white. Al installed a new Shorrock supercharger on the completely rebuilt engine, as well as a set of new chrome/polished Borrani knock-off wheels. Al put on as much TC trim as possible: door handles, headlamps with tripod inserts, "D" tail lamps, etc. The interior was all done in red leather. Al lined the bed with black Formica. Dale Runyan did the finishing touches: he made a beautiful top, cockpit cover and bed cover, all in black canvas-type top material. Al had the doors and bed hand lettered, as well as painting California Sports Car Club and Long Beach MG Club logos on each side.
While the truck was never used in Al's business, he drove it regularly and it saw considerable service at many Southern California road races. These included Riverside, Pomona and probably Santa Barbara, where it towed a chariot to rotate the race judges and corner workers from turn to turn between races: sometimes quite a load but it handled it well.
Al had a great deal of difficulty getting the MGTD pickup registered in California. It appears that the California DMV could not decide if it was a pickup or a roadster. He tried to get it registered as a pickup but the DMV stated it did not meet the minimum weight requirements. Al then tried to register it again as roadster but the DMV pointed out that it looked like a pickup truck. Al remembers; Finally, I pointed out the bed cover, promised to NEVER EVER haul anything so much as a broom in back and they relented. So, I guess it is still a ROADSTER.
After Al moved to Santa Barbara in 1963, he found he was not using the truck and subsequently sold it (through Mike Goodman?) to the son of the owner of the Tiny Naylor's restaurant chain in Los Angeles. I think he was using it to service their vending machines, stated Al. One day it got rear ended and the bed was rebuilt with an opening tailgate. Later on, the car changed hands several times and went to pot. I received a call from Mike Goodman suggesting that I buy it back. Once is enough to restore anything, so I called my good friend Jim Bigler and TOLD HIM HE WAS GOING TO BUY the pickup!, remembered Al. Jim hemmed and hawed and said he did not want another vehicle, etc. etc. but Al prevailed and nearly forced him into buying it. At this time it was pretty much in need of another restoration.
In 1977 Al Moss coerced Jim Bigler of Commonwealth Classic Cars into buying it for his growing MG business. Jim purchased the pickup and a complete restoration was started, including new lettering in the old Moss Motors style designating the new owners business. Jim was planning on going to GoF XXIV, his first East Coast GoF, and wanted to go in style with the TD pickup as his masthead.
The entire restoration took place in less than two weeks. I concentrated on the body work, painting with white Dupont Imron enamel, and assembly, stated Chris. Tim Cane did the engine and transmission, and Evelyn Bigler did the softgoods.
Al provided Jim with a few photos and he made every effort to redo it as it was when Al had it. Even to the lettering, merely changing it from Moss Motors to Commonwealth Classic Cars. Al recalled, Jim was very proud of his job and anxious to show it to me. I first looked it over from the same side as the photos were taken, walked to the other side, and broke Jim's heart! On the left (photographed) side, at the rear, I had painted in small letters: "UNIT #7", which Jim duly replicated, on both sides. What his photos could not show, of course, was that on the other side it said: "UNIT #8".
While Al thought the pickup handled quite admirably, Chris though remembers otherwise: The MGTD pickup actually drove a bit like a truck. While the front end and suspension were strictly standard MGTD, the rear end had to be stiffened to allow for all the extra weight that could be carried Chris stated. Chris recalled, I had the opportunity to drive the MGTD pickup from Los Angeles to Detroit Michigan in 1977 to attend GoF XXIV in Dearborn. The ride was more like a MGTC than a MGTD. You noticed every bump in the road. One interesting part was driving through Kansas where there seemed to be an abundance of turtles on the roads. In the dark of night they made for interesting clatter and bone shattering thumps as they made their way around the rear tire and fender. For some odd reason even the steering was more like a TC. It seemed to have a lot of play in the wheel. Of course this may have been due to worn out parts.
During the entire trip I paid lots of attention to the oil pressure, remembered Chris. Each hour saw a noticeable drop on the gauge. After the 5 day trip Al Moss, Jerry Austin, Jim Bigler and Pete Thelander spent some time replacing the mainshaft bearings in the parking lot of the Dearborn Marriott. I did not have the pleasure of a return trip from Michigan back to California as I had arranged with a friend to cover that leg, recalled Chris. A few miles out of Detroit the crankshaft gave out and the pickup made the return trip to California in a U-Haul truck.
When Jim downscaled his MG business he sold the pickup back to the new owners of Moss Motors where it underwent another restoration and lettering.
MGTD Pickup Chronology
The MGTD pickup truck started life as an two ordinary MGTDs. Around 1951 or 1952 it was created with the following features:
Body cut off just behind seat and wrapped back around
Two frames were welded together to extend the length 6 inches
Pickup bed made out of sheet metal, no tailgate
Painted headlamp bodies
Bob tailed front fenders
Rear fenders flared front and back under pickup bed
Truck was painted red with custom lettering (body and grill)
In 1956 when Al Moss owned the pickup truck he made the following modifications:
Truck was painted white with custom lettering (body and grill)
Polished Borrani alloy wire wheels
Chrome headlamp bodies
TC headlamps with Tripod lenses ala Jaguar
Custom two bow top in black canvas by Runyan
Shorrock supercharger
Custom black canvas cover for pickup bed with snaps all around
Bed lined with black Formica
MGTC door handles
Two MGTC license plate lights in rear
California Sports Car Club and Long Beach MG Club logos
Between Al and Jims ownership:
Pickup tailgate added of mahogany plywood and hardwood trim after accident
Gas tank location changed to under truck bed? (note filler cap on later pictures)
When Jim Bigler acquired the pickup the following was done:
Truck was painted white with custom lettering (white body and red grill)
Vintage MG Car Club Logo
Bed lined with grooved black rubber mating
Red interior from a Moss Motors kit and extra fabric
Red fender piping
Custom black canvas top, tonneau, and bed cover with red piping
Mallorey Magneto
Shorrock supercharger was gone by this time
New mahogany tailgate with hardwood trim by Chris Couper
4.5 or 4.75 rear end ratio (can't remember if this was done by Bigler or not)
Borrani alloy wire wheels, but painted due to time constraints
TC headlamps without the Tripod lenses
MGTD Pickup Photo Montage
Here are a few pictures of the Moss pickup truck over the years with it's various owners.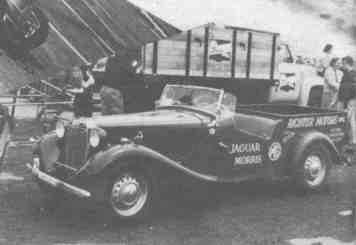 The MGTD pickup shortly after it was created by Richter Motors. Note the solid pickup bed and dark red color. Also note that it had traditional slotted TD wheels and painted headlamps. From Edition 18 of Moss Motors parts catalog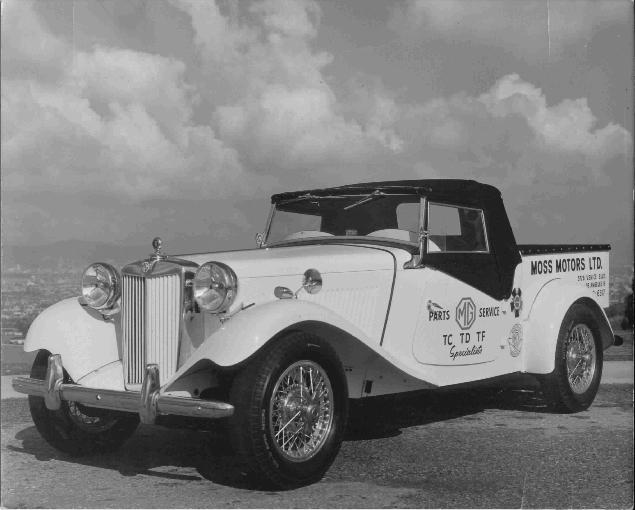 An early picture of the Moss version of the TD pickup. This was when Al Moss was in Los Angeles before he relocated Moss Motors to Goleta. c/o Susie Bigler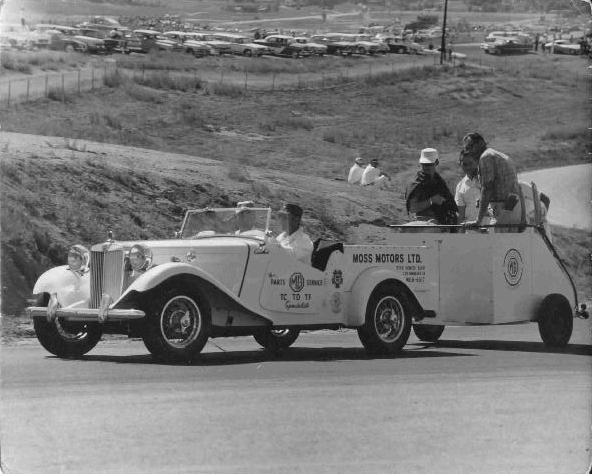 The Moss version with chariot at a period race. c/o Susie Bigler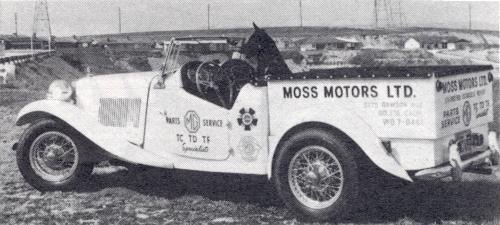 The Moss version (Goleta) of the pickup prior to the accident that resulted in the tailgate change. Note the lettering on the rear. Also note the passenger. From Edition 18 of Moss Motors parts catalog


Al Moss driving with blindfold while Jim Bigler shouts directions. GoF XXIV, 1977. Note the VMG logo behind the door. The lettering was done to match the original Moss picture above.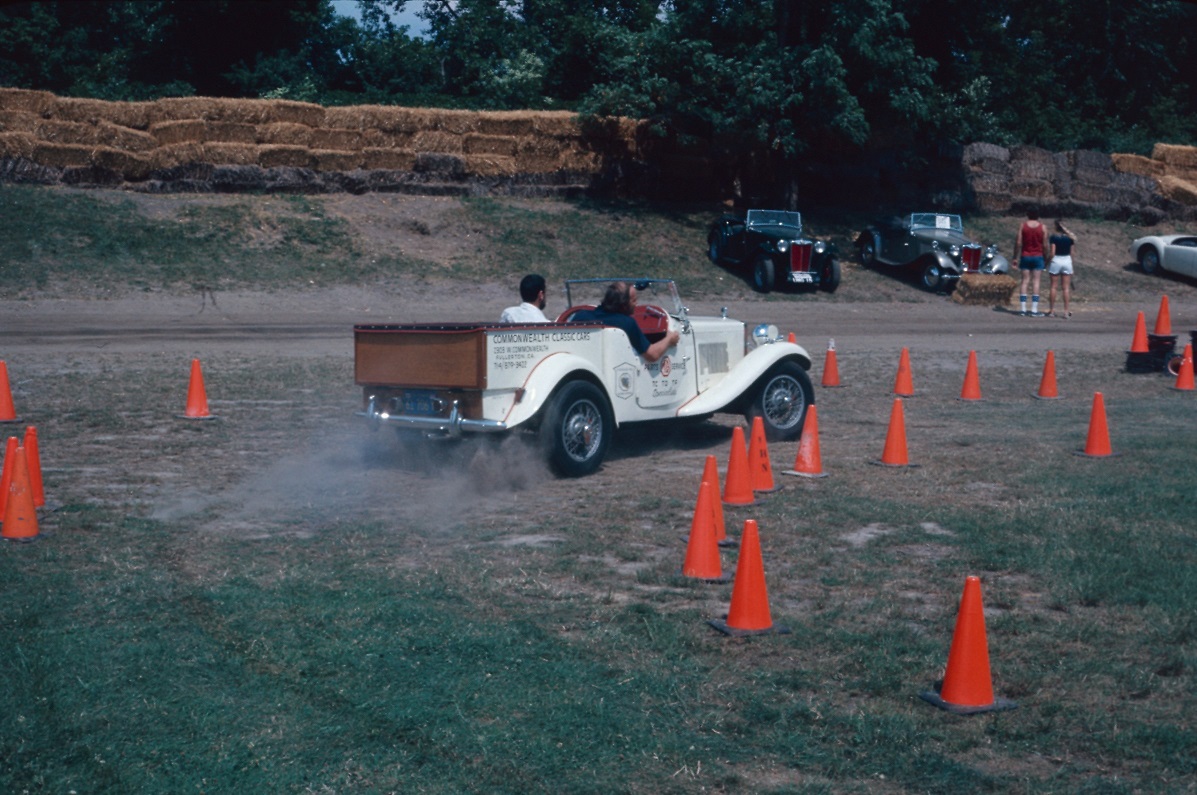 Jim and Al again. Is there any wonder why the crankshaft gave out? Notice the tailgate, the rear license plate lamps. Also note Evelyn Bigler's black tonneau with red piping to match the red interior. This time the grill was painted to match the red interior while originally it was the body color.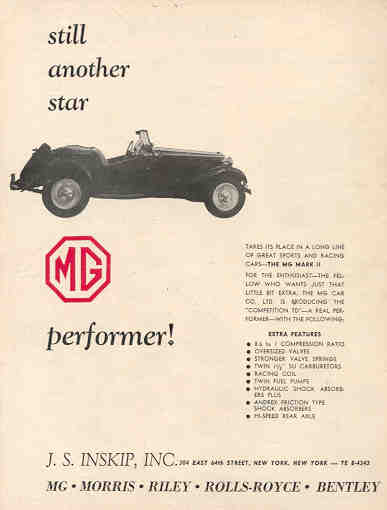 The photos below are of Inskip four seater TDs, a few of which were built and sold by J. S. Inskip, the New York MG distributor.
John S. Inskip (1885-1961) was named after his grandfather, John S. Inskip (1816-1884), the famous evangelical Methodist preacher and founder of the National Camp Meeting Association for the Promotion of Holiness. He is one of the first evangelists associated with the "tent revival meeting" and was considered to be the Billy Graham of his time. Inskip wrote a number of books and pamphlets and has been the subject of a number of books.
Aside from that little tidbit, the younger Inskip's personal history is unknown, and remains a mystery. All that is known is that he entered the automobile business as a salesman for Locomobile's New York City distributor sometime in the late teens. From there he went to work at Rolls-Royce's posh Eighth Avenue and 58th Street showroom.
Note how the car appears to be a regular TD from the dash forward and the rear fenders rearward. The seats were of bucket type up front. The body was altered considerably at the door area. Of course, so was the frame underneath and driveshaft. The car also required a different arrangement for the top frame. Notice that extreme amount of fabric dangling in the rear.
| | |
| --- | --- |
| Inskip MGTD four seater. Note the Arnolt coupe in the background. | |
| | |
| Note the chrome rock guard on the bottom of the rear fender and the tapered running boards. | |
| Not sure if the original Inskip MGTD was offered with a wooden dash or black interior | |
| | Note the special Inskip radiator figure. |
| | |
Photos' and information provided by Willem van der Veer
Verheul, Waddinxveen began in 1900 as a carriage and cartwright established in 1920. In the sixties, the company was taken over by British Leyland. From bodybuilder Verheul their specialty was trucks and buses. What is less known is that he provided a two seater sports on a MGTD chassis. The car still exists but unfortunately now has a factory MG body. The body sits waiting for a restoration.
The pictured car has a Verheul body, Verheul is a Dutch (Waddinxveen) coachbuilding company who made a lot of buses, but also presented on the RAI exhibition in 1950 a special bodied Riley 2,5ltr., perhaps this body is the same or inspired by it. A friend and myself are now trying to get to know more about it; to be continued? The body was very heavy and was scrapped in the 80's.

Another photo of the Verheul TD this time taken during the 1952 Dutch International Tulip Rally. The driver, L. J. Hengst is busy changing the spark plugs.  Mr. Hengst was partnered by Mrs. M.A. Huurdeman Countess Wolff Metternich and they finished 71rst in the general classification and 11th in their class of more than 190 finishers. Having started the rally from Brussels, they didn't  incur penalty points!  In 1951 they'd also participated in the Tulip with an MG TD but it is unclear if this was the Verheul bodied car.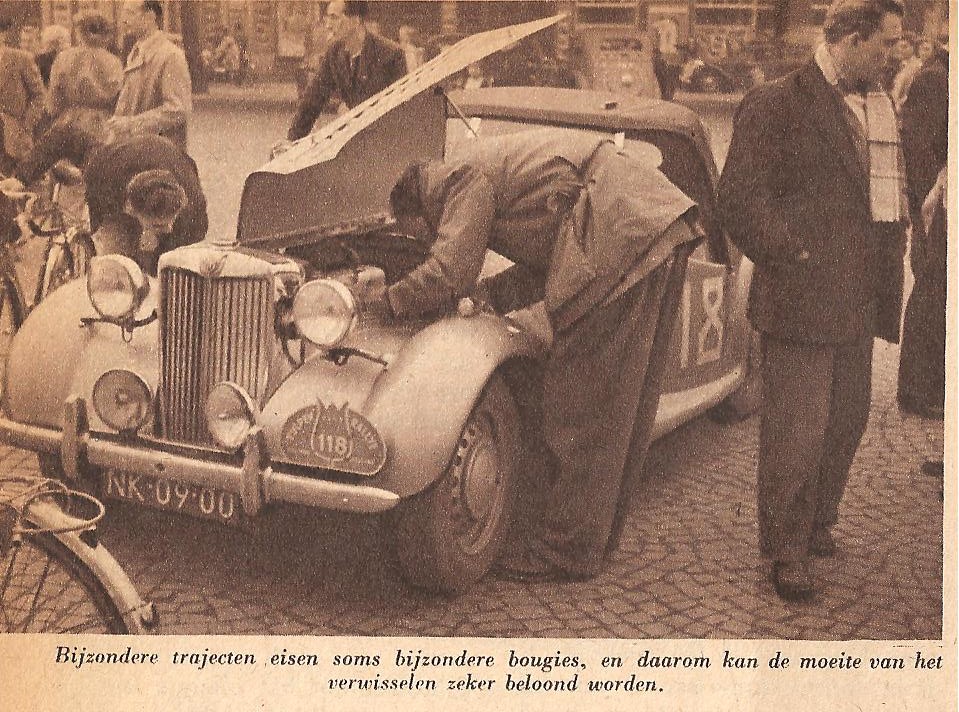 Photo taken from the Dutch magazine "de Autokampioen" 3rd May 1952 page 680.
Zepplen Garage
Made by Auto Verkaufs GMBH in Stuttgart, Germany. The cars were on MGTD chassis and had custom body panels that resembled the factory MGTD's.
You can see an portfolio of pictures of an unrestored car (TD8873) in the gallery.
Assorted Zepplen MGTD Pictures
| | | | | |
| --- | --- | --- | --- | --- |
| 1 | 2 | 3 | 4 | 5 |
| 6 | 7 | 8 | 9 | 10 |
| 11 | 12 | 13 | 14 | 15 |
| 16 | 17 | 18 | 19 | 20 |
| 21 | 22 | 23 | | |
Pictures 1 - 21 provided by Jan van der Weij, owner of TD9240, living in The Netherlands
Picture 23 - TLT Tanberg, Florida, USA
As of November 7, 2013, these were the known cars that existed.
TD8872 - TLT Tanberg, Florida
TD8873 - Kevin Wiseman, North Carolina
TD8874 - remains of a Zeppelin TD, North or South Carolina
TD9238 - Bob Wilson, Chicago
TD9240 - Jan van der Weij, Netherlands
Abingdon on the Rhine, Stuttgart on the Thames?
by Bob Wilson
It's a bit like high school, just about the time you think that you know everything and can quit learning, along comes something new and you realize that you weren't quite as smart as you thought! Lots of things are like that; cars, more specifically MGs, even closer...MG meetings.
The Milwaukee MG Gathering Of the Faithful in the summer of 1990 is the case in point. Lots of nice cars, many great cars, a gaggle of first timers along with one TD that few had ever seen and even fewer knew anything about. "An MG built in Germany...Not a chance!" "A beautiful interior, but why would someone spend this much time and money and do it wrong?" "This is a neat restoration, but it looks nothing like any TD that I ever saw." The event was buzzing about this 'different' TD; in the end, the car was dismissed as a fluke. We had expected that, and were a bit amused at the reactions. We were prepared for the controversy, but we were not prepared for the onslaught of activity in the next year. HOLD THAT THOUGHT.
Let's roll back to the fall of 1956. As a young teenager I am walking to church with my father and see a neat red roadster...a sports car if you will...The conversation goes something like" That's the kind of car that I want when I start to drive." Quick retort, "Save your money, son." Lexington, Kentucky, is not that big, but I never saw that red car again until the spring of 1962 when a neighbor brought it home for his new wife's approval. She said, "no, but I said, "yes." and the odyssey began. The seller warned me that it was weird, something about a "German racer": he was most concerned about a bulge on the side of the bonnet...for the generator, which tums out to be about the only normal thing about the car. It didn't take long to figure out that this thing really was different. E.g. This guy is over 2 1/2" wider inside the tub, a MG. TF tonneau fit much better (with a few adjustments) than the standard Amco TD tonneau. The side curtains which were ordered from Sears (Sears had EVERYTHING for sports cars in those days) failed to fill the rear quarter by nearly three inches. (Sears paid to have them altered to fit, thinking that they had made them wrong, and satisfaction was guaranteed). Body bolts were metric, while chassis and running gear bolts were Whitworth. The fuel pump looked like an English built unit; but in fact was made in Germany. Electrical bits were Bosch including the coil, the biggest battery that I had ever seen, and twenty- two, count 'em, twenty two fused circuits, all with those neat little ceramic and flat-strap fuses used in Mercedes and VWs. Really an MG? We campaigned it heavily in SCCA until 1967 when I moved, now with wife and first child, to Columbus, Indiana.
While in Indiana, and later after moving to Illinois, the TD gradually was retired from daily service through a "fix-up" restoration to a complete body off, bare frame, classic basket case. And there it sat for many years. After a few forays at repairing rotted wood and metal, while being continually reminded that nothing was the same as the parts on a British made body, we started on a full blown complete restoration. At this point we decided that we needed to know as much about "German built" TDs as possible. The more we asked the clearer it became that we know more than anyone that we could find. That was not much, and certainly was not good enough. The first big break came in1985 while visiting the Porsche factory in Stuttgart. I inquired about the dealer whose plate was on the right front cheek panel of the TD. Some quick Teutonic search revealed that the dealer was still in business and still selling Austins and Jaguars, but had moved from Heilbronner Strasse in the center of the city, to a suburb just out of town. The visit was the gold mine immediately recognized the car from my pictures, saying "Oh you haff one of our cars. There were only twenty five, you know." We spent the afternoon talking cars in general, with frequent returns to the subject of the TDs. More specifically, my TD. Notes from that meeting with Herr Rensler state:
The chassis came to Stuttgart bare, with no bodies and miscellaneous parts in a wooden box, which was used as a makeshift seat for the drive from Cologne?
There was only one chassis at first. A handmodel was made for approval, and later the other chassis arrived in two batches.
Three sedans were also produced. (Magnettes???) One is still operational in Munich.
After the first two batches were completed the MG. factory did not send any more chassis. They said That the project was not "worth the effort". Whatever that meant.
There were never any drawings. Bucks were built and body pieces were produced, by hand, from a few photographs.
After the project was scrubbed several other cars were produced on wrecked chassis and many M.Gs were repaired from lesser accidents, some with complete new German fronts or rears. (Their favorite was a car with a British left side and a complete new German right side.)
They estimate that 100-125 cars were either built or repaired, including the first 25.
They have no records of the project, nor do they have much passion for the subject. This was just another opportunity to produce for the large GI population that wanted cars, and had money to spend.
Although the chassis were produced in 1951 they were titled and sold as 1952 models.
Armed with the information from our visit to Stuttgart, and fueled with newfound enthusiasm for the project, we started the final stage of our restoration. This took two years. Dave Raymond told me of another "German" car in Florida, and with his help we found it. The car has a similar immigration story. (Having been brought back from Germany by a GI stationed there.) However, thirty plus years have been spent Anglicizing it. The gas tank has been changed. The windshield frame has been replaced.(But the owner still has all of the original pieces and is in the process of refurbishing them for re-installation.) The interior has been replaced with a traditional, British style kit. All of the Bosch is gone, traded for "proper" Lucas. The car is pretty; wire wheel conversion, cream cracker color scheme and some extra chrome which is to be expected. But, beyond the evolution, remain the subtle, but now familiar, German differences. The fenders are still lower, flatter, and narrower. The cowl humps are still flatter. The bonnet louvers are still all the same length, with the latches still further outboard than those produced by Morris Bodies in England. And the door latches are not the traditional silent bloc style, they are German made Bomoro with a striker/ latch plate in the edge of the door frame rather than on the side.
The serial number lines up with the list that we later found on a shipping list of units sent as "LHX chassis only". Dave Raymond then told me that he has the back end of what he always called "that damned German thing". We decided that I should have it for spares and when the pieces arrived they were the keystone to lock the entire puzzle together. Here were the original purse style door pockets EXACTLY like 9238. Here were the Bomoro door latches. And all of the remaining body parts matched. Bingo, proof positive.
The restoration is now nearly twenty years old and publicity in The Sacred Octagon is turned up three more cars bringing the total to 6 cars located There is no doubt that this MG is different, and we have made every effort to keep it that way. Not different for the sake of being different, but different as built, for the sake of being true to its origins. No doubt, we had some real advantages in this project... When I first purchased the car it had very few miles showing and everything seemed to be as built: black Hartz cloth top, black leather bound tight weave coarse carpet...typically German, leather flat topped seat back and purse-style door pockets, no storage box for side straps through footman's loops to the rear deck), and leather door check straps. These wearing parts were intact and in great shape for patterns. TD #9238 is as complete and correct as we can make it from what we know, hut we are certain that there is more information out there. We just have to find it...maybe another GOF...what goes around comes around.
MG Ghia-Aigle
The car was designed by Giovanni Michelotti (indeed of Triumph fame) for the 1952 Geneva car show, together with an equally attractive coupe on the same MG TD chassis. It was built by the Swiss coachbuilders Ghia-Aigle (who had nothing to do with Ghia of Turin but was allowed the rights to use their name). On the show it appeared on standard TD steel-wheels and ditto hub-caps, but later in it's life someone added the chrome wire-wheels (very attractive on this car with it's flowing Italian lines). The standard wheels would have given the type of car away but not the chrome wires of course. These cars appear to be built on Mk II (TDC) chassis.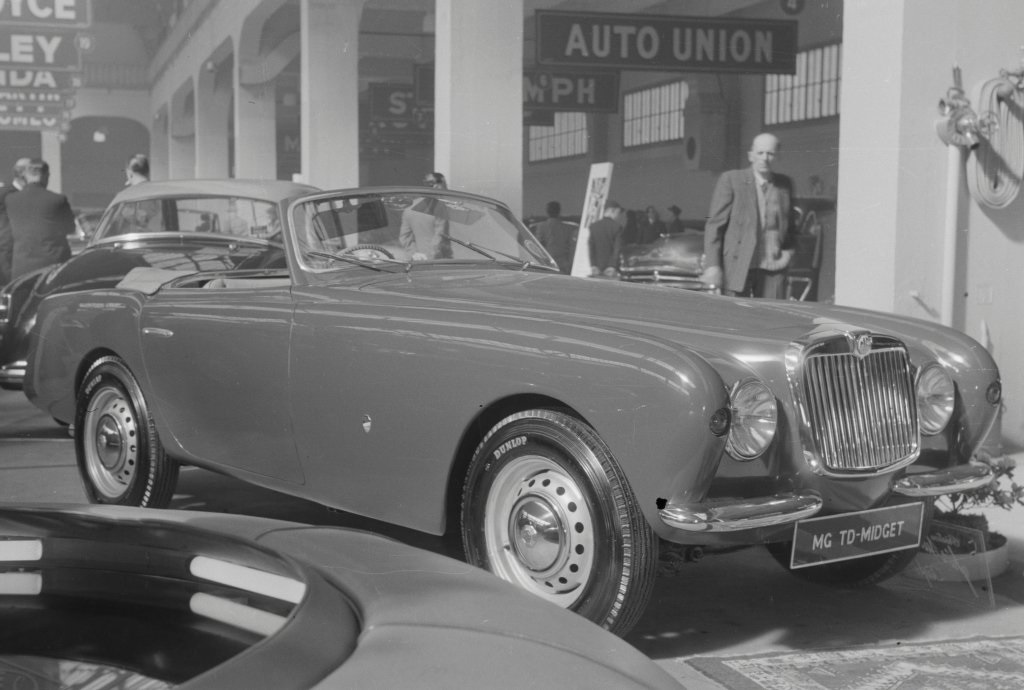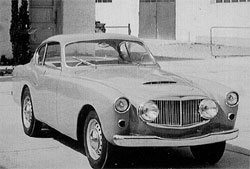 Between 1951 and 1957, Giovanni Michelotti worked for Ghia Aigle first, then in Lugano in 1954. In 1952, he designed the MG-Ghia Aigle based on a chassis TD Midget. According to information published by Ghia, two convertibles were built: the first on the chassis TD-22878, exhibited at the Geneva Motor Show in 1952 and shown below, and the second on the chassis TD-25580, metalic red with blue interior color and a light blue top, exhibited at the 1954 Geneva Motor Show. This model was converted to hardtop coupe in 1962 by Beutler and Langenthal (Switzerland) and was still registered in Switzerland in 1980. In 1953, Michelotti also designed a Ghia-Aigle based on a TD Midget chassis, but no information has been found to identify the photo to the right. The only technical data concerning the engine numbers of the two convertibles and some rough figures were published by the reappearance of the first of them at the recent Geneva Motor Show in 2005.
More information and the source of these pictures can be found at Malachite-Gold.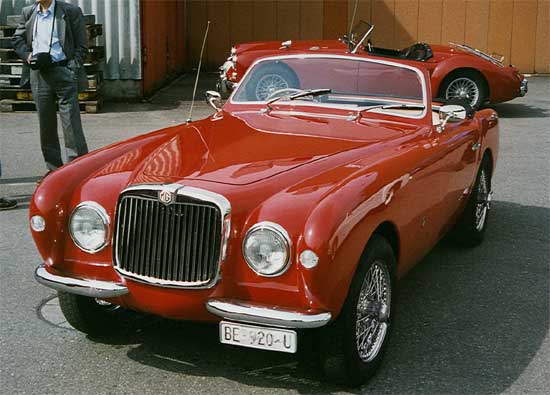 Specifications
Engine
4 cylinder OVH - 3 levels
Original block
XPAG
Displacement
1248 cc
Carburetor (s)
2 SU 1 1/2 "
Compressor
No
Might
65 bhp at 5500 rev / min
Bore / stroke
66.5 x 90 mm
Compression ratio
7.25
Speeds
4 synchro 2, 3 & 4
Gear ratios
1.0 / 1.385 / 2.07 / 3.5
Axle ratio
4.88
Wheelbase
94" (2387 mm)
Front Suspension
Independent hydraulic, coil spring
Front brakes. / Ar.
Drums 9 "
Rear Suspension
Semi-elliptic leaf springs, hydraulic shock absorbers
Routes BC. / Ar.
47 3/8" (1203 mm) 
50" (1270 mm)
Attaching wheels
Originall disc wheels and later converted to wire
Tires
5.5 x 15
Length
 
Width
 
Height
 
Weight
 
Chassis No.
TDC-22878-25280
Maximum speed
75 mph (120 km / h)
Other Ghia related information can be found at Body & Ghia Aigle SA Lugano (CH).
Vignale MGTD
In 1952 the talented Italian designer Giovanni Michelotti (1921-1980) had worked for the Swiss firm of Ghia-Aigle. During that time he had designed a very elegant special body for an MG TD chassis. One year later he would repeat his mastery but this time for the firm of Vignale. Again an MG TD chassis formed the basis for a stunning coupe in "glitzy" fifties fashion. Although the shape of the body was very elegant, the car was loaded with chrome and had a somewhat heavy frontal design. Completely built out of aluminium it weighed 2,103 Lbs (950 kg approx). Considering all that chrome, the use of wood veneer in the very luxurious interior and many extras, this was only some 50 kg more than the original Abingdon built TD. The 65 bhp engine gave it a top speed of 85 mph and an acceleration of 0 to 60 mph in 19.4 seconds. The duotone colour of red with a black roof is probably original. The interior is of light brown and black with split bench seat in leather. In the rear there is a small cocktail cabinet in veneered wood with space for two bottles and four glasses.
More details are unknown. It seems that today the car has a Swiss owner and is regularly shown as numerous photos circulate on the internet. Vignale built an identical car to this one year later but this time on a Fiat V8 chassis.
A artistic drawing of the Vignale MGTD and the source of the following specifications can be found at Classic Car Portraits.
MG Vignale TD 1951-53 Specifications
| | | |
| --- | --- | --- |
| Engine (XPAG) | | Construction |
| Cylinders: 4 in-line | | Aluminium body on pressed steel |
| Valves: 8 over head type | | Ladder-type chassis |
| Bore: 66.5mm | | |
| Stroke: 90.0mm | | Brakes |
| Displacement: 1,250cc | | Lockheed 9in hydraulic drums |
| Valves: Pushrod/overhead | | |
| Compression ratio: 7.25 to 1 | | Wheels |
| Carburetors: Twin 1.5 in SU | | Ventilated 4.5J x 15 disc |
| Power output: 64bhp at 2,600 rpm | | Knock-off wire as optional |
| | | |
| Performance | | Steering |
| Maximum speed: 85mph | | Rack and pinion 2.75 turns lock to lock |
| Acceleration: 0-60 mph 19.4secs | | Turning circle: 31.25 feet |
| Overall fuel consumption: 26.3mpg | | |
| Power: 65bhp @ 5,500rpm | | Dimensions |
| | | Wheelbase: 7ft 10in |
| Transmission | | Track - front: 3ft 11.5in |
| Clutch: 8in Borg and Beck, single dry-plate diaphragm | | Track - rear: 4ft 2in |
| Gearbox: 4-speed, synchromesh on 2nd, 3rd and top gears | | Length: 13ft 4in |
| Ratios: Top 4.875, 3rd 6.75, 2nd 10.10, 1st 17.08, reverse 17.08 | | Width: 5ft |
| Propeller Shaft: Hardy Spicer, open | | Height: 4ft 9in |
| Final drive Hypoid bevel | | Ground clearance: 5.4in |
| | | Weight: 2,103 lbs |
| Suspension | | |
| Front: independent coil & unequal wishbones | | |
| Rear: semi-elliptic, leaf spring | | |
Wendler MGTD
Article supplied by Niek Herwegh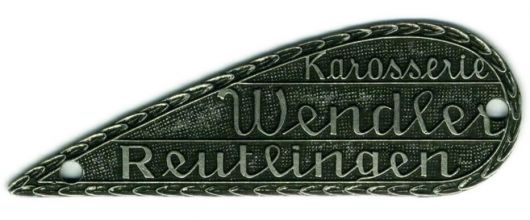 Wendler in Reutlingen, Germany created special bodies on MGTD chassis. The same body type was applied to Porche chassis to it seems.
In 1951 three special bodies for MGTD chassis were ordered by MG enthusiast and racing driver Heinz Molders. A coupe, convertible ("cabriolet") and roadster were ordered from the respectable firm of Wendler in Reutlingen. Both coupe and convertible have a distinct Porsche flavour and look very elegant in a typical "Teutonic" style. The roadster is near identical to another Wendler body made for the firm of Gutbrod.
The roadster was tested by Werner Oswald for the German magazine "Das Auto, Motor und Sport" issue #4 of the 16th of February 1952, under severe conditions of ice and snow. He made lots of complaints about him almost freezing to death in a car costing 13,000 DM! ("Wir haben gefrohren wie die Schneider"). Clearly the roadster softtop wasn't weatherproof!
Although the car drove very well, acceleration was somewhat down compared to the original TD which was to be expected from a body weighing slightly more than the original. Of course the large boot was found to be a major plus. The body was in a metallic beige, upholstery in vinyl. One year later, Wendler built another coupe on MG TD chassis. The car had a very interesting front: whereas the three previous Wendler TD's used a more or less copied upright MG radiator, the new front was almost like a Nash Healey, with the headlights close together built into the grille.
Furthermore the car had a 110 litre petrol tank (!), two spare wheels in the rear wings, an opening for skis in the boot and two small childs seats in the rear which could be taken out and used as picnic seats. It was wildly extravagant and although made entirely from aluminium, must have been very heavy. The car was painted in gold metallic with brown leather interior and cost a massive 17 000 DM. For this amount of money you could buy four VW Beetles !
| | | |
| --- | --- | --- |
| | | |
G&H Perl
This variant of the MGTD was made in Vienna Austria by G&H Perl. Very little is known about this car other than it had roll up windows, a large capacity trunk and an aluminum body. A dealer in Rockville Centre, New York, was selling these cars on special order in 1957 (see card below).
See the period report for more information.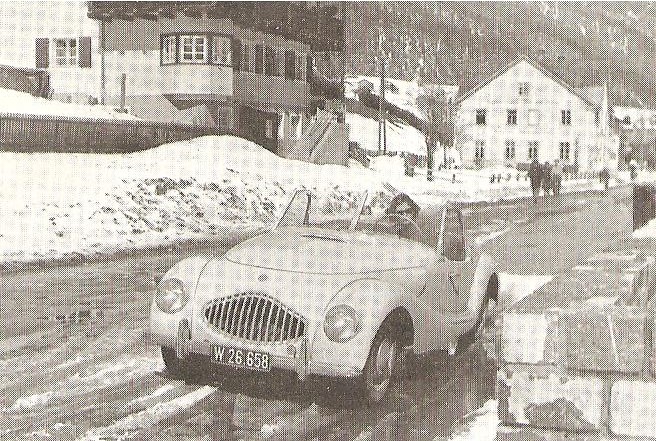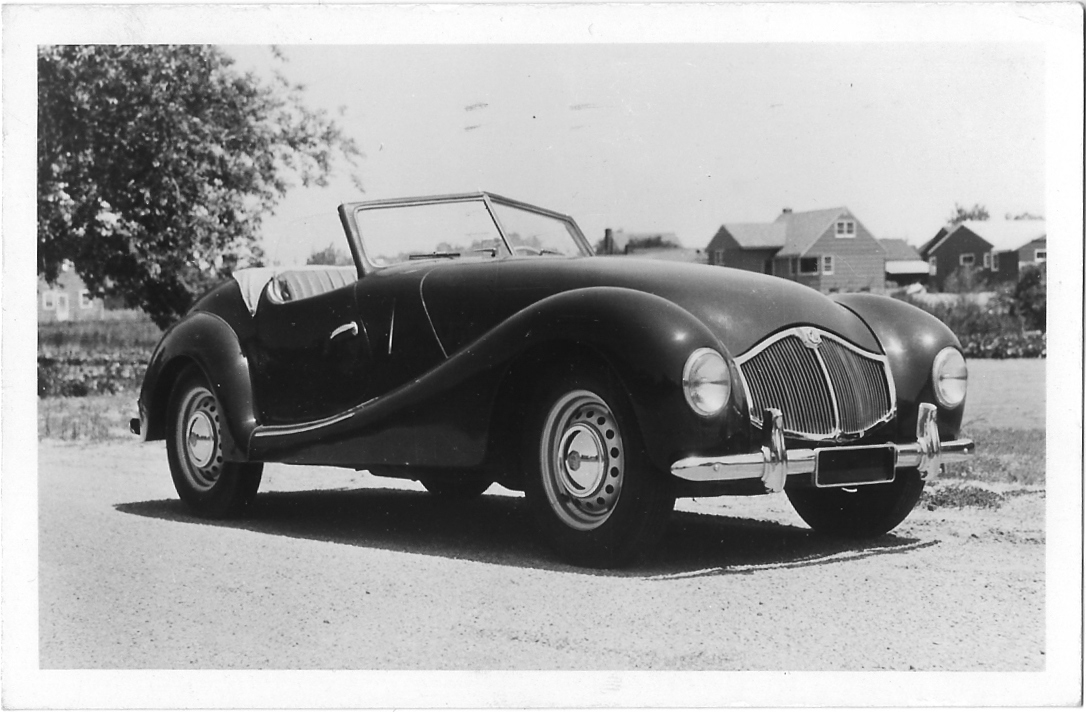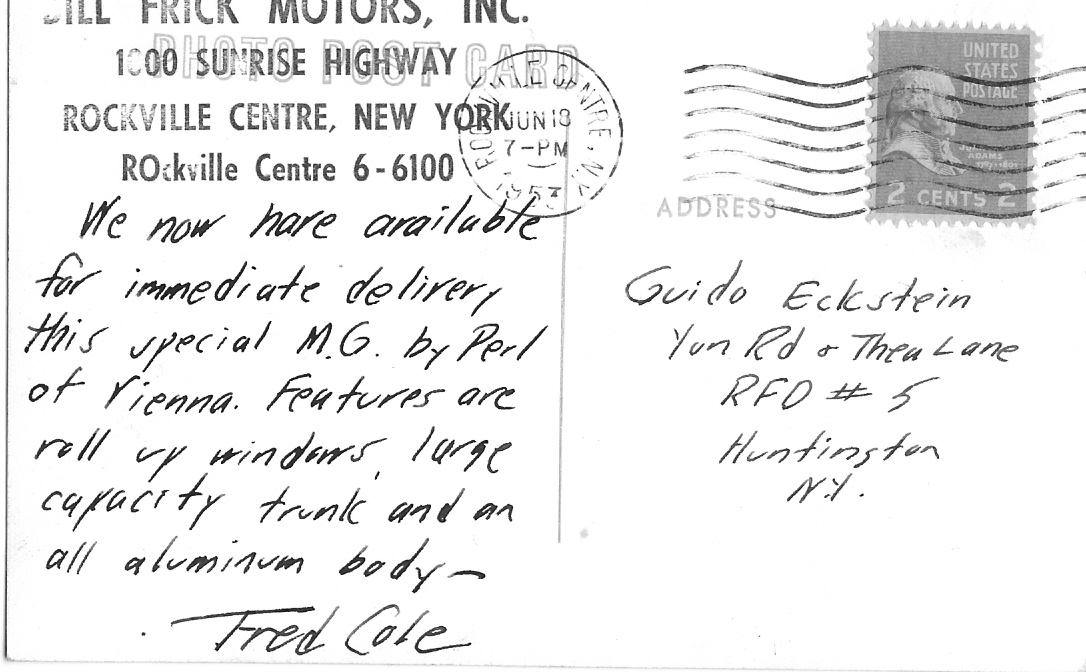 Hennefarth TD
Information and pictures provided by Niek Herwegh.
This car first came up for sale at a German classic car dealer in December 2004 as a Wendler bodied MG TD. Asking price then was 7.500,- Euro! It's unknown if the car was sold but in 2008 it was again on the market.
The appearance of an MGA grille on the front of the car created lots of debate on numerous MG discussion groups and soon it became clear this was not a Wendler body. (The bodies made by Wendler are fairly well documented). The fact that the car had been "modernised" by the use of an MGA grille somewhere in its long life, made the search for its true identity extremely difficult. After all it was difficult to ascertain how the front of the car originally looked like.
Anyway, the seller who put the car on e-bay in 2008 clearly had done some research as he came up with the following history: Apparently the car was ordered in 1950 by MG dealer Christian Odendahl in Frankfurt am Main and was based on a Mk II MG TD chassis: the first Mk II ever sold in Germany. The body was made by coachbuilder Hennefarth from Bad Cannstatt and was inspired by the Jaguar XK-120. At that time it had a flat windscreen and an upright MG-like grille with both headlamps built in nacelles immediately next to it and not on the wings.
It is claimed the chassis underwent special tuning in order to produce some 72 bhp and with a weight of 860 kg, the car was reportedly very fast. In May 1951 the Hennefarth TD was road-registered and was kept by Odendahl until 1956. In the early sixties the car was "face-lifted" with a V-windscreen, an MGA grille, VW-like headlights in the wings, MGA taillights, a longer bonnet, Jaguar seats etc. and so got its present appearance. The TD was finally locked-up in 1964 in a barn and remained there until 2003 when it was discovered by MG author Mr. Hagen Nyncke. Around that time it was partly restored but the MGA parts were kept. Today the car is in the area of Heilbronn and is again under restoration; this time back to original?
Shipsides TD
Very little is known about the Shipsides MG TD other than it was built by a coachbuilder in the Nottingham area. Although there were many racing specials built in the UK based on MG chassis, a road going examples such as this are very rare. Maybe because even the standard TD was hard to obtain in Britain with 80% of production destined for export. The car appears on pages 28 & 29 of the David Knowles book "MG 1945-1964 Photo Archive". The car has a distinct line reminiscent of the larger Bristol saloons of that era.
Veth MGTD
Veth & Zoon Rijtuig-en Carrosseriefabriek Veth & Zoon was founded in 1840 in Arnhem, The Netherlands. The company started with horse-drawn carriages before building bodies for Spijker, Rolls Royce, Maybach, Bugatti, Bentley and MG. In 1914 they obtained the status of "Hofleverancier": official supplier for the Royal Dutch Family. You can read about their history at their site here.
Information provided by Kaj van Ginkel, the owner of the Veth.
The car was built in 1951 using a rolling chassis with engine and gauges. Five of these where on there way to Germany but were refused by customs. They went to Molenaar Dutch MG agent. Mr Martijn Odink bought one and had the body built by Verh and Sons. The first registration of the car is 1951.
Weidenhausen MGTD
Information and picture provided by Niek Herwegh.
The small Ferrari Barchetta like body is probably the only special body TD made by German firm Weidenhausen. Although Chris Harvey in his book "MG The Immortal T-series" claims it as a Wendler body, this is very unlikely. Other sources claim this car was ordered by Emil L. Shwetzer, head of the American Forces Radio Broadcasting Station AFN in Frankfurt am Main. With two photos of a Ferrari 166M he went to C.H. Weidenhausen and commisioned a similar body for his MG TD. Because he would return to the States in the Spring of 1952, the body was built in record time of six weeks. The car was all aluminium and in black colour. Before WW2 Weidenhausen had made special sports bodies for BMW and would later make the 1953 Le Mans Glockler-Porsches.
See the period report for more information.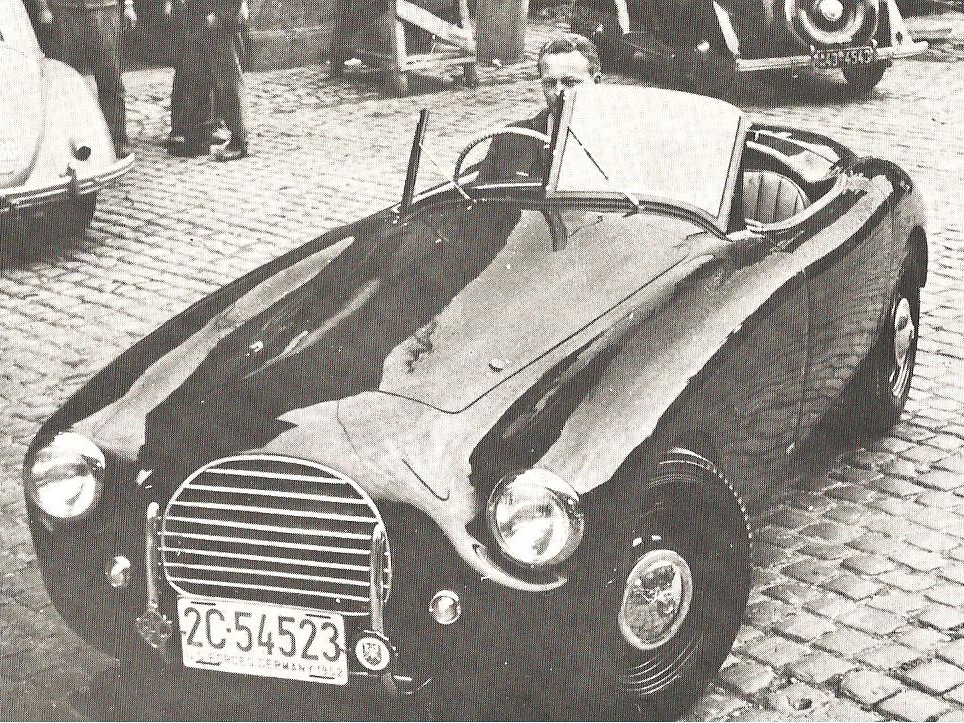 Jacob's Special
Apparently the car registered XNO2 was a fibreglass special built to customers order by Dick Jacob's "Mill Garage". It is depicted on page 105 and 124 of the "MG Experience" book written by Dick.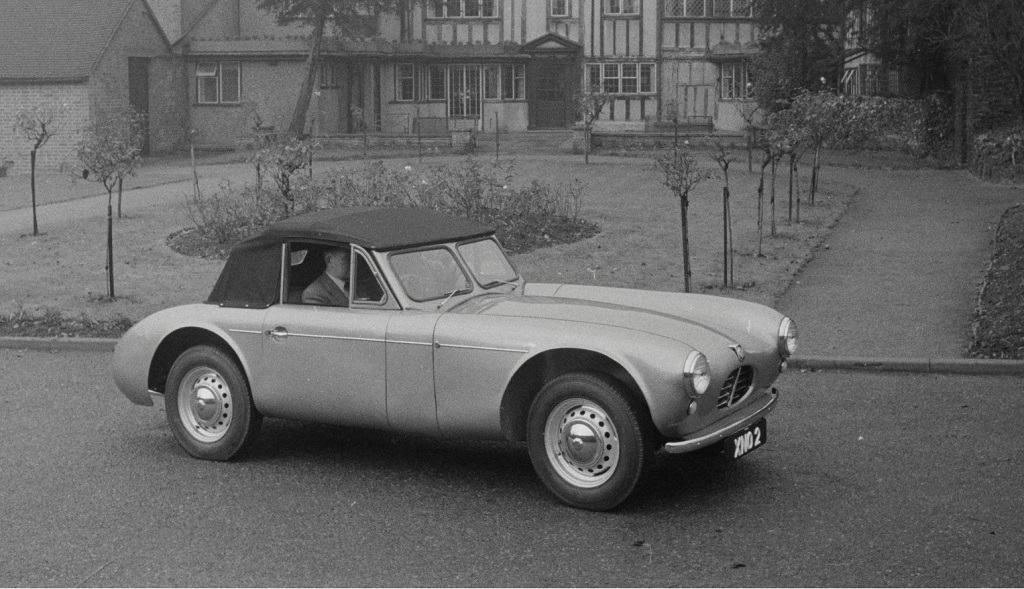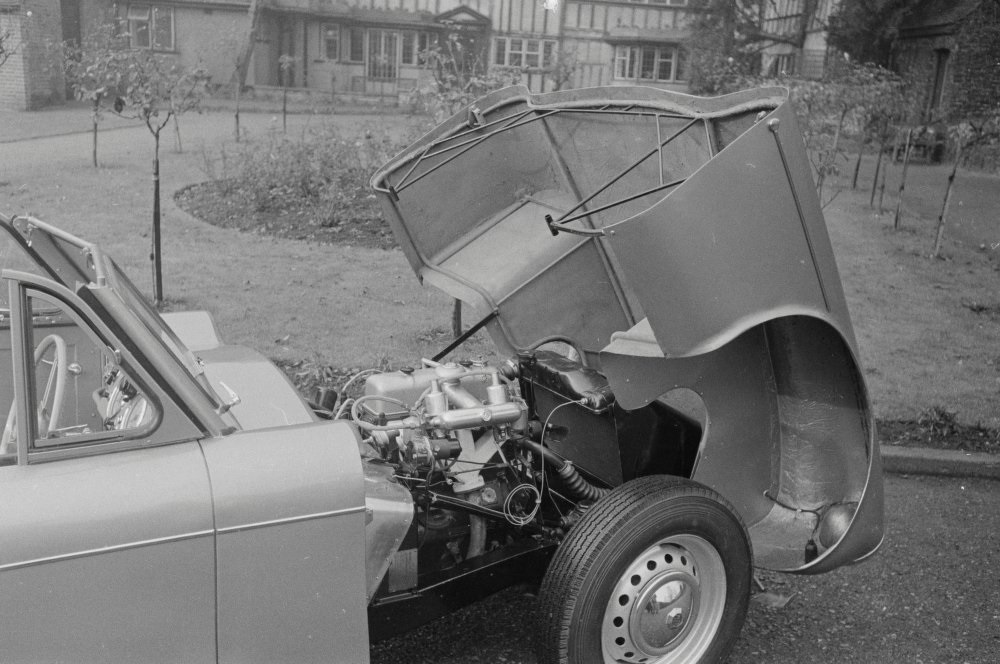 Malcolm Green mentions the car in an article on Dick Jacobs in the August 2010 issue of "Enjoying MG" as follows: "Dick's special building career had moved on somewhat and now he was constructing cars for customers. Mill Garage had started advertising that they could supply fibreglass bodies produced by R.G.S Automobile Components of Winkfield, Berkshire fitted to MG chassis. In December 1953 "Autosport" ran a feature on an open two-seater they had constructed for a customer. This car was built on a standard TD Midget chassis and the fibreglass panels of the body were fixed to a sub-frame built from steel tubes. The front panels hinged forwards, much as with the later Triumph Spitfire, and the promise was of increased performance, because of lower wind resistance and reduced weight."
Allied-Atlas Swallow
Bill Burke and Mickey Thompson are famous in the automotive world for speed. Not so was their foreray into creating custom fiberglass bodies for MGTD's. In the fall of 1952 they collaborated on one of the most beautiful fiberglass sports cars the post-war world had ever seen, the Atlas Swallow. Together with Ray Kinch they formed Atlas Fiber-Glass, Inc in the fall of 1952.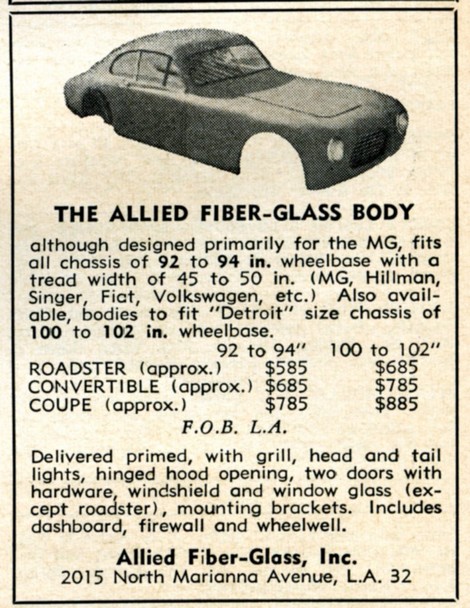 In 1946 Pinin Farina (who later changed his name to Pininfarina) - designed the Cisitalia 202 Coupe – one of the most beautifully designed cars to emerge from the immediate post-war era. From 1947 through 1952 just 170 of these cars were produced.
Having access to the Cisitalia while it was being prepared for the Autorama show in LA in 1952, Burke and Thompsom made a mold out of the body secretly. By October 1952, Burke had his mold completed and was putting the finishing touches on the changes and refinements necessary to put the body into production. During the fall, Burke made his friendship with Thompson and Kinch official: They were all now partners in an enterprise that initially started out to be called Atlas Fiber-Glass. Later, in 1953, the company's name would be changed to Allied Fiberglass.
Burke's theme in building frames was always a balance of strength versus weight. This focus made even more sense when you consider he built cars to go fast in a straight line. His chassis didn't need to be designed with road racing in mind.
When I asked him about the first frames he built for his Allied cars he mentioned the following:
We built the cars to fit right to the MG chassis and fit well. But some people, including me, wanted to build a car from the start using a scratch-built frame. At first I modified Ford Model A frames; these were lightweight and fit the car nicely. But since I used Ford mechanicals, I had to shorten the axles to fit the more narrow frame. Later, I used tubing used for PBY Navy seagoing plane wing struts. These were teardrop in shape, lightweight, and strong. Most of the frames we built after the initial few were using PBY material.
As for Allied, with the completion of its first car, Burke, Thompson, and Kinch achieved another first – the first fiberglass sports car coupe ever built. By 1955, the company would be sold, and it would continue under a new name for a few short years.
You can read more about Allied and the Swallow here, and more here too and this site has some great technical information and search the net for more information.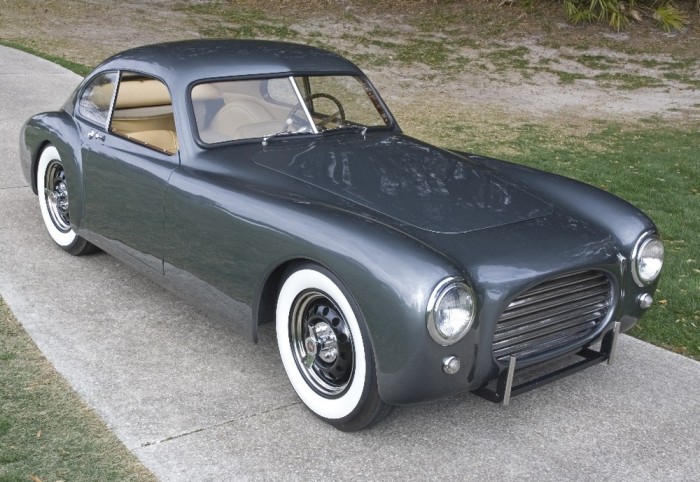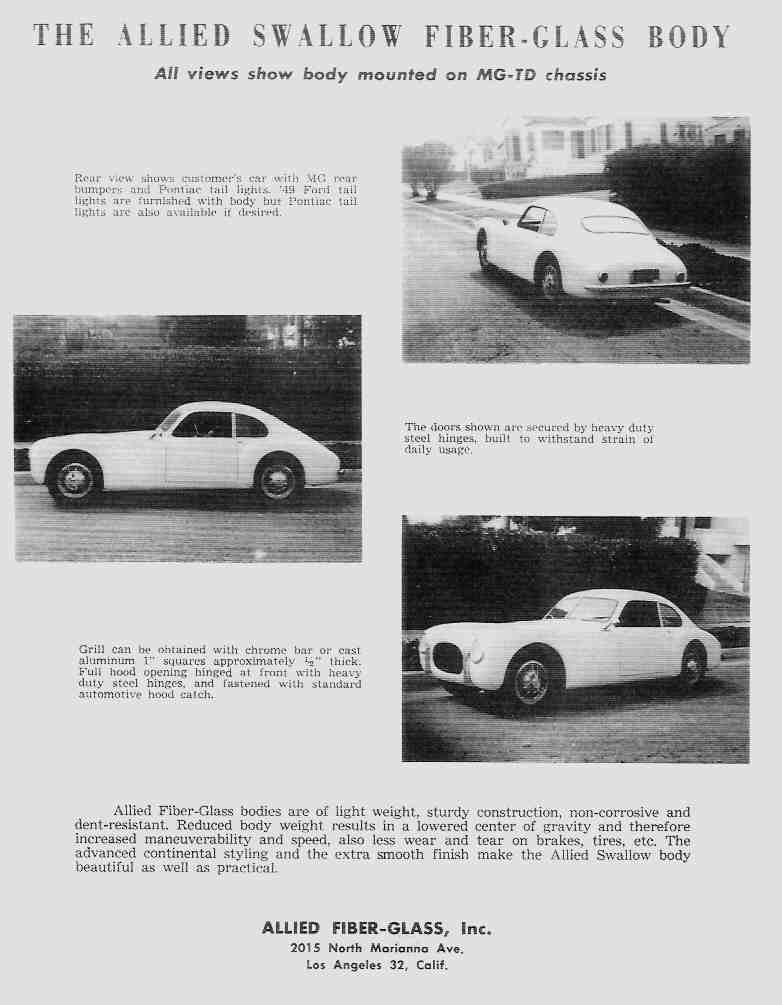 Home | History | Details | Myths and FAQs| Literature | Entertainment | Gallery | Links | Map
| | |
| --- | --- |
| © 1999 - 2021 by Christopher C. Couper | Page last updated on March 2, 2019 |