| | |
| --- | --- |
| | European Importers / Dealers |
These pages contain a small list of important european automobile importers and dealers during the era of the MGTD/TF.
See the advertisement pages for related information from many of these importers/dealers.
Auto Verkaufs GMBH - Zeppelin Garage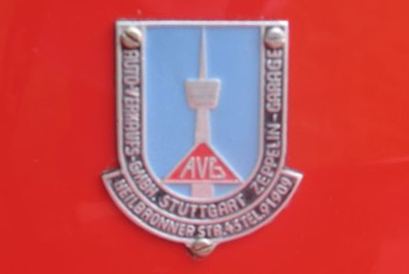 Stuttgart, Germany.
See the Zepplen Garage MGTD's in the variants page.
Fattori & Montani
Fattori & Montani where the Nuffield importers in Rome, Italy in the 1950's and still exist today. In 1947 Alfredo Fattori formed the company Fattori and Fattori for the importation and distribution of motor vehicles and spare parts for Italian brands such as Mini Morris and MG.
You can read more about Fattori & Montani at their website here.
See the Schiaretti MGTD.
G & H Perl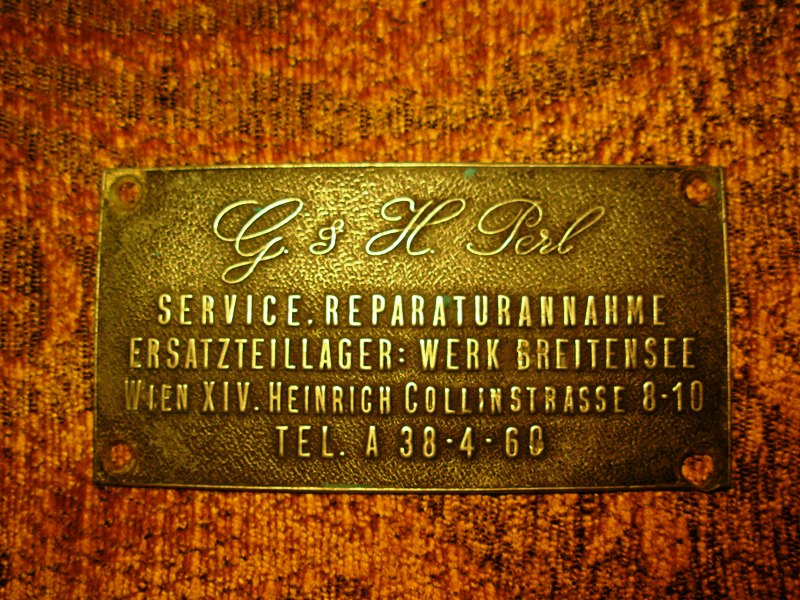 G&H Perl was an Austrian Importer of MGTD's but also made a special body TD.
J.A. Woodhouse
J.A. Woodhouse was an importer of Nuffield cars in Köln, Germany. Their story was quite different than other importers at the time that involved a post WWII Germany.
You can see a number of documents related to J.A. Woodhouse and one of their local German dealers here.
J. A. Woodhouse MG Agency
Story by Mike Walsh
Woodhouse invoice courtesy of Jay Valentine. See this site for more on his Woodhouse TD.
Emblem picture of TD 28332 by Mark Strang, Virginia, USA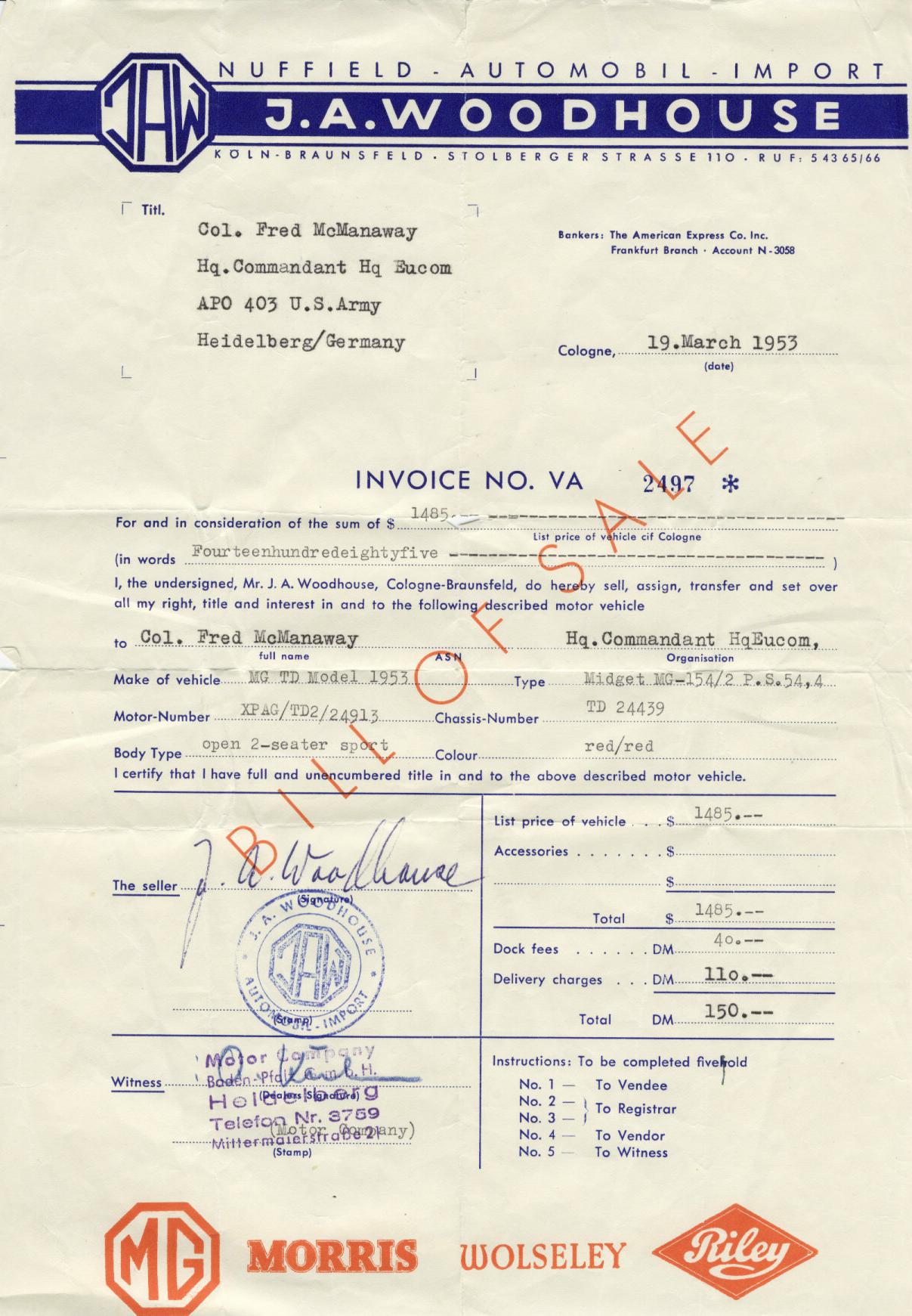 The J. A. Woodhouse MG agency in Koln dates from the 1920s beginning as a British motorcycle agency. Jack Woodhouse was a British Army officer from the Great War, WWI, who remained in Germany after the War. In 1927 Jack marries Rita who helps him build the motorcycle agency into a successful enterprise. Later, she convinces Jack to accept Cecil Kimber's offer of an MG agency stating all will go well. Indeed, all does goes well for the Woodhouse agency as Germany becomes one of the prime export markets for MGs during the 1930s. These successes are also the basis of a life long friendship with George Tuck who will play a major role after WWII in establishing a new J. A. Woodhouse MG agency. At the outbreak of hostilities in 1939, Rita and Jack escaped to England where they would remain for the duration of WWII.

At the end of the war, Rita and Jack were planning to buy a farm in England but a chance meeting with George Tuck , then Nuffield Export director, convinced Rita and Jack to return to Koln to reestablish their MG agency. Before long the J. A. W. MG agency was reestablished and selling MG-TCs to Americans who were part of the army of occupation thus creating the beginning of the stream of MGs coming to the United States from Europe. I have seen TDs, TFs and MG-As with the J. A. Woodhouse plaque. I have not seen a TC so if anyone has a TC with such a plaque, I would be interested in knowing where the plaque was located and any other unique features.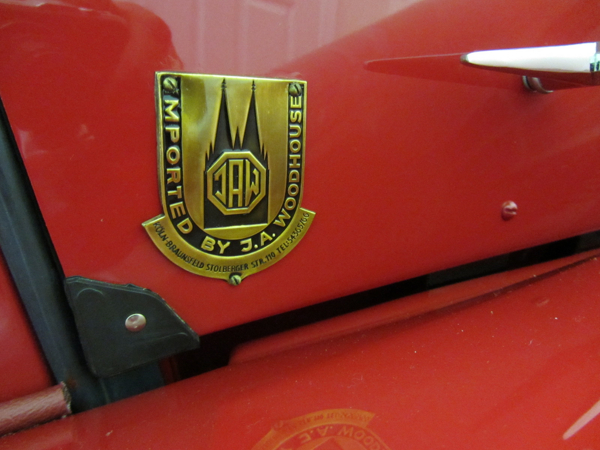 The plaque is a U shaped shield with a black background on brass held onto the car with three screws - one each in the upper left and right as well as at the middle of the bottom of the shield. In the middle of the plaque is the twin spires of the Koln cathedral with JAW within an octagon in the middle and the words "Imported By J. A. Woodhouse" following the outline of the U shaped body of the plaque while their agency address is immediately below the basic shape on a separate line. The plaques seem to be found always on the right hand side of the car. On the TD, it's on the right hand side of the bonnet side immediately behind the aft latch. The location on the TF is on the body immediately aft of the rubber cowl strip and above the fender welting, forward of the passenger door. On the MG-A, it's on the right front fender immediately aft of the right front wheel on the vertical side immediately behind the wheel opening before the fender curves down to the lower trim strip.

Personally, I did not live in Germany during this time period so I can only speculate that the J. A. Woodhouse MG agency may have had a tie-in with the U. S. armed forces post exchange where a member of the U. S. occupation forces may order an MG for delivery in Germany. I do know there were tie-ins in other countries, namely England and France, where one could purchase an English car to take home via the PX. Since these cars were intended for the US - North American market, they would be so noted - the TDs would be either LHX or EXL/NA with degree F and miles instruments. The TFs/ MG-As would be 46 - not 36 as some have mentioned as the intended market would be North American - not Germany. Also, these TFs would have degree F and miles instruments whereas the German home market cars would have degree C and kilometer instruments. All MG models would have the Lucas Continental bulb type headlights as exported to North America and which the dealers would have to change out for sealed beams before delivery to the customer to meet US standards.

Rita Woodhouse obituary in the Jan / Feb 2001 issue of Safety Fast provided much of the historical information presented above. She lived to be 102! Also mentioned in the above article is that the J. A. Woodhouse agency was included in an MG book written by Hagen Nynckes. Does anyone know of this book? I would like to know more about this unique MG agency as I also own a 1954 MG-TF sold by J. A. Woodhouse. Please feel free to email me with any additional information you may have. Thank you- Mike Walsh
J.H. Keller Automotive Group
In June of 1933 Johann Heinz Keller founded the Sportcar AG in Zurich in order to pursue his passions of sports cars, organizational skills and risk taking. Sportcar AG predominantly sold MG's in Switzerland and later sold Riley's and Morris cars from Nuffield. After the Second World War the company was reformed as J.H. Keller Automotive Group with their first dealership located at Bahnhofstrasse 1 in Zurich. With the import of brands MG, Morris, Wolseley and Riley, the JHKeller AG was able to establish a well-known name.

Heinz Keller was not only a close friend of the Thornley family, he was also a keen MG enthusiast. He competed with an MG TD in the 1950 Alpine Rally with starting #47 and captured the team prize when Nuffield factory support for motor sports was at an all time low. (A photograph of him during the accelerating and braking test in Cannes was widely used in MG TD brochures and car magazines). Furthermore through his Nuffield import business he ordered quite a number of special bodied MG's which brought him and the Abingdon factory a lot of publicity (the Rheinbolt & Christe MG-Y convertibles and the Ghia-Aigle MG TD's). John's son Peter Thornley, is the God son of Henry Keller.
You can read more about J.H. Keller Automotive Group at their website here.
CHR Odendahl
It is rumored that CHR Odendahl sold up to fifty-two MGTD's in Frankfurt during the sales period of the MGTD.
Colin Stafford - Our TF6688 was purchased from Christian Odendahl in Frankfort in 1954. It has the blue oval badge on right side as you noted. We also have the original lic. plate, US Forces in Germany 1954. Our car has some dealer installed items, like windscreen washers, a Bosch heater, chrome valve covers.
Far right badge from Frank Cronin, owner of TF1414 with a newly restored emblem.
Anglo-Automobil Graf Deym & Co KG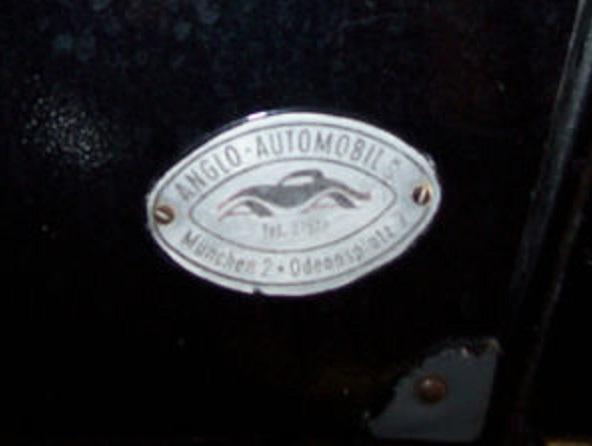 Anglo-Automobil Graf Deym & Co KG, Odeonsplatz 2, Munich.
Badge found on a TD along with an J.H. Woodhouse badge on the opposite side. In business in Munich as late as 1959.
University Motors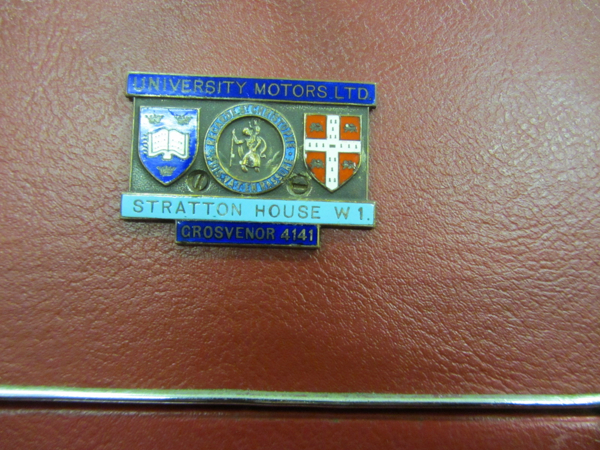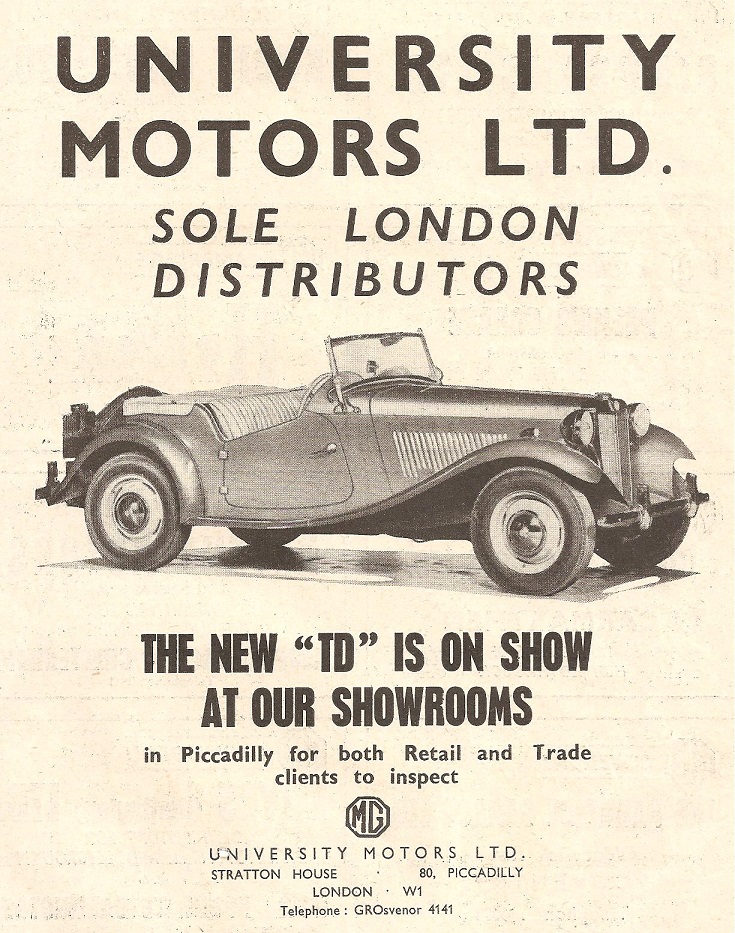 University Motors of London were main dealers of all Nuffield and MG cars. They personalised each one of their vehicles with these dashboard plaques. In the 1950's their address was Stratton House W1, and their phone number was Grosvenor 4141 both depicted on the badge at the left. The shields are for Oxford University (left) and Cambridge University (right). The center object is a Saint Christopher, the patron saint of safe travel. The image is mounted on the glovebox door of TD29885 which was built on the last day of MGTD production.
University Motors was also the main dealer in Britian that handled Nuffield and BMC's Buy at home and tour Britian program.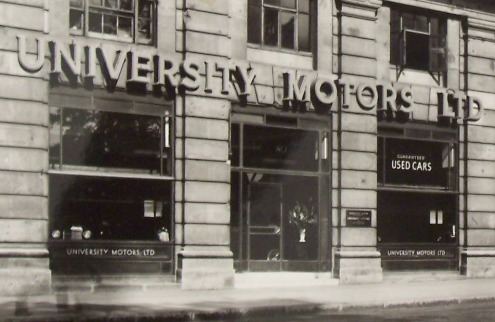 University Motors at Stratton House, 80 Piccadilly, London in the 1950's.
I think that this car came into the US via the east coast since the previous owner knew the history of the car to 1964 and indicated that it had been in Virginia where I live for many years prior to that and had been owned by a navy guy.
Emblem picture of TD 29885 and comment by Mark Strang, Virginia, USA
Molenaar's Automobielbedrijf NV
From 1933 - 1970 Molenaar was the importer of MG's etc. for the Dutch market. They also operated an assembly line for Morris cars.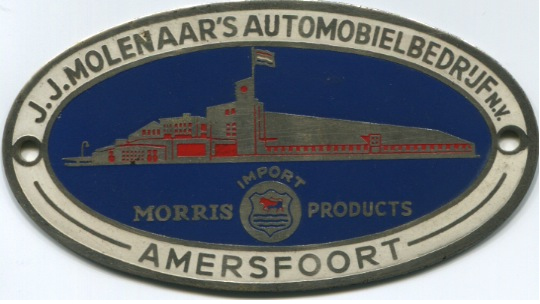 Jasper Nederhoed - The image depicts the badge that "Molenaar's Automobielbedrijf NV" mounted on the cars they sold. Molenaar ended her activities in 1970. Fortunately its archives are available. A total of 127 TD's were imported for the Dutch market, my TD3966 of October 1950 was number 26 on that list.
Förenade Bil AB
United Bil AB is one of the nation's oldest car company. On February 4, 1921 registered limited company with the Royal Swedish Patent and Registration Office. The address was East Tullgatan 6 in Malmo. Förenade Bil AB is part of the Unite Bil AB group.
According to the BMHI a total of of 131 MGTD's were imported to Sweden by Förenade Bil AB I Malmö. 1950, 44 cars; 1951, 27 cars; 1952, 42 cars; and in 1953, 18 cars.
NOTE: The registration statistics are not separated sold MG.TD and MG.Y but merely the model designation MG.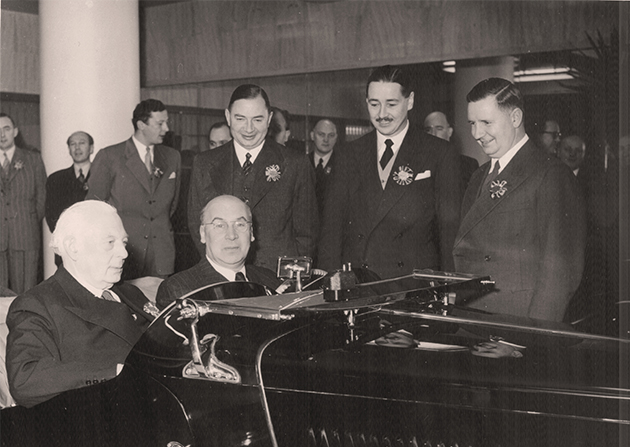 Executives of Förenade AB admiring a new MGTD.
NOBEL PARTY WITH UNITED CAR. No not really, but a very festive evening at the Savoy Hotel in Malmö to celebrate the United Bil's thirty year anniversary together with our dealers. The year was 1951, and the composed menu ends with dessert "bombe à l'Automobile friandises" with the best Nobel Finesse. Director Allan Söderström and hostess Lillemor Söderström served at the table of honor. That same year signed agency agreement between Bayerische Motoren Werke AG and the United Bil AB.
Mill Garage
W. Jacobs and Son Ltd., Mill Garage, the most famous of all MG dealerships, run by that famous MG racing driver and entrant Dick Jacobs in Chigwell Road, South Woodford, Essex. Jacobs and Mill Garage possibly gave the MG marque more publicity in the '50s than the entire Nuffield or BMC publicity machines and more positively sold more MG cars in London and the Home Counties in each of the 19 years from 1952 than any other dealer. Dick Jacobs was also responsible for selling custom MGTD's known as Jacob Specials from the Mill Garage dealership.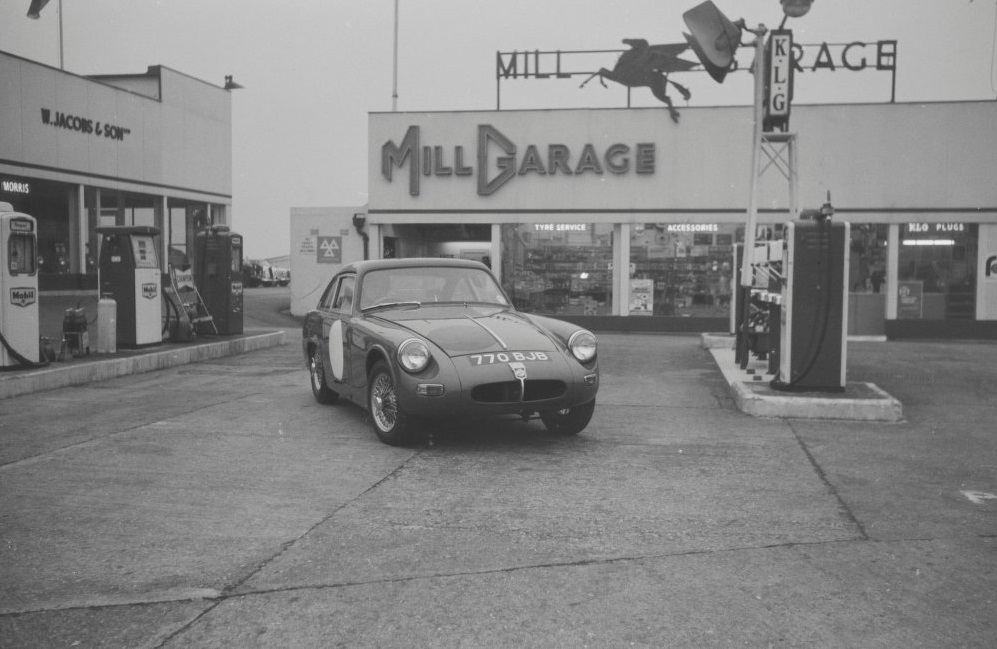 Mill Garage in 1962 with one of the Jacob's Specials out front.
You can read more about Dick Jacobs here.
United Kingdom Dealer Listings
| Dealer | Address | City | County |
| --- | --- | --- | --- |
| Paragon | Boothferry Road | Hull | Humberside |
| Paragon | Anlaby Rd. | Hull | Humberside |
| Paragon | New York Road | Leeds | West Yorkshire |
| Paragon | Prospect Street | Bridlington | Humberside |
| Paragon | Rawcliffe Street | Goole | Humberside |
| Paragon | Doncaster Road | Scunthorpe | North Lincolnshire |
| Paragon | North Street | Wetherby | Humberside |
| Toulmin Motors | 21 St. Johns Rd | Richmond | Surrey |
| Toulmin Motors | 343 Staines Rd | Hounslow | Middlesex |
| University Motors | Stratton House, 80 Piccadilly | London | Greater London |
| W. Mumford Ltd. | Old Town Street | Plymouth | Devon |
| Jones Bros. Ltd. | | Pwllheli, Wales | Wales |
| Loxhams Morriservice Ltd. | Corporation Street and Fishergate | Preston | Lancashire |
| Loxhams Morriservice Ltd. | 2 Simmons Street and Sudel Cross | Blackburn | Lancashire |
| Loxhams Morriservice Ltd. | Penny Street | Lancaster | Lancashire |
| Country Garages | St. Thomas Street | Scarborough | North Yorkshire |
| Wales & Edward Ltd. | 28, 29, 30 Wylie Cop | Shrewsbury | Shropshire |
| Ward & Co. Ltd. | Felsham Rd., S.W. 15 | Putney | Greater London |
| Moss's Agencies Ltd. | High St. | Lemmington Spa | Warwickshire |
| Beart's of Kingston | 102 London Rd. | Kingston-on-Thames | Surrey |
| W. Watson & Co. | Bold Street | Liverpool | Merseyside |
| Dickinson & Adams | | Luton | Bedfordshire |
| Crips Bros. | Main Rd | Sidcup | Kent |
| Wadham Bros. Ltd. | | Southsea | Hampshire |
| Wadham Bros. Ltd. | | Southampton | Hampshire |
| Wadham Bros. Ltd. | | Chichester | West Sussex |
| Wadham Bros. Ltd. | London Rd. & Humble | Waterlooville | Hampshire |
| Wadham Bros. Ltd. | | Isle of Wight | Isle of Wight |
| George Ace Ltd. | Warren Street | Tenby | Pembrokeshire |
| H.T.P. Motors | Lemon Quay | Truro | Cornwall |
| Micklegate Motor Co. Ltd. | 125-127 Micklegate | York | North Yorkshire |
| Hewens' Garage Ltd. | Bridge Road | Maidenhead | Berkshire |
| V.W. Derrington | 159 London Road | Kingston | Greater London |
| Hewens' Garage Ltd. | Castle Street | Reading | Berkshire |
| Hewens' Garage Ltd. | St Leonards | Windsor | Berkshire |
| Joseph Cockshoot & Co. Ltd. | 6 St. Ann's Square | Manchester | Manchester |
| Reed's Garage Ltd. | Broadway  | Peterborough | Cambridgeshire |
| Brown & Mallalieu Ltd. | General Street | Blackpool | Lancashire |
| Premier Garage | Bolton St., South Shore | Blackpool | Lancashire |
| Kennings Ltd. | Clay Cross | Derbyshire | Derbyshire |
| Colmore Depot Ltd. | 77-85 Station St. | Birmingham | West Midlands |
| Colmore Depot Ltd. | 200 Deansgate | Manchester | Manchester |
| Colmore Depot Ltd. | 178 Belgrave Gate | Leicester | Leicestershire |
| Colmore Depot Ltd. | 138 Nottingham Rd. | Loughborough | Leicestershire |
| Colmore Depot Ltd. | Roebuck Lane | West Bromich | West Midlands |
| H.A. Hamshaw Ltd. | 37 Humberstone Gate | Leicester | Leicestershire |
| H.A. Hamshaw Ltd. | Parker Drive | Leicester | Leicestershire |
| D. Kitchen Ltd. (Atlas Garage) | Skipton Road | Colne | Lancashire |
| Doves (Darlington) Ltd. | 24 - 26 Bondgate | Darlington | Durham |
| The Parkside Garage Ltd. | Warwick Road | Coventry | West Midlands |
| The Parkside Garage Ltd. | Weddington Road | Nuneaton | Warwickshire |
| The Parkside Garage Ltd. | | Rugby | Warwickshire |
| J. Blake & Co. Ltd. | 46 Foregate Street | Chester | Cheshire |
| Regent Motors | High St | Cheltenham | Gloucestershire |
| Simpson's Ltd. | Rawlinson St. | Barrow-in-Furness | Cumbria |
| Knott Bros. | 382 Charminster Rd. | Bournmouth | Dorset |
| John Bryant & Sons Ltd. | 7 Stephenson St. | Birmingham | West Midlands |
| John Bryant & Sons Ltd. | High Street | Bromsgrove | Worcestershire |
| B. Waterhouse & Sons Ltd. | 80 Manningham Lane | Bradford | West Yorkshire |
| Sticklands Garages | | Gillingham | Dorset |
| John Pepper | 60 Piccadilly, Hanley Hill | Hanley | Staffordshire |
| G. Mackay & Sons Ltd. | West Park | Harrowgate | North Yorkshire |
| James Fryer Ltd (Green Dragon Garage) | Aubrey Street | Hereford | Herefordshire |
| James Fryer Ltd (Green Dragon Garage) | South St. | Leominster | Herefordshire |
| City Motor Co. (Cardiff) Ltd. | 99-101 City Rd. | Cardiff | Wales |
| Triangle Garage Ltd. | Queen's Rd. | Bristol | Bristol |
| The Bedford Garage | Summerland St. | Exeter | Devon |
| Wellsteed's County Garages Ltd. | 70 Commercial Street | Newport | Wales |
| Graham & Roberts Ltd. | Botchergate | Carlisle | Cumbria |
| Hallens | Union Lane | Cambridge | Cambridgeshire |
| Brigden & Company | 187 Western Road | Brighton | East Sussex |
| Wray Park Garages Ltd. | | Reigate | Surrey |
| Jarvis of Wimbledon | Morris House, Morden Rd SW 19 | Morden | Surrey |
| Tankard & Smith | 154-158 Kings Rd. | London | Greater London |
| Tankard & Smith | 226-232 High Rd. | London | Greater London |
| John C. Beadle Ltd. | Spitel Street | Dartford | Kent |
| Lowndes Garage | 55 Priory Street | Carmarthen | Carmarthenshire |
| Mill Garage | Chigwell Road | South Woodford | Essex |
Other European Dealer Listings
Dealer
Address
City
Country
Auto Verkaufs GMBH - Zepplen Garage
Heilbronner Straße
Stuttgart
DEU
Fattori & Montani
via Emilia 86 100
Roma
ITA
G & H Perl
8-10 Heinrich Collinstrasse
Vienna
AUT
J. A. Woodhouse
110 Stolberger Strasse
Koln
DEU
J.H. Keller Automotive Group
Bahnhofstrasse 1
Zurich
CHE
J.H. Keller Automotive Group
Vulkanstrasse 120
Zurich
CHE
CHR Odendahl
?
Frankfurt
Molenaar's Automobielbedrijf NV
Stationsplein 5
Amersfoort
NLD
P. Decrose offices
Scepterstraat 96
Brussels
BEL
P. Decrose showroom
9 Louizalaan
Brussels
BEL
P. Decrose
?
Luxembourg City?
LUX
Forenade Bil AB
Eastern Tullgatan 6
Malmo
SWE
Forenade Bil AB
Stockholm
SWE
Forenade Bil AB
Göteborg
SWE
Forenade Bil AB
Uddevalla
SWE
Forenade Bil AB
Norrköping
SWE
Forenade Bil AB
Jönköping
SWE
Vilhelm Nellemann dealer for
DOMI (Dansk Oversoisk Motor Industri A/S)
55 - 57 Vodroffsvej
Copenhagen
DNK
A.M. Almeida S.A.R.L.
Avenida da Liberdale 11
Lisbon
PRT
Moto-Comptoir
Boulevard Pereire 167
Paris
FRA
Anglo-Automobil Graf Deym & Co KG
Odeonsplatz 2
Munich
DEU
Home | History | Details | Myths, Tips and FAQs | Literature | Entertainment | Gallery | Links | Map
| | |
| --- | --- |
| © 1999 - 2022 by Christopher C. Couper | Page last modified: 2022/04/17 |