Total Page
Hits since
21-3-01
General Engine

Click on the images for a larger version
Curtis Jacobson
All four photos show the 1963 Buick 215 engine. These photos show a pretty-much stock engine, cleaned up a bit and bored 30 over. The surface finish on the old Buick castings always impresses me!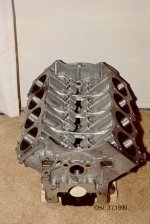 Shows the engine block from the front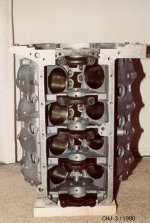 Shows the engine block from the bottom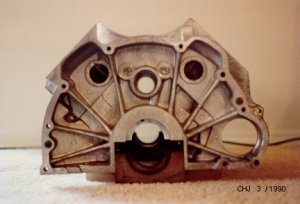 Shows the engine block from the rear

(with the bellhousing mounting features)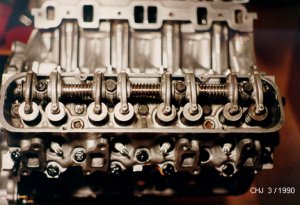 Shows the longblock, and especially the passenger side rocker arm assembly
As you can see, I installed twin electric fans (ex Honda Civic) pushing, and I traded a little bit of duct-work for the regular '71 MGB grille. The radiator is mounted rather high and far forward compared to stock, but I kept it "right side up". I'm using a VW Jetta expansion tank mounted as high as I could get it. I've never seen a need to add an oil cooler radiator.

For the engine I decided to try "cowl induction". A panel-type air filter (ex Ford Probe) is pressed up against the firewall.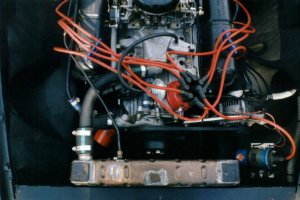 In this view you can see that I managed to fit the oil filter directly to the engine by using a Buick V6 pump housing. You can see the Mallory Unilite distributor, a Carter 400AFB carb, and a tiny alternator from a Suzuki.
Robert Pulleyblank
My old rope seal Rover 3500s engine that I stripped from a Rover I bougfht for $300, rebuilt and fitted into the 74 3/4 Rubber bumper back in 84.

The first pic shows it on its stand in the basement of my appartment in Long Island with new 9.35 pistons.

The second, in the car with new TRW rockers, Crane blueprint cam etc.

The third in the car with the rocker covers and SUs from my factory GT., along with a servo from a 77 LHD B. I also sourced the nice dash from that fire damaged B
John Bourke
Werner Van Clapdurp
Jürgen Felske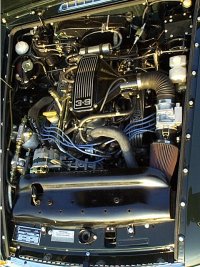 Picture shows a hot-wire-fuel-injected 3.9 Rover in an 1968 MGB. It has a full catalytic converter of a Vauxhall Carlton 2.0 - we have a "green" government in Germany now, so it's better to run on catalysts. Otherwise tax would be around 450 pounds sterling a year.

Fitting a V8 engine into an MGB

This site forms part of MG - The Classic Marque
Email: webmaster@mg-cars.org.uk