Total Page
Hits since
21-3-01
Transmission Tunnel

Click on the images for a larger version
Factory V8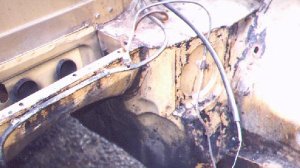 Early all synchro cars
These cars have a larger transmission tunnel than the three synchro cars but even so the mouth of the transmission tunnel, particularly on the (UK) passenger side, provides tight clearance for the clutch housing of the gearbox. A section of the front of the tunnel has to be 'dressed in' towards the footwell to provide clearance.
© Roger Parker
Curtis Jacobson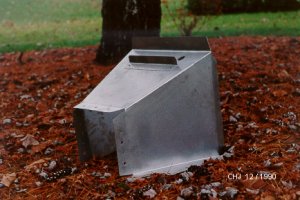 I fabricated a new transmission tunnel to accomodate the Borg Warner T5 transmission on a Buick bellhousing. Part of the reason I did this was to facilitate placing the engine farther back toward the car's center of gravity. I built this thing on the porch of a one bedroom apartment - if I ever do another one I'll add beadrolling and darts for noise reduction and stiffness improvements. Still, I'm proud of how it came out.
John Bourke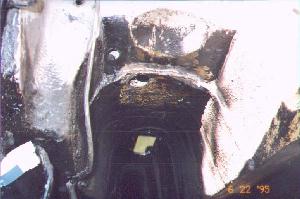 Close up of the underside of the tunnel after modification to take the Rover 5 speed box - I did not want to hack my tunnel about to take a dirty great steel box like all the pundits said I should - I cut through the downstand seam where the bulkhead meets the tunnel pressing with an airbody saw and removed it completely - I was then able to dress the tunnel up (very difficult as it is of at least 16 gauge!) and seam weld it back together again. It's not obvious but the std tunnel only dips down at this point to make the spot welded flange possible - you can gain at least 15-20mm by this method - which gives enough clearance for the box when using FACTORY type mounts - not the higher conversion type mounts.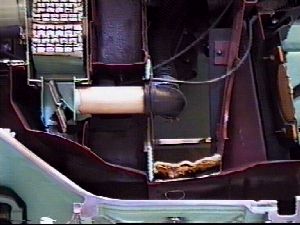 The tunnel section above the gearbox, this shows the lowered section of the tunnel which I raised to fit the five speed gearbox.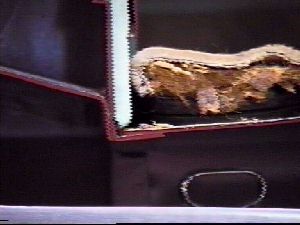 A close up of the weld which I cut out and seam welded.
Shows the top of the tunnel inside after the modification to fit the five speed box.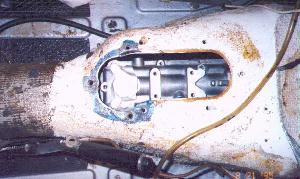 Shows the modifications neccessary to the gear lever aperture - NB the new ring of captive nuts for the chrome bezel.

Fitting a V8 engine into an MGB

This site forms part of MG - The Classic Marque
Email: webmaster@mg-cars.org.uk