Performance Uprating

Tuning
For performance and economy.
Skip to Performance Heads, Carburettors, Superchargers, Exhausts, Engine Tuning, Suspension & Brakes
A stage 2 head gives a noticeable increase in power, especially when combined with a suitable camshaft and freeflow manifold. The stage 2 includes not only modifying the combustion chambers but also opening out, gas flowing and polishing the ports, as the detailed picture below shows - standard head/right stage two left. All replacement heads are now suitable for unleaded petrol, and it is well worth considering further work to the head if you are having an unleaded conversion. Even if you do not go to stage two, there are benefits to be had from matching the head for compression to your engine block and gas flowing.
Please contact us for pricing.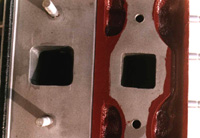 Carburettor
Fitting a Weber carburettor and manifold will release the ultimate power from your tuned MGB engine, particularly if it has an uprated camshaft or increased capacity.
The Weber is particularly beneficial higher up the rev range, and transforms the character of the engine with its throaty race bred roar. Once properly set up its fixed jets mean that it stays in tune and requires no routine adjustment or re-tuning.
Kits cost around £610 plus £216 labour for us to fit and set up (excl VAT).
1 3/4" SU carburettor kit prices from £625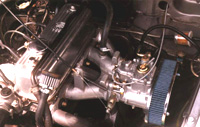 Superchargers supplied & fitted POA
Air box options - either standard performance filter or the same with modified original airbox to reduce induction noise (pictures also show optional HS6 carburettor).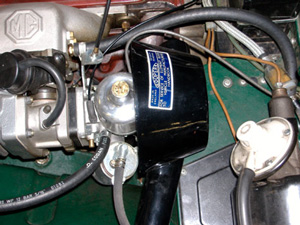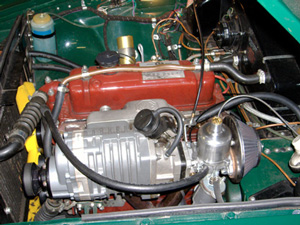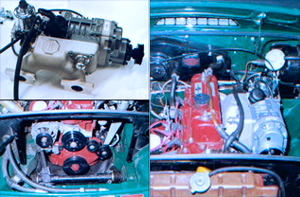 Images show Supercharger assembly, pulley installation and fully fitted.
CAMSHAFT AND CYLINDER HEADS
We fit and recommend mild road billet camshafts where possible for road and fast road use which gives great low down and excellent mid range power and torque. These camshafts help to keep combustion temperatures lower than otherwise and when fitted with a stage 1 or stage 2 supercharged modified cylinder head produce excellent spread of power with a very smooth tickover. Emissions are also keep low with HC ppm levels at least half that of a standard 'B'
WATER/METHANOL INJECTION
We recommend you do not increase the boost of your MG without protection from an octane boost or better still water/methanol injection which we have carried out much testing. Protecting your supercharged engine from detonation is the most important factor long term and water and/or methanol injection is the best at offering this protection.
IGNITION
It is vital to have a flatter ignition advance curve whether running points with dwell or electronic ignition. This can be modified with different strength bob weight springs working better on 45D type distributors or by plotting your own advance curve on electronic ignitions that allow.
NOTE
On over bored B series 2000cc engines running high boost can suffer from block face cracking between cylinders especially no's 3 and 4 so it is better not to go wild in camshaft choice or boost if you want to use your MG for any thing except rally or racing.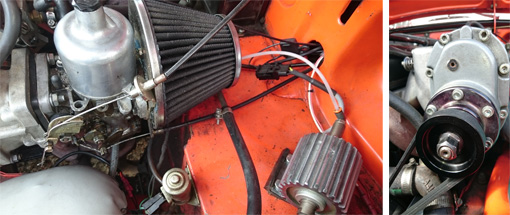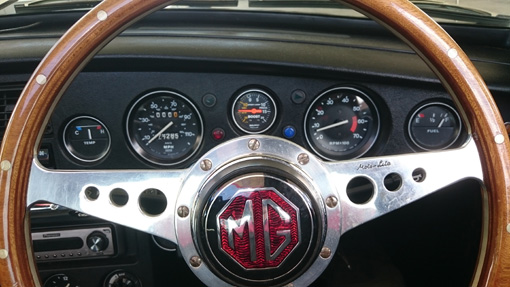 Supercharger nose pulleys
New LMG uprated
Moss/Eaton supercharger nose pulleys
giving a noticeable and worthwhile improvement in performance. These pulleys are available in two sizes and care must be taken to ensure the engine is correctly set up as boost will exploit any weakness within your engine.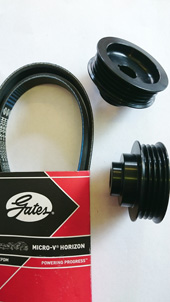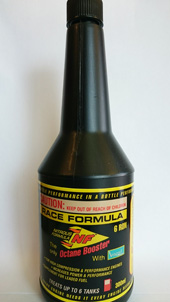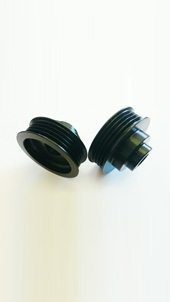 We recommend super unleaded petrol, a good quality octane boost as pictured and a modified distributor advance curve. Alternatively we can set your engine up for enhanced performance in our workshops.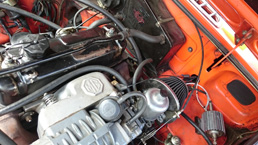 Further tuning can incorporate water/methanol injection intercooling and/or modified cylinder head and camshaft.
Uprated pulleys are priced £120.50 each.
Recommended exhaust options for MGB
C001 Standard bore Peco heavy duty MILD STEEL system with bomb type centre box Fits all years [unavailable as of 01/10/2022]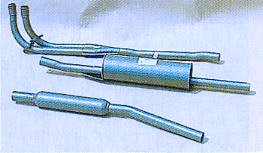 C003 as above but with freeflow extractor manifold
B001 Full STAINLESS STEEL system 62-74 model years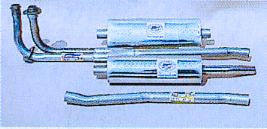 B002 as above but for 74-80 models
B013 Standard stainless steel system with bomb type or standard centre box with freeflow extractor manifold

B014 as above but for 74-80 models
C008 Peco big bore heavy duty MILD STEEL four piece system with freeflow extracor manifold & large rear silencer box & no centre box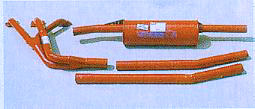 B022 As above but in STAINLESS STEEL for all model years
Parts also available individually:
B012 Freeflow manifold
BMG19 Standard downpipe
BMG21 Standard centre box
BMG121 Bomb type centre box
BMG22 Connect pipe
BMG27 Connect pipe
BMG23 Standard rear box >74
BMG28 Standard rear box 75>
BMG700 HDR freeflow
BMG701 HDR connect pipe
BMG702 HDR rearbox
C006 HDR freeflow mild steel
C007A Connect pipes big bore mild steel
C007B HDR rear box mild steel
FSMG23 Falcon centre & rear box section >74
FSMG28 as above 75>
FSMG19 Falcon downpipe
Parts in stainless steel unless otherwise stated. We also offer a full range of Falcon two part stainless steel standard & performance systems, Upgraded carburettor needles, butterflies & re-tuning, exhaust fitting kit may also be required.
Please contact us for for further details.

Exhaust manifold upgrades
The LMG Full Tune (MGB for example, all years including performance tuned engines)
Items that need to be checked/rectified
Ignition
Condition of points & dwell, condenser, low tension, bob weight spring tension, mechanical & vacuum advance, rotor arm, distributor cap, plugs, lead resistance etc. Ignition then set to suit engine, compression & vacuum strength etc.


Rockers & valves
Tappet clearance, rocker shaft & rocker bushes, rocker box gasket & seals, compression test


Carburetors/fuel injection
CO & HC levels, condition of jets & needles - correct application for for air filters & state of tune etc. Linkeage for both choke & accelerator. Check condition of cables, breather hoses, air leaks, butterflies/over run valves, spindles, air filters & seals. Carburettor balance & mixture. Throttle return springs. Fuel pipe & filter. Float levels. Injector spray (TR5,6 etc)


Road test & fine adjustments Labour: £85.00


PARTS as necessary - for example MGB
| | | |
| --- | --- | --- |
| 1 | GCS2101 Points | 2.45 |
| 1 | GSC2109 condenser | 3.17 |
| 1 | GRA2101 Rotor arm | 1.65 |
| 1 | GDC136 Cap | 3.74 |
| 1 | GHT7003K HT lead set | 11.25 |
| 1 | GUG70033VC Rockerbox gasket | 1.95 |
| 4 | GSP4362 plugs | 7.00 |
| 2 | 12A1358 Rocker seals | 0.80 |
| 1 | CAM5226K Breather hose set | 10.97 |
| 2 | GFE1003 Air filters standard | 7.90 |
| 2 | KNE240 K&N air filters | 55.96 |
| 1 | 27H7758 Breather Diaphragm | 3.75 |
| 1 | AHH6465 Airbox seal | 1.55 |
| 1 | AEC2075 Return spring | 0.88 |
| 1 | TT1903 Bob weight springs | 6.55 |
| 1 | 37H4229M Vacuum pipe | 1.60 |
| 2 | 12B2095 Vacuum connectors | 1.70 |
| 1 | GFE7015 Fuel Filter | 2.65 |
| 1 | GFE6003 Rocker box cap | 1.93 |
| 1 | 37H2981 Low tension | 3.60 |
Additional parts & labour may be required e.g. for carburetor & distributor removal & stripdown. VAT to be added. Prices correct @ 03.04.2009. MGOC/MGCC discount not included.
Suspension
For road-holding and ride comfort.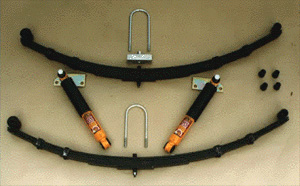 MGB rear suspension upgrade components
MGB /MGBGT - Stage 1
1. Lowering
It is quite straight forward to lower a rubber bumper MGB to chrome bumper height. The cars sits approximately 1 inch lower, which not only improves its sportscar appearance but also significantly improves handling by lowering the centre of gravity and reducing body roll, without compromising the ride comfort.
Basic lowering includes fitting new front coil springs with either:
a) lowering blocks at the rear (see picture) £265.00
b) replacement lowered leafsprings £396.00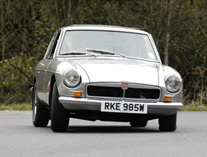 Rubber bumper MGB cornering
2. Telescopic rear dampers/shocks
Replacing the rear leverarm dampers with telescopic units gives an improved ride and better road holding particularly over bumps by allowing the rear wheels to follow the road surface rather than hopping across it. They also eliminate any quality problems (see our Spring 2000 newsletter) with reconditioned leverarm shocks
Fit spax rear shocks & mountings (see picture) £255.00
1. & 2. together
If 1b) & 2 above are done together then the combined price comes down to £595.00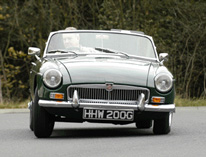 Chrome bumper MGB cornering
MGB /MGBGT - Stage 2
Please contact us for details of the many further improvements to your MG's suspension which we offer.
Notes: VAT included. Prices correct @ 18.03.09.
For additional information please contact Russell at LMG
Brakes
Often older brake systems, especially drum brakes, can be improved just by proper servicing. Various improvements are possible such as fitting braided front hoses for better feel, pad upgrades (e.g. MGB V8 pads fit standard MGB front callipers), vented discs, and servos where not previously fitted.