Servicing & MOT

We offer the following service menu as a guide.
1. 'A' Service - (basic) lubrication every 1500 or 3000 miles
Labour
£93.75
Parts etc
£10.56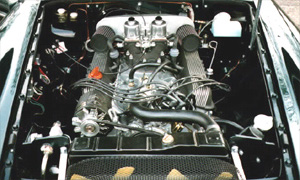 An MGB GT V8 undergoing routine servicing
2. 'B' Service - (intermediate) lubrication & oil every 3000 or 6000 miles
All 'A' service work plus Engine flush, oil and filter change. Top up washers, master cylinders, anti-freeze & check tyre pressures
Labour
£168.75
'A' Service parts
£10.56
B.P. Flushing oil
£19.85
Castrol 20/50w Engine oil
£30.66
Anti Drain Oil filter
£6.90
3. 'C' Service - (main) lubrication,oil & adjustments every 6000 miles
All 'A' & 'B' service work plus Dedust & adjust rear brakes & handbrake. Adjust plugs, points, minor carb. adjustments, check ignition timing, distributor advance curve. Set CO & HC levels. Check top up levels inc. gearbox, axle, dashpots as necessary. Visual check of lights, wipers/washers, front pads etc. Set tyre pressures. Check anti-freeze strength etc.
Labour
£300.00
'A' & 'B' Service parts
£67.97
Waxoyl
£33.88
4. 'D' Service - (full) Lubrication, oil & replacement every 12,000 miles
All 'A' to 'C' service work plus Full tune incl. change air filters, points, plugs etc, adjust tappets, carbs, ignition timing, check ignition advance, re-tension bob weight springs as necessary, set choke & throttle mechanism, set CO & HC levels. Replace gearbox oil, clean or replace O.D.filter. Replace axle oil. Remove brake drums & brake shoes, check & lube handbrake levers, adjuster, return springs, pivot points. Adjust handbrake, bleed brakes & replace brake fluid. Check brake operation & balance on brake rollers. Carry out full pre-MOT inspection.
Labour
£412.50
'A' to 'C' Service parts
£101.85
Parts (typically)
Air Filters
£8.52
Anti-freeze
£12.90
Points
£4.10
Condenser
£3.96
Distributor cap
£5.74
Bob weight springs
£8.46 (addiontional labour item)
Rotor arm
£6.39
Spark plugs
£10.80
Rocker gasket
£1.85
Fuel filter
£2.95
Sump plug washer
£0.22
Radiator cap
£3.95
Cooling flush
£4.35 (additional labour item)
Rocker box seals
£1.26
Overdrive filter
£5.37 (additional labour item)
Gearbox oil
£13.75
Axle oil EP 80/890
£22.60
Notes: Totals include VAT. Prices correct @ 07/03/2023. MGOC/MGCC discount not included.
M.O.T.
We offer FREE pre M.O.T. inspections.