Picture of the Month
September 2002
Here is this month's picture. We hope to update this feature with a fresh picture every month. Don't hesitate to mail us your pictures. Ideally they should be of something special, a special location and your Y, an interesting close up shot of a lesser seen part of a Y that you think will be of help or interest to others, etc. Please do not forget to send me a couple of paragraphs of text to go with the picture too.
This month's picture is a memory from the 2001 "Why to Exe" Run. More details see below captions - when they have been written! Meanwhile, if you want to email the webmaster with a suitable caption we will see what you can come up with over the next few days!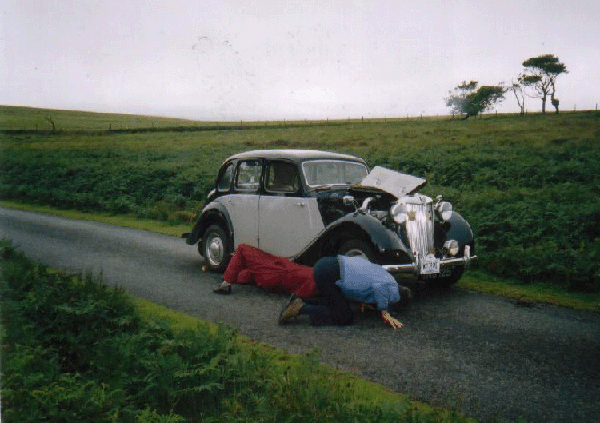 Captions so far are ...
" I really think you're taking 'Head gasket' too literally!"
"I don't care if the road is dirty, I'm wearing David Pelham's overalls!"
"Heaven's above Dennis, I don't think you really need to polish the sump plug at this time of the day!"
"This is a hell of a place to decide to change the oil."
"Just because you have run up 1,000 miles since the last service, I think you could have waited till you got home to change the oil!"
"Are you really sure that you stored the route map under the car, Dennis?"
"That is amazing Dennis, did you know all that stuff was under there?"
"You would think the bloke taking the photo would offer to help wouldn't you?"
"OK, we give up, call the AA for a tow truck!"
"That is the fuel tank isn't it ? I wonder if it is out of petrol?"
"What a time to have to cross my legs!"
The Story Behind September's Picture
Although the captions submitted are far more interesting than the story, I thought that for completeness the 'story should be told'. The picture depicts Dennis Doubtfire (in my overalls) beneath his car with Dave Lawrence providing support. Dennis had provided a number of scenic routes across Exmoor for us to travel in our Y's. The trouble being that the mist on Exmoor did not clear until early afternoon and as a result we saw relatively few of the Exmoor Ponies and none of the much rarer Red Deer.
When we returned to 'Base Camp', the B&B, later in the afternoon, Dennis, Dave Lawrence and myself decided to return to the Moors to catch a glimpse of the renowned Red Deer. I took the lead with Dave as my Navigator, with Dennis following. Once on the moor I noticed that Dennis was no longer in my rear view mirror. Those of you who are familiar with Dennis' driving will understand that immediately we knew something was wrong. We turned round and went back to find Dennis. We soon found him; I explained that he was rather lucky that having broken down on Exmoor another Y Type, with persons knowledgeable about the car had stopped! I believe that Dave Lawrence knows a bit about the cars anyway!
The problem was that the clutch release rod had broken where it threaded though the lower trunnion bush. Dennis had fitted the TD type rod as these were more solid and less prone to breaking than the original clutch release cable fitted as standard to Y Types. The most immediate problem was that the part of the rod that had broken off was missing! We sent Dave back down the road, to find the missing bit. Dennis and I were both amazed when Dave returned with the missing part. All we now had to do was to effect a repair.
As part of the Contingency plan I telephoned the owner of the Bed & Breakfast we were staying at to inform them that we may be late for dinner and also to enquire if the owner's Range Rover could be put on standby.
We decided that if we were able to get a nut to bridge the broken threaded ends of the Clutch Release Rod, then it might be possible to make a temporary repair. Fortunately I had a 3/16 BSF nut in my toolbox and it worked! Dennis was able to drive the car back and onwards to home. We did not need the Range Rover.
The lessons from this outing: 1) Never go on the Moors alone 2) Always fit original parts 3) Always pay the extortionate demand for very rare BSF nuts on lonely moors, otherwise the story will be told!
David Pelham.
To view previous Pictures of the month, please click on the link below
Archive of previous Pictures of the Month