Picture of the Month
June 2004
Here is this month's picture. We hope to update this feature with a fresh picture every month. Don't hesitate to mail us your pictures. Ideally they should be of something special, a special location and your Y, an interesting close up shot of a lesser seen part of a Y that you think will be of help or interest to others, etc. Please do not forget to send me a couple of paragraphs of text to go with the picture too.
Following the news last month of the passing of our Secretary, John Edwards, this month's picture celebrates John's life, his family and his love of his YA. We are proud, and privileged to display this month a picture kindly sent in by one of his daughters, Sue Gibbs, and to quote from the accompanying email. John would, we are certain, be very happy that his family association continues with his children.
My husband, Gary, and I intend to look after Dad's car and hopefully get it to some shows over the summer. As a minimum, my sisters and I would like to take it to the Stokes Bay Car Show in Gosport in August re-registered with its original number plate (something Dad was trying to sort out with the DVLA in recent months).
I attach a photo of Dad with his MG Y (plus his grandchildren Joe and Ellie, daughters Carolyn and myself and son-in-law Gary) at last years Stokes Bay Car Show which I hope you like.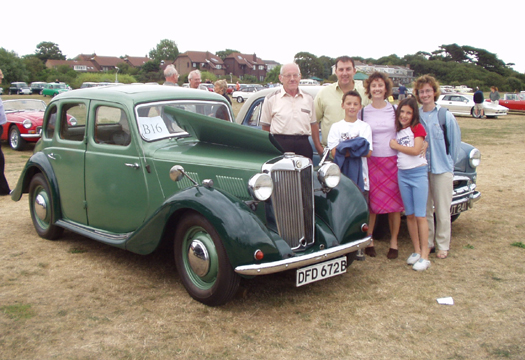 To view previous Pictures of the month, please click on the link below
Archive of previous Pictures of the Month