Picture of the Month
December 2005
Here is this month's picture. We hope to update this feature with a fresh picture every month. Please mail us your pictures to feature on this page. Ideally they should be of something special, a special location and your Y, an interesting close up shot of a lesser seen part of a Y that you think will be of help or interest to others, etc. Please also send a couple of lines of text to go with the picture.

Terry Ciantar sent in this clever picture and caption.
"I caught this little intruder in my Y. Do you think he turned green with envy? At least we know he has good taste."
In case you are thinking it is a plastic frog, it is actually an Australian Green Tree frog that are sadly on the decline as they are very sensitive to pollution.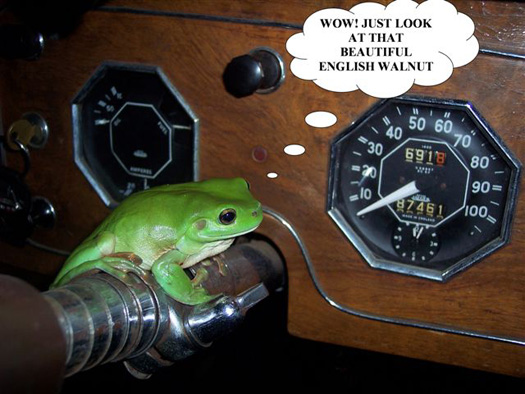 Alternative captions offered include:
"I wonder if that mileage is genuine?"
"It's like time stood still in this car"
or in the rare instance that the clock is working
"WOW, a working clock!"
"Better to have two frog-eyes on your steering column than two midgets"
All courtesy of Willem van der Veer.
"... and after the pretty young girl kisses me, I am going off to buy one of these lovely things."
Paul Barrow
"Oil pressure seems normal enough"
Steve Simmons
"Now, if I can just reach the starter pull switch ..."
Matthew Magilton
To view previous Pictures of the month, please click on the link below
Archive of previous Pictures of the Month