Picture of the Month
June 2010
Here is this month's picture. We hope to update this feature with a fresh picture every month. Please email us your pictures to feature on this page. Ideally they should be of something special, a special location and your Y, an interesting close up shot of a lesser seen part of a Y that you think will be of help or interest to others, etc. Please also send a couple of lines of text to go with the picture.

Alf Luckman, "an MG Y man" sadly passed away a the end of May 2010.
This month this page is dedicated to the memory of Alf.
Alf Luckman 1933 – 2010
An MG Y Man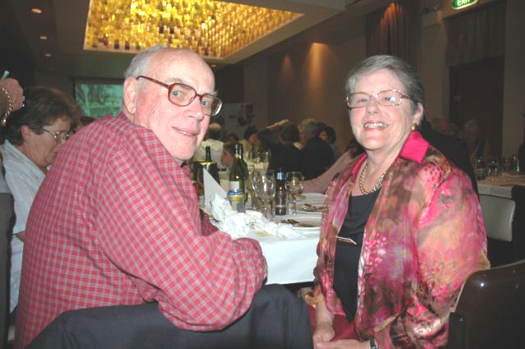 Alf Luckman was a shining light in the old car movement in Australia. He worked tirelessly to keep old cars on the road, often bridging between car owners and government officialdom. He was always willing and eager to help others with advice, time and spanner work. He sourced and posted parts around the world, assisting others to get or keeping rolling. Alf's allegiance was always to British cars, particularly to MGs, and most devotedly to MG Y Types, of which he had a fine example. As the MG Car Club's Y Registrar in Sydney, Alf assiduously chased information on Y-Types in NSW, and often beyond the borders. This was passed on to Paul Barrow, helping to build the International Y Register.
Above all, Alf will be missed for his dry and ready wit. Through innumerable meetings, letters, phone calls and emails he kept MG owners chuckling and on their toes. "How did you get so many Ys to the concourse, Alf?" It was ultimately his enthusiasm for the Y Type and his encouragement of their owners that did it.
Alf will be greatly missed. The Y-Type world will be much the poorer for his passing.
Obituary by Steve Brompton
Alf and Bob Lawrence checking for misbehaviour

Alf and Bob Lawrence checking for misbehaviour

Drivers Alf (foreground)Bob Simpson, Steve Brompton and Bob Lawrence with Ys

Alf and Dot at Daughter Janine and Mark's wedding

Attendants at funeral

At the funeral, not long before Alf had 'Throw another log on the fire' played!

Three Canberra cars Cream YA Brian Calder, Alf and Dot's YA and SA owned by Malcolm Robertson
A typical example of Alf's dry wit is the following anecdote from David Pelham:
When Alf acquired his YT I commented on the amount of work ahead. Alf's suggestion was that I should go down to the local supermarket and steal a loaf of bread. When I was subsequently brought up before the magistrates I should opt for transportation to the colonies and opt for Botany Bay. When I arrived Alf would 'sponsor me' and he would have a shed available for me on the Luckman Estate and from here I could work on the restoration of his YT."
I am sure that many others have similar stories - he will be greatly missed.
David Pelham
Y 3129 - Alf's Y

YT 3782 - Alf's YT,

better known to him and
the webmaster as "FHC"
Faith, Hope, and Charity.
To view previous Pictures of the month, please click on the link below
Archive of previous Pictures of the Month