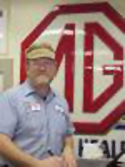 "Hi, I am John Twist, founder and joint owner of University Motors Ltd.
University Motors Ltd, is a British Motor Heritage® Approved Workshop, and is located in Ada (an eastern suburb of Grand Rapids), Michigan, USA.
"University Motors specializes in the MG sports cars and offers line and bench service, full maintenance, restoration, technical support, counter sales of new and used parts, and mechanical and restoration classes. I founded University Motors in January 1975, and my wife, Caroline Robinson, and I were the owners. University Motors is a Registered Repair Facility with the State of Michigan. Both Caroline and I offered a lifelong dedication to the marque!"
John has an encyclopaedic knowledge of many technical issues and we are proud to be associated with him and his company. All the short videos on this page can also be found on YouTube, along with others that are more specific to a particular model such as MG MGA, or MG MGB. Although these videos are not specifically on MG Y cars, the principles are true and can easily be carried over and used on our cars. We hope you find them useful. Videos will play in the player screen to the left - not a new window.
Click on the

button on the player to enlarge it to Full Screen when you have loaded a video. (Esc to minimize again at any time)