Picture of the Month
July 2002
Here is this month's picture. We hope to update this feature with a fresh picture every month. Please email us your pictures to feature on this page. Ideally they should be of something special, a special location and your Y, an interesting close up shot of a lesser seen part of a Y that you think will be of help or interest to others, etc.
Please also send a couple of lines of text to go with the picture.

Bridge on the River (with a) "Y"
The year, 1999. The car a 1951 YA (UMG 473). The place, River Ain, at Cize, France. The reason: we were in the 10th Historic Monte Carlo Rally! The bridge at Cize is a spectacular double decker, with one level taking railway traffic and the other the road traffic. It crosses the River Ain, and in January 1999 we had travelled, with only occasional stops for meal/coffee, continuously from Brooklands en route to Aix–les–Bains. For the metric folks that's about 1,300 km, for the rest of us it's a hell of a long way in the cold with no heater!
As you will see the car has no number plate (came off at 3 in the morning on an ice bank); has two occupants, Andrew & Arlene Coulson; and what you cannot see is the imminent collapse of the lay shaft resulting in a replacement gearbox being couriered out to us in Aix from UK!
For those who love the Rally Lore ... the next control I believe was Hotel du Centre in Poncin. Trouble was it was market day and the square was virtually closed to traffic. Of course by the time we had discovered this, we were well into the "fermee" zone and now had time to park outside the Hotel, to the minute on the rally card, take a large bowl of coffee and adjust the fluid levels in "Y Bird"!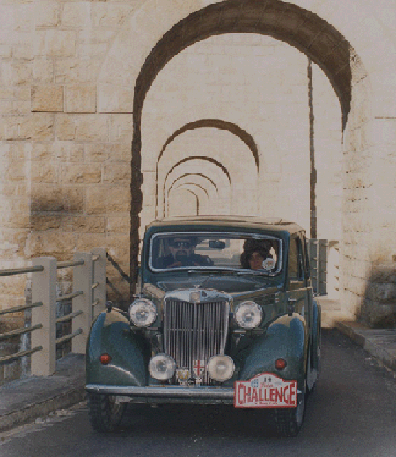 To view previous Pictures of the month, please click on the link below