Picture of the Month
December 2002
Here is this month's picture. We hope to update this feature with a fresh picture every month. Please email us your pictures to feature on this page. Ideally they should be of something special, a special location and your Y, an interesting close up shot of a lesser seen part of a Y that you think will be of help or interest to others, etc.
Please also send a couple of lines of text to go with the picture.

The photograph shows me presenting greetings to the Queen from the Mayor of Petersfield (Hampshire UK) to the Mayor of Greenwich UK for onward delivery. The occasion was the Greenwich Classic Car Show and Jubilee Parade of 50 year old cars on Jubilee Public Holiday, Monday 3rd June 2002.
As this is the last month of the year of Her Majesty Queen Elizabeth II's Golden Jubilee, we have a picture from David Hague of him, his wife Barbara, and their YB. David, and Barbara, are on the right of the picture.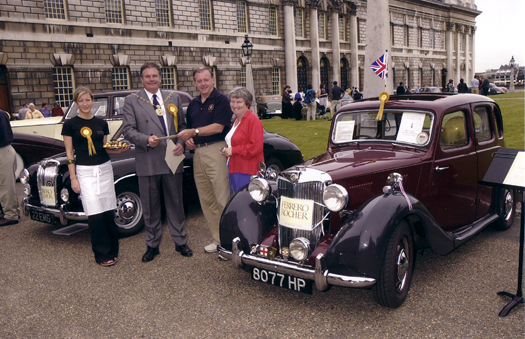 To view previous Pictures of the month, please click on the link below