Picture of the Month
January 2003
Here is this month's picture. We hope to update this feature with a fresh picture every month. Please email us your pictures to feature on this page. Ideally they should be of something special, a special location and your Y, an interesting close up shot of a lesser seen part of a Y that you think will be of help or interest to others, etc.
Please also send a couple of lines of text to go with the picture.

A flash back to 2002 for this month's photograph from "Down under".
The MG Car Club (Sydney), entered several cars in various ages and categories at the prestigious Combined Motor Clubs Display Day held at the Eastern Creek International Raceway in Sydney on Sunday 18 August 2002. A class winner in its age group, against a lot of very strong opposition, was Peter Martyn's Y sedan which he has recently restored. This car, an early production model built in 1947 is featured on the "Y's on Parade" link on the site. The photo shows Peter holding the trophy awarded to him for the win.
Our congratulations to Peter on such an outstanding success.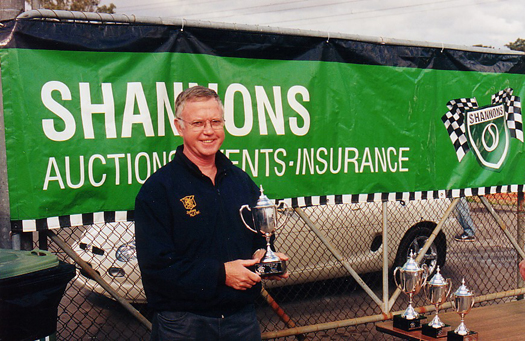 To view previous Pictures of the month, please click on the link below