Picture of the Month
March 2003
Here is this month's picture. We hope to update this feature with a fresh picture every month. Please email us your pictures to feature on this page. Ideally they should be of something special, a special location and your Y, an interesting close up shot of a lesser seen part of a Y that you think will be of help or interest to others, etc.
Please also send a couple of lines of text to go with the picture.

This month's picture is supplied by Tony Stock and shows YT2617 in the car park of the Atlantic Hotel Newquay. The RAC patrol is trusting the Jackall system, and refitting a fractured oil filter pipe which he has just repaired in his van with solder(!) The car did just make the 50 mile return journey home before the pipe finally succumbed again.
Do not try this yourself – NEVER WORK UNDER A CAR SOLELY SUPPORTED BY THE JACKALL SYSTEM (or any Jack). ALWAYS SUPPORT THE CAR'S WEIGHT ON AXLE STANDS BEFORE COMMENCING WORK.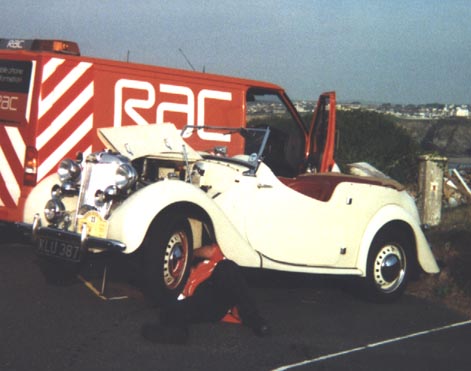 To view previous Pictures of the month, please click on the link below