Picture of the Month
May 2003
Here is this month's picture. We hope to update this feature with a fresh picture every month. Please email us your pictures to feature on this page. Ideally they should be of something special, a special location and your Y, an interesting close up shot of a lesser seen part of a Y that you think will be of help or interest to others, etc.
Please also send a couple of lines of text to go with the picture.

You may recall that in February of this year we featured a picture sent in by Robert Grounds, (who still does not have a Y). The picture showed his mother, Lola Grounds in the driving seat on the RAC Rally of Great Britain, entry number 231. Well, here is another super photograph of his mother, this time at Silverstone, and it looks very much like another Y Type rear wing just disappearing out of shot in front of her. Lola participated in at least "five Monte Carlo, eight Tulip, one Lisbon, and four RAC Rallies, not to mention scores of lesser ones" between 1950 and 1958! All at a time when car rallying was "considered too tough a sport for a woman. What a gal!
Robert very kindly provided us with a copy of a newspaper article about his mother which describes her as follows: "And if you imagine women rallyists to be strong, tough, masculine types, then you would be extremely surprised to see Mrs. Grounds. For a more feminine and daintily petite person could scarcely be found."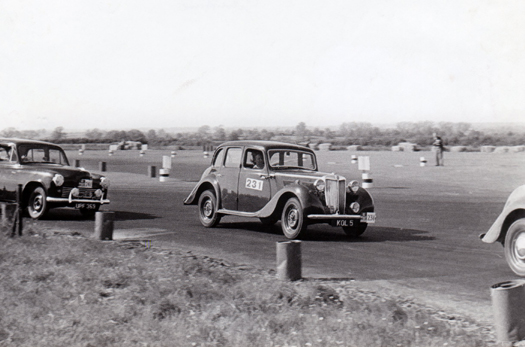 To view previous Pictures of the month, please click on the link below