Picture of the Month
August 2003
Here is this month's picture. We hope to update this feature with a fresh picture every month. Please email us your pictures to feature on this page. Ideally they should be of something special, a special location and your Y, an interesting close up shot of a lesser seen part of a Y that you think will be of help or interest to others, etc.
Please also send a couple of lines of text to go with the picture.

For the month of the second of Denis Doubtfire's "Why to Exe" run, Ken Jones has sent in this month's Picture of the Month, just in sufficient time for me to be able to re-shuffle what we had planned! However, we consider it sufficiently to bring it to you earlier than otherwise (sorry David P)! It is of an MG Y on the village green at Exford in Somerset UK. Having asked Ken where he found this little gem Ken writes:
"It's great isn't it! I love things like this, and I spend hours searching through old books and post cards of Somerset for such things just in case I spot a Y in there somewhere that may be Agatha..... is there a Y beginning with a registration number FYC or PYC and ending with _38 on the register, cause that is it!
In answer to your question, from a book called Exmoor Century..... one of those Then & Now publications using old and new photos.... taken by 'Jasper' Bowden, usually travelling the countryside on his motorbike according to the notes, snapping up general day to day scenes of village life. There's another photo of the green with the back of the Y in the distance, a bit further up the road ISBN 0 86183 441 0.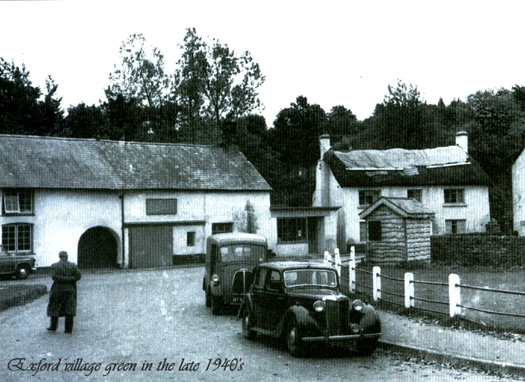 To view previous Pictures of the month, please click on the link below