Picture of the Month
August 2004
Here is this month's picture. We hope to update this feature with a fresh picture every month. Please email us your pictures to feature on this page. Ideally they should be of something special, a special location and your Y, an interesting close up shot of a lesser seen part of a Y that you think will be of help or interest to others, etc.
Please also send a couple of lines of text to go with the picture.

This month's picture is courtesy of Barry Davis from New South Wales, Australia! Not sure what his daughter would like to do with her father now: maybe we'll hear from Barry again ... one day!
Herewith a photo of my Y 6448 during a trip from Sydney to Tamworth N.S.W. early 1964.(6 hr. trip). The little one taking advantage of the stop due I suspect to some problem the details of which I cannot remember is my daughter. She of course now over 40 and has given permission to send the photo. I sold the car soon after to a friend Kerry Riley who has the car to this day. He also has YT 4018 which he bought in 1954. Has been restored and both cars are in fine condition. He does not change cars much. He has had 6 or 7 in his life a little less than my 135. My present interest is a TD having recently sold a YT. BD.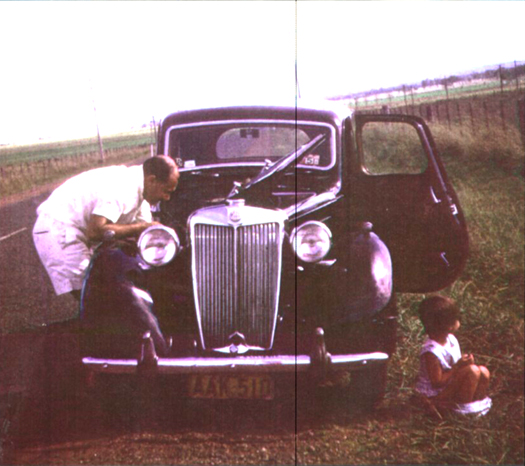 To view previous Pictures of the month, please click on the link below