Picture of the Month
September 2004
Here is this month's picture. We hope to update this feature with a fresh picture every month. Please email us your pictures to feature on this page. Ideally they should be of something special, a special location and your Y, an interesting close up shot of a lesser seen part of a Y that you think will be of help or interest to others, etc.
Please also send a couple of lines of text to go with the picture.

This month's picture is courtesy of Alan Chick via Neil Cairns, and shows a crop circle at Alton Barne in Wiltshire taken in July 2002. The circle is 165 foot in diameter. Neil has posed the question, "Who is trying to contact the 'Y' Register from above?" I think I know who if you compare the "spaceship" in the centre of the photograph with YB 0322 in YBs on Parade there is a strong similarity - and the camera cannot lie ... or can it! Thank you Alan and Neil!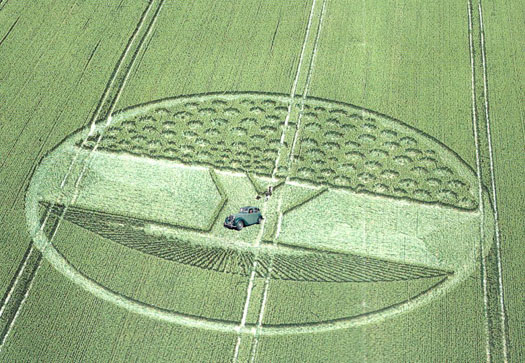 To view previous Pictures of the month, please click on the link below