Picture of the Month
October 2004
Here is this month's picture. We hope to update this feature with a fresh picture every month. Please email us your pictures to feature on this page. Ideally they should be of something special, a special location and your Y, an interesting close up shot of a lesser seen part of a Y that you think will be of help or interest to others, etc.
Please also send a couple of lines of text to go with the picture.

This month's picture is provided by Arlene (and Andrew) Coulson and was sent in a while ago. They write: "The annual St Wilfird's parade was held today [2 August 2003 -webmaster] in Ripon, Andrew was one of the small number of "Ripon Old Cars" taking part... in between the very large and loud floats!! Although only about 4 miles long, the route takes over three hours to crawl through, although gladly without obvious damage to the car. The photo shows the YA complete with luggage for the beach trip. The panda was just along for the ride!!"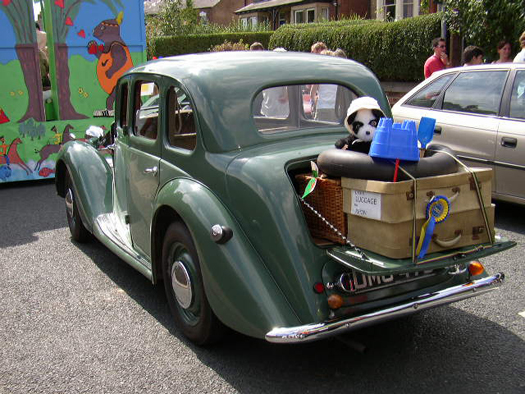 To view previous Pictures of the month, please click on the link below