Picture of the Month
February 2005
Here is this month's picture. We hope to update this feature with a fresh picture every month. Please email us your pictures to feature on this page. Ideally they should be of something special, a special location and your Y, an interesting close up shot of a lesser seen part of a Y that you think will be of help or interest to others, etc.
Please also send a couple of lines of text to go with the picture.

David Pelham writes: "One for the archives. I attach a photograph taken by Max Stoop the former owner of YT4619, my YT at a MG Meeting in Switzerland in the summer of 1978. The photograph (from foreground to background) shows Markus Daetwylers YT/EXL, Max Stoop's YT/EXR/K and Ernst Kengelbacher's YA Reinbolt & Christe's Cabriolet. It would be interesting to know if the Cabriolet still exists. The two YTs are both featured on Ys on Parade."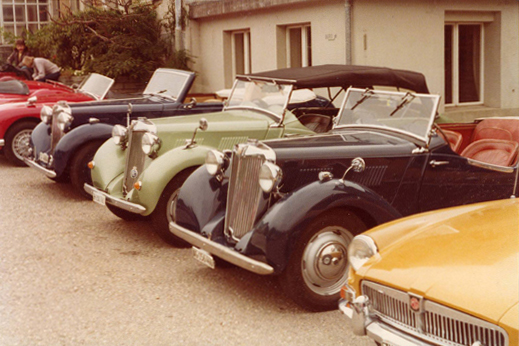 To view previous Pictures of the month, please click on the link below