Picture of the Month
May 2005
Here is this month's picture. We hope to update this feature with a fresh picture every month. Please email us your pictures to feature on this page. Ideally they should be of something special, a special location and your Y, an interesting close up shot of a lesser seen part of a Y that you think will be of help or interest to others, etc.
Please also send a couple of lines of text to go with the picture.

Saul Duck with his YT about to attempt the hill climb at Brooklands race track in the UK - it really is steeper than the picture makes it look! The picture is kindly supplied by Tim Griggs.
Saul says: "Snapped in my YT ascending the Test Hill at the MG Era day at Brooklands on 10th April 2005 with my young daughter Poppy (+ cuddly toy) acting as co-pilot in the seat next to me. The Test Hill was constructed at Brooklands in 1909 to test the ability of cars both to climb steep hills and also to test their brakes coming down! It's basically a strip of concrete 352 feet long with an average gradient of 1 in 5.027 and a gradient for the top third of 1 in 4. In spite of advice that I received before hand I can safely say that if you ever attempt this in a YT it is not a good idea to "leave it in first gear and put your foot to the floor". I did this on my first attempt and when the revs hit about 6,000 it popped out of gear leaving me going nowhere very fast. However on myfinal ascent I changed up to second at about 5000 revs and cruised gracefully and easily up to the top in much less dramatic style."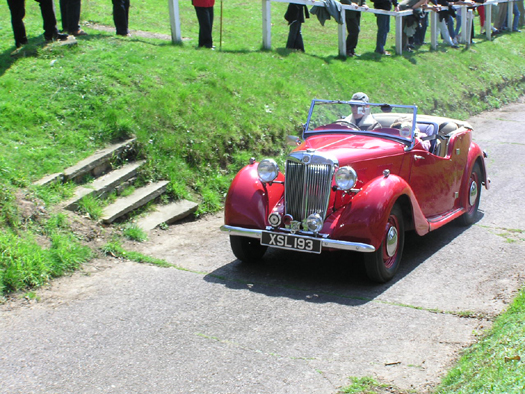 To view previous Pictures of the month, please click on the link below