Picture of the Month
April 2006
Here is this month's picture. We hope to update this feature with a fresh picture every month. Please email us your pictures to feature on this page. Ideally they should be of something special, a special location and your Y, an interesting close up shot of a lesser seen part of a Y that you think will be of help or interest to others, etc.
Please also send a couple of lines of text to go with the picture.

I am sending you a new photo of my 1950 MG YA chassis number Y 4739. The photo was taken in The Benalla Rose Gardens in Victoria Australia. Benalla was the birth place of "Weary" Dunlop, he was the soldier, surgeon and war hero. In the background is a statue of "Weary" Dunlop and two prisoners he had treated. Des McCall Y 4739.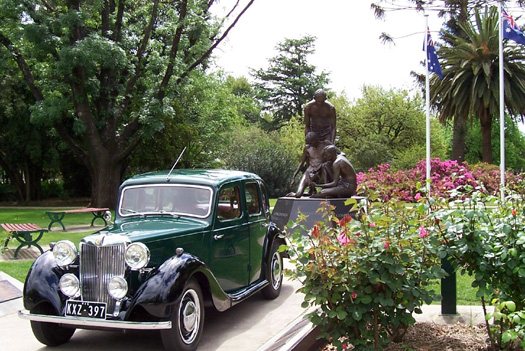 To view previous Pictures of the month, please click on the link below